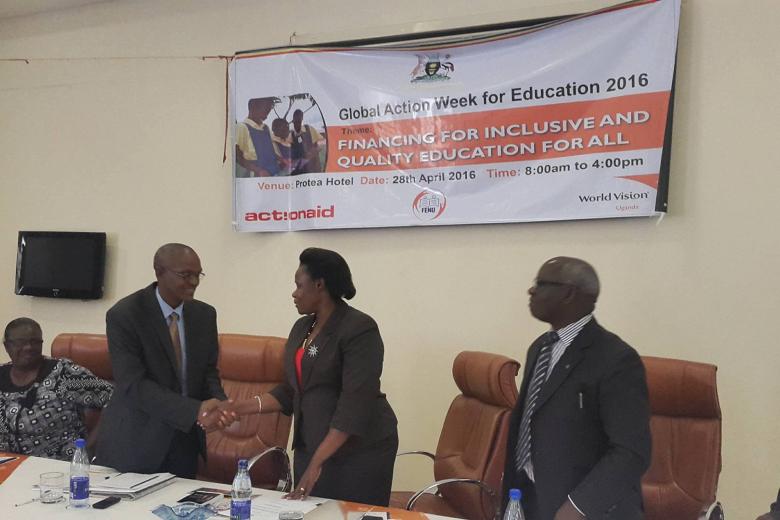 Civil society call for more funding for the education sector
Friday, April 29, 2016
By Flavia Lanyero
Acknowledging government's great achievements to increase primary school enrolment for both girls and boys at over 90 percent, civil society actors are now urging government to increase funds that will improve the quality of education and retain pupils in school.
Under their umbrella organisation - Forum for Education NGO's in Uganda (FENU), the NGOs are calling upon government to increase capitation grant per child, increase teachers' salaries, promote school feeding initiatives at school and improve facilitation for inclusive education for children with disability among other demands.
While commemorating the Global Action week for education on 28th/4/2016 at Protea Hotel in Kampala, it was noted that today's primary seven pupils in most government funded schools cannot read primary three story books.
"We want to make sense of what is happening in our schools moving away from numbers. Financing has to cater for the physical learning environment of a child, cater for teachers to become more effective and motivated. The capitation grant should be increased to cater for the children's learning and participation in sports, dance and drama," said Mr John Wilson Tereraho, Education Specialist for World Vision Uganda.
Mr Tereraho noted that today's capitation grant is less than what government gave in 1997 at the onset of Universal Primary Education (UPE), inflation withstanding. Then, each child had a capitation grant of Shs4, 000 per term while today, government pays Shs10,000 per child per year. Capitation grant is the amount of money government pays to facilitate a child's learning.
According to FENU, there are two aspects to the funding question: the insufficiency and the misallocation of resources which both have to be addressed in the interests of improved efficiency and equity in order to improve learning.
The policy and campaign manager for Action Aid, Fredrik Kawoya said that there is need for political will to fund primary schools and to tackle corruption if schools are to get sufficient funds.
At the moment, statistics show very high school dropout rates, high percentage of teachers who are not teaching, low literacy competency rates among other learning flaws in government aided schools.
The commissioner for Primary Education Dr Tonny Mukasa acknowledged the shortcomings in the primary education sector and said that government is on the process to revise and evaluate the UPE system and other policies in the education sector. Dr Tonny also elaborated that government has set up several strategies to improve the quality of education including intensifying district education dialogues, improving facilitation for pupils with special needs, school feeding programmes among others.