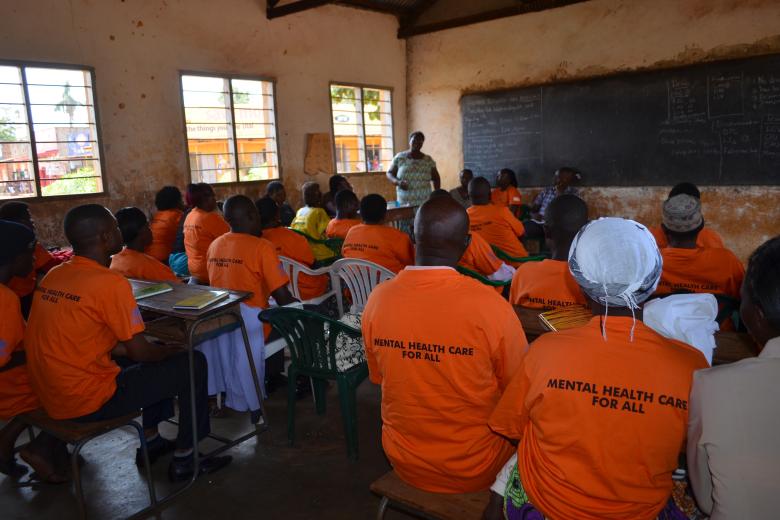 Empowering mental health patients to advocate for their rights
Thursday, March 12, 2015
By Mukitale Moses
Tusabe Joshua is a 39-year-old mental disorder patient in Kamuli district, Eastern Uganda, currently battling severe schizophrenia.
Schizophrenia is a mental illness often characterized by abnormal social behavior and failure to recognize what is real. Its common symptoms include false beliefs, unclear or confused thinking, auditory hallucinations, reduced social engagement, emotional expression, and inactivity.
 Tusabe has twice been admitted at the Butabika national referral mental hospital, spending there spells of 8 years and 4 months respectively. Tusabe's painful story comprises of prison experiences, mental hospital accounts, being stoned and beaten by community members, rejection of family and friends, plus moving naked. Its one of a former complete lunatic sprouting into a loving and caring father.
I met Tusabe at a World Vision-sponsored mental health empowerment camp of people living with mental disorders in Kamuli district.
''It was 1999 during my senior 2 class when I got severe schizophrenia. I dropped out of school because no one could manage me. At first my people thought it was witchcraft so they took me to several traditional healers but to no success'' Mr. Tusabe notes.
''One funny thing about this ailment is that the victim thinks and feels that the people seeing him are lunatics and he is the one of sound mind. So I was stoned and beaten to pulp on several occasions as I attempted to socialize, until police bundled me on a truck and off to the Butabika national referral mental hospital.'' Mr.Tusabe notes
''I spent 3 years at the facility under going medication and successfully regained my senses. But when I got home, I stopped taking my medication because it was too costly and scarce and yet I had no job. Thus I relapsed 3 months later. This time it was severe and I was admitted again at Butabika mental hospital for 5 years. I returned back home in 2009. But it was hard for my family and community to take me back. No one believed in me, no one was interested in me and even when I tried to draw closer to them, it was always cold and harsh'' Says Mr.Tusabe
 Tusabe tells me a year after he returned home, his local church found him a wife to be with and together they sired a son. But doom was always hovering around. He was required to take monthly injections instead of the usual tablets, which injections are only administered at the national referral hospital Mulago, at a fee of Shs30000. 
 ''Sadly a year after our son came, I relapsed. I had got off the treatment because of two reasons: one I could not perform my conjugal duties and two the treatment was too costly and required me to travel to get it. The medication is also too strong and causes severe energy loss. I was again re-admitted to Butabika hospital but this time I spent only 4 months and came back home. Meanwhile my wife was being pressured by her family to move on but she stood her ground and faithfully waited and prayed for me'' Mr Tusabe narrates further  
 Tusabe is one of the over 250 mental ailment patients currently undergoing rehabilitation, medication, re-integration, psychosocial support and empowerment in human rights and advocacy under the support of World Vision Uganda.  The training is aimed at informing them about their human rights, how, where and from whom to advocate for them. It's a starting point for them know which rights they are currently enjoying or being denied in communities.
 He is part of the mental health gap action program [MHGAP], a world health organization [WHO] initiative to scale up services for mental, neurological and substance use disorders. The 5-year program, which is currently being piloted in the three districts of Kamuli, Jinjja and Kitgum is funded by World Vision and implemented by government.
 ''We are looking at scaling up access to mental, neurological and substance use disorders in Uganda by increasing capacity of health workers to handle and deal with mental health complications. We have trained district health workers in Kiboga, Kamuli and Kitgum, trained over 700 villages health teams plus the mental health patients them selves. You realize that all district hospitals nationwide have no specialized mental health units so we want to first of all create awareness about this and then create capacity for these centers to deal with mental health.'' Says Suzan Akwii the World Vision Uganda MHGAP coordinator.
 According to the ministry of health Principal medical officer for mental illness Dr. Sheila Ndyanabangi, specialized mental health units in Uganda are only at 13 regional referral hospitals but they lack adequate medical supplies for mental disorders. Because of this, all mental health patients have to be taken to Butabika
 ''We do not have enough psychiatrists in Uganda and that's why we have decided that at the general hospital levels we will not build mental health units. What we are doing now is to see that at least each of these units can provide first aid for mental health disorders. Government is still short of finances to recruit occupational therapists for all its health centers so efforts from the private sector are highly needed.'' Says Dr. Sheila Ndyanabangi. 
Dr. Sheila adds that after the five-year pilot by World Vision, government should be able to adopt the program and implement it nationwide; following the successes the MHGAP will have realized on ground:
''Before MHGAP came, cases of mental illness where not being reported to hospitals but now because of the radio program campaigns, people are frequenting their patients to hospitals. Similarly the National medical stores in Kampala was not sending ample mental health drugs to district health center across the country but now every health center III is equipped with these drugs'' Notes Dr Sheila.
Luckily for Tusabe and other patients in Kamuli, Kitgum and Jinjja, the program has pushed government to avail drugs to them at no cost though the injections are only administered at the regional hospitals. The question now unanswered is this, how is the situation in other districts?