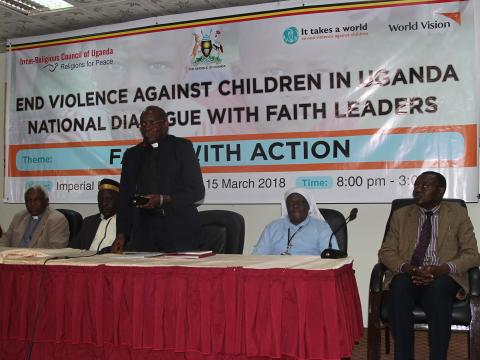 Faith with Action: Religious leaders commit to end violence against children in Uganda
Tuesday, March 27, 2018
On 15th March 2018, over 220 faith leaders from 45 districts in Uganda met at Imperial Royale Hotel, Kampala and made commitments to contribute towards ending all forms of violence against children in the country. The engagement was organized by World Vision Uganda (WVU) in partnership with the Inter Religious Council of Uganda (IRCU), as part World Vision's Campaign – It Takes A World to end violence against children. The participants included representatives of senior leaders from Moslem, Protestants, Catholics, Orthodox, Bahai and Pentecostal faith institutions. 
During the dialogue, the faith leaders reflected on some of the social norms that perpetuate violence against children, especially child marriage, child sacrifice and violence against children in schools. 
"Ending violence against children requires divine intervention" said Ms. Tinah Mukunda the Senior Programs Director, World Vision Uganda.
"Through religion, we have God's instrument and voice where Faith actors have a unique and essential role to play because they have more holistic and sustainable abilities, to influence positive changes in social norms, attitudes and behaviors," Mukunda added. 
Mr. Mondo Kyateeka, the Commission for Children and Youth in the Ministry of Gender, Labour and Social Development, also underscored the role that religious leaders can play, given the fact that they are the custodians of morals in our society. 
Children sharing testimonies at the meeting
"It has been proven that faith leaders, can establish sustainable safe environment for children, although this needs further strengthening to improve skills, knowledge and positive attitudes in addressing violence," Mr. Waiswa Muhammed, the Deputy Mufti of Uganda.  
The religious leaders listened to testimonies from children, who shared their lived experiences regarding child sacrifice and child marriage. 
"Our religious leaders especially in the moslem community should educate parents not to marry off their under 18 year girl children, once they start menstruation," said Nabukeera (not real name) a child marriage survivor from Butambala district
"The voice of the religious leaders is not loud enough on violence against children yet we know they have a strong influence in the communiteis where we work," Mr. Serwanjja from the IRCU said. 
On their part, the religious leaders developed a communique that outlined the agreed commitments, to ending violence against children in Uganda, as follows; 
Utilize existing structures within and outside the faith community to empower religious leaders, parents, children, teachers and other stakeholders to end all forms of violence against children.
To work in collaboration with existing formal, informal child protection structures as well as institutions to strengthen reporting, tracking, responding and referring of cases of violence against children
Mainstream the elimination of violence against children in liturgy and other pastoral work as well as other programs of religious organizations including concepts of good parenting into pre and post marital counselling.
Fully avail and exploit the potential of our faith-based institutions (Leadership, structures, infrastructure and institutions, media, personnel, faithful among others) for sustainable development programming towards elimination of violence against children. 
Strengthen our intra and inter-religious faith coordination and networking for enhanced reporting of and response to challenges of eliminating violence against children in Uganda. 

 
As we deepen and broaden the It Takes A World Campaign, WVU will continue engaging  faith leaders to operationalize these commitments up to the grassroots level.