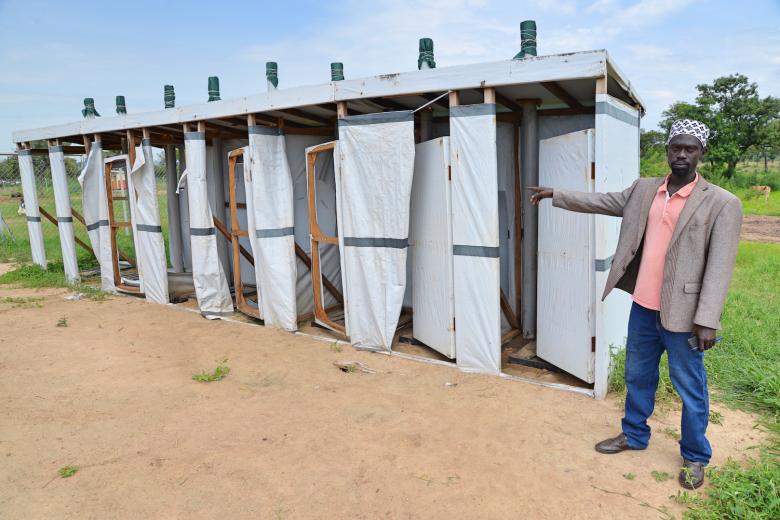 How menstruation is pushing refugee girls away from school
Monday, July 2, 2018
13-year-old Gire Francisca has been missing school each time her menstruation cycle starts. Her periods began in 2017 and the young star has had sleepless nights ever since. The toilets at her makeshift school in Palorinya refugee settlement neither have a changing room for girls nor running water.
"Sometimes I would walk back home and change but the distance is very long. I would be weak. Some girls go to the bush or nearby homes and change but me I would choose to stay home,'' explains Francisca.
Gire Francisca, (right) with a friend Kojo Christine (left) during school time
Francisca's dilemma is unfortunately not unique. The available poor sanitation facilities mean females of reproductive age like Francisca have no sense of privacy during menstruation. The majority of the temporary latrines in the available makeshift schools are made of plastic material, having no doors that can be bolted for privacy.
Geri Benson, a South Sudanese refugee teacher showing the available latrines at Francisca's School in Palorinya refugee settlement.
Worse still, most of these latrines are also shared by both girls and boys owing to the high population of children in the schools. This has been the case for Francisca's school.
"For girls to change their pads, someone has to stand on the door and hold it for them. Otherwise it's impossible to do it all by themselves. Female teachers sometimes try to help but the number of pupils is very high. Some girls also get infections from these toilets and because of this, some of them hate school,'' explains Geri Benson, the deputy head teacher at Francisca's school.
The standard latrine to pupil ratio in this area is supposed to be 1:45 but at Francisca's school the ratio is 1:100. The school boasts of 3,700 pupils, covering mainly refugees and a few host communities.
But a new dawn has come. World Vision has just finished the construction of 20 latrines for the school. These comprise 10 for boys and another 10 for girls. The girls also have two changing rooms, both connected with running water.
The latrines are all fitted with metallic doors and fitted with hand washing facilities plus rain-water harvesting tanks.
What does this mean for Francisca?
She and hundreds of other girls at her school will now concentrate in class during their period. They will not have to worry about privacy issues anymore.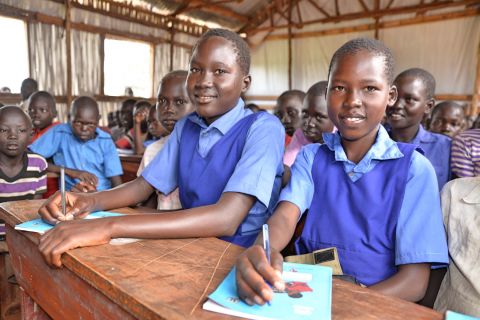 "I love these new toilets, I now feel very safe!'' exclaimed Francisca.
"These latrines are going to encourage pupils to stay in school. Some of the older students, especially the big boys and girls were always forced to go back home whenever they wanted to use the latrines. They could not line up with the younger children. But these latrines will be enough and they are very easy to clean since they are cemented,'' exclaimed a thrilled Geri Benson.
Benson adds that the old latrine would always flood whenever it rained and this would put pupils at the risk of contracting cholera. However, with these new toilets there will be no more worries when it pours.
But it's not just this primary school that badly needed latrines. With funding from the government of Finland, World Vision has been able to build 10 latrine stances at a second primary school and another 10 at a third primary school, both in Bidibidi settlement.
"The toilets are not only hygienic but they are also accessible to children with special needs. We've made sure that each entry point has a ramp making it accessible to disabled children. There is also a special toilet reserved for children with disabilities,'' explains Livingstone Onen, a World Vision staffer who oversaw the project.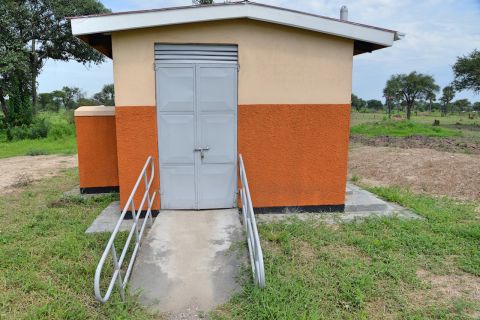 School management committees plus parents and teachers associations at the three schools have all been trained in proper sanitation and hygiene methods as part of efforts to realize better use and maintenance of the facilities.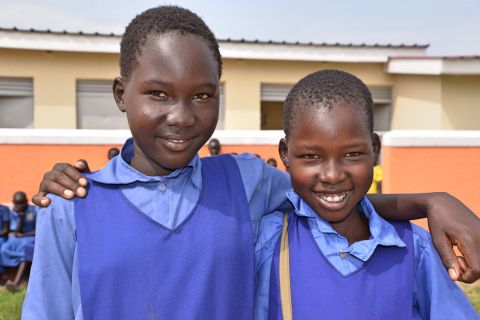 Two health centres at Palorinya refugee settlement have also benefited from this assistance. They just received five latrine stances each. Palorinya Health Centre 3 and Belamelinga Health Centre 3 are both reaching out to over 20,000 people. Prior to this assistance, the two were making do with just two latrine stances each serving both medical staff and visiting patients.
In addition to the toilets, the hospitals have also received brand new medical waste incinerators which will be very handy in hospital waste management.