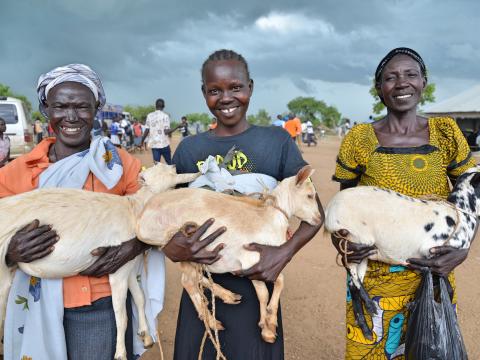 An investment for the future – a celebration as goats arrive to refugee families in northern Uganda
Wednesday, May 30, 2018
By Moses Mukitale, Communication Coordinator, West Nile Refugee Response
Head over heals. That's how 80-year-old Pony Amelia feels about two future members of her family. Pony and her 10-year-old granddaughter Susan have been eagerly waiting this arrival for weeks. 
As a truck of bleating goats appears on the soccer field, Pony and Grace spring to their feet. They join a queue, there are dozens of other women and children here today, all equally excited about the truckload of goats. There are 250 goats to be distributed today, a pair for each refugee family that's been identified as in need of special assistance. 
"We've been waiting and imagining how the goats will look like. Finally, they are here. Its good they've come in a rainy season when the grass is young and tender," remarks Pony.
These goats are the first that will be delivered to 430 families, thanks to people in the United States who gave up a Christmas present and instead donated an animal through the World Vision Gift Catalogue. More goats will be delivered in the days to come. 
As Susan and Pony reach the front of the queue, the World Vision staff encourage the girl to pick out two goats of her choice. She looks at the herd for a moment and then points towards two brown ones. She likes the colour. Her grandmother nods in approval.
As the goats are handed over to Susan and Pony, Susan embraces the animals. She picks one up, then the other. These are her new found friends. For a girl of her age who has neither brother nor sister to play with, these goats are more than just livestock.
"I will play with them whenever I come back from school, I will also be taking them to eat and bring them water to drink'' says a bubbly Susan.
Susan fled with her grandmother to Uganda because her parents lost contact with her when violent pandemonium broke out in South Sudan. During the chaos, Susan fled to her grandmother's place and hid. When fighting waned, the two escaped to Uganda aboard a cargo lorry. One year down the road, they are yet to hear from their family members.
"These goats are a very big liberation for us. They do not require energy to look after them. They will feed on their own and return back home in the evening. We have been trained on how to look after them, how to feed them and how to spot various sicknesses in their lives," Pony explains.
There are many in Pony's circumstances that are benefiting from this project funded by World Vision USA. Among those receiving goats today are the elderly, foster parents, child-headed households and people with special needs. Jane Tumalu is a 35-year-old mother of three children who is also receiving two goats today. Jane lost track of her husband when fighting broke out back home. He had gone to work and that morning was the last time they saw him.
"These two goats are our hope for bright future now. When they give birth, we will rear the kids and then, later, sell some. Goats are easy to rear and they grow up very fast. I will be able to generate income to look after my three children," Jane explains.
Yaya Boniface, a 16-year-old orphan from South Sudan is also dreaming again. He currently stays with a foster parent after losing both his parents to the violence back home.
"Next year I am joining secondary; these goats would have delivered by then. We will sell some of the kids and this will enable me to go to a good school and also buy for me school materials," says the 16-year-old who wants to become an electrician.
According to Noel Anzo, the World Vision project coordinator for the 'animal gift catalogue' project, a goat can produce up to three times in two years. This means each of the 430 beneficiaries in this project will be reaping rewards very soon. 
"Goats are sold at four months. They cost about Shs150,000 [USD 41] for a goat between six to eight months. A nanny goat costs Shs200,000 [USD 55] while a Mubende goat is Shs 250,000 [USD64]. Compared to sheep, goats are highly resistant to diseases and require less to eat,'' explains Noel.
Noel adds that beneficiaries are to also receive Agro-forestry seeds to grow as fodder for their livestock.World Vision has also ensured that 10 community health workers (para-veterinary officers) have been trained under this project to ensure that if their animals become sick, they can get treated.
The trained veterinary officers will serve both refugees and host communities and are to be supported with bicycles to ease movement. They will also be given start-up kits containing basic veterinary drugs and tools.
Apart from goats, the project will also provide 11,600 chickens to 1,160 families, provide chicken starter feed and a 200-litre water storage tank for each household.