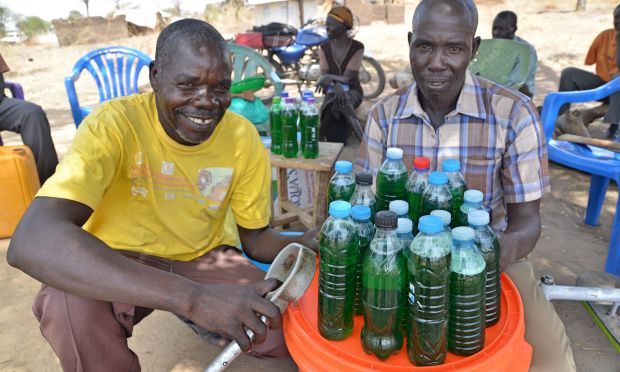 By Moses Mukitale, Communication Coordinator, West Nile Refugee Response
This is not a common 'falling from grace to grass' tale.
Yes, a year and a half ago, 49-year-old Samuel Luwate was working as a clinical officer in South Sudan and is now producing soap in a refugee settlement in northern Uganda, but he's not asking for pity.
Instead, this is a 'when the going gets tough, the tough keep going' reminder.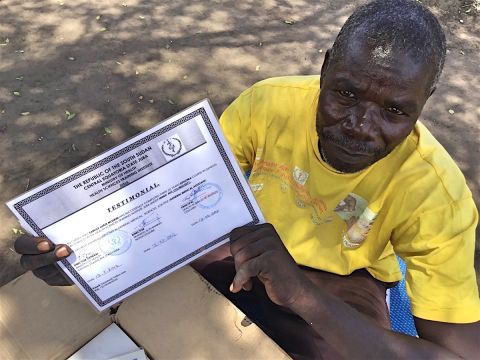 Forced to leave
Samuel has only his academic papers as evidence of his previous profession. When renewed fighting in Africa's youngest state escalated in November 2016, Samuel's job at a government health facility in Juba was left in ruins.
During five days of mayhem, the father of four lost connection with both his children and wife.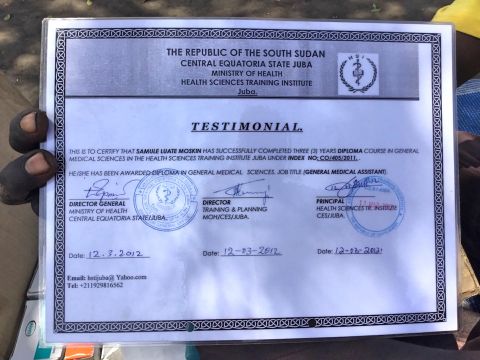 He sustained a severe compound fracture in his right leg, which later culminated into a physical disability. With all this excruciating pain, fleeing to Uganda was his only assurance to survive.
Luckily, he was able to find a good Samaritan that drove him on a motorcycle to reach Uganda.
"It was the most painful moment of my life. My wife and children fled to another province inside South Sudan and to date I've not seen them. The only thing I was able to carry with me were my academic papers because that's the only proof that I attended clinical training," a dejected Samuel explains.
A new life
Samuel arrived in Palorinya refugee settlement in Moyo district in Northern Uganda. The community currently hosts over 180,000 refugees from South Sudan. Hundreds of people at this settlement are believed to be living with physical disabilities, just like Samuel. One of their main challenges is mobility as there are not enough wheelchairs for all. To cope, Samuel hopped with a stick.
After managing to settle in, Samuel decided to embrace any other occupation that assured him of self-reliance.
It wasn't long before he enrolled in a World Vision vocational skills training, empowering mainly persons with disabilities with practical skills in making liquid soap, beaded hand bags, leather sandals and wooden crutches. The innovation, funded by the government of Finland, benefitted both refugees and host communities.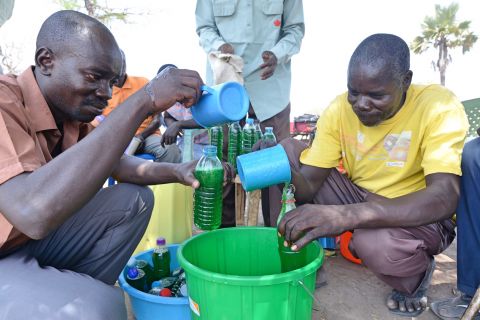 "At first I struggled to fit in. It was like restarting my life all over again. But after the week-long training, I realized that there was a big potential in liquid soap making. No one was producing it even in the nearby host communities. So I chose to give it a try," Samuel adds
After completing the training, Samuel and the other workshop participants were supported with start-up capital and tools to enable them to kick start production. They were also given basic training in business management, financial literacy, and urged to work in groups.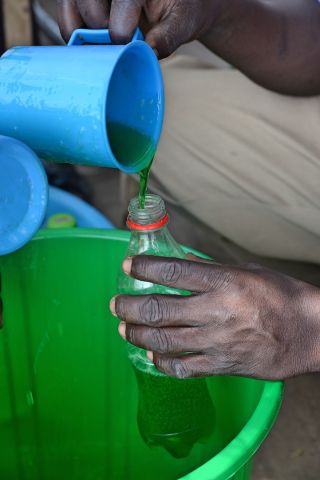 Samuel's efforts pay off
Fast forward a few months. Today, Samuel Luwate is a household name at zone 3 in Palorinya settlement. His group of 10 is producing 80 liters of liquid soap every week. That's 320 liters per month, enabling them to save up to UGX 320,000 (USD $88) each month. The group sells a 20-litre jerry can of liquid soap at UGX 40,000 (USD $11). Once a week, the group meets to make soap and plan for distribution to various points. Their product is mainly packaged in 500ml used plastic bottles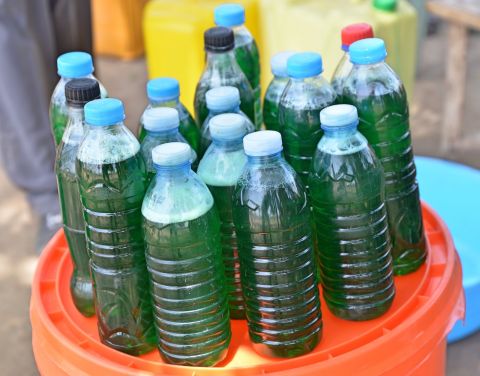 "At the start, some people were looking down on us, saying lame people cannot manage to do this kind of work. But today they envy us," Samuel adds. "With more capital we could even produce more liquid soap and register our brand. But for now this is what we are able to produce. We sell the soap mainly to the host community members."
Groups are succeeding
The group now save some of their monthly income earned and provide small loans to group members to invest in other business opportunities.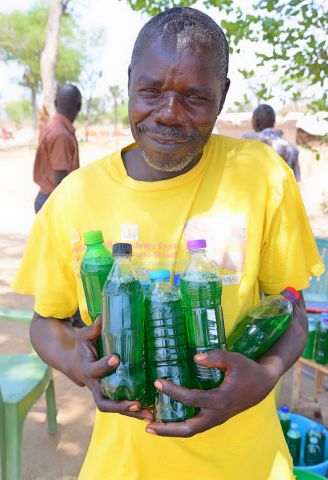 More than 450 disabled persons benefited from World Vision's life skills trainings at Palorinya and are producing various items. As a result, household incomes have improved and the majority are able to even afford more food, instead of relying on food assistance alone.
"Two years ago I could not imagine myself doing this. I still want to go back into medical work but I will continue doing this other job as a side business," Samuel adds.
Future plans
Samuel is now planning to open up a small pharmacy at Palorinya refugee settlement, using a loan from the group. But he will need clearance first from the local medical council board. He also hopes and prays to re-unite with his family once peace returns back home.
Livingstone Onen, the World Vision staff overseeing programs at Palorinya, says the project has brought refugees and host communities closer.
''They now work together in same groups, they plan and implement their projects together. It has not only boosted livelihoods of disabled people but also contributed towards peaceful co-existence between refugees and host communities,'' explains Onen.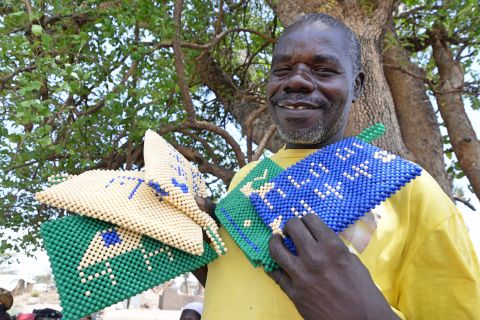 With more assured funding for such transformative projects, World Vision aims to reach more disabled refugees and host community members in the West Nile with life skills trainings for sustainability. Under its inclusive water sanitation and hygiene approach, the World Vision is also constructing community water sources, and institutional latrines which are all accessible to persons with disabilities.