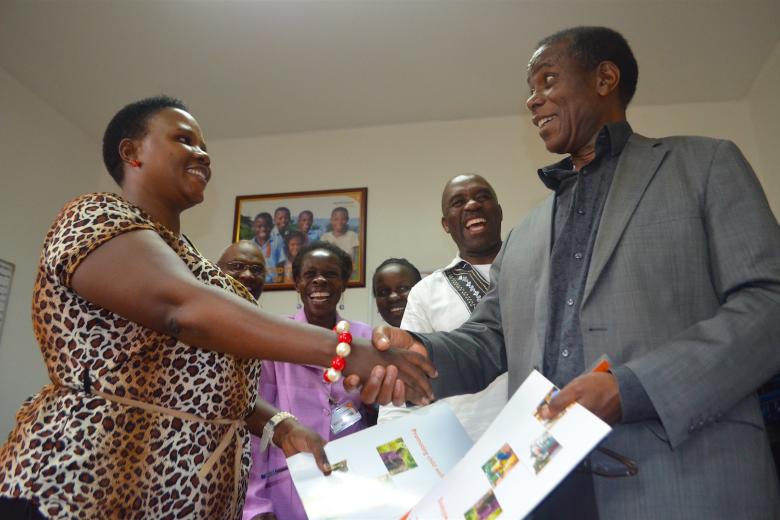 Making Farming a Business
Friday, March 18, 2016
By Dorcas Adrale, Partnerships Specialist, World Vision Uganda
In a bid to realize its Resilience and Livelihoods strategic objective of promoting farming as a business, World Vision Uganda has signed a partnering agreement with the Uganda Cooperative Alliance (UCA), a body that brings together all farmers' cooperatives across the country.
UCA is an apex body of the Ugandan Co-operative movement in Uganda and has three main mandates: to carry out advocacy and representation of the Ugandan co-operatives; to provide education to co-operatives and their members and to mobilize resources for the development of the co-operative movement in Uganda.
The purpose of the partnership between WVU and UCA is to strengthen the capacities of farmer's cooperatives in some of WVU's 71 operational districts, which are currently implementing Resilience and Livelihoods Programmes.
As the apex organization for all co-operatives in the country, the Uganda Cooperative Alliance supports the development of all types of cooperatives including financial services, agricultural production, value addition and marketing, housing, transport and energy cooperatives.
Why the Partnership
In its 2016-2020 strategy, World Vision Uganda seeks to promote farming as a business through improved livelihood resilience of more than 181, 617 small holder farmers, agro pastoralist households and youth, for economic empowerment.
To achieve this, WVU envisages building the capacity of the farmer groups and Rural Producer Organizations (RPOs) to become cooperatives that can develop and run sustainable agricultural enterprises on selected chains.
This is in a bid to increase household incomes through access to co-operative financial services, effective production, bulking, value addition, collective marketing, and bulk purchase of inputs.
As a result, farmers will earn more income and be in position to meet the basic needs of their families, especially children.