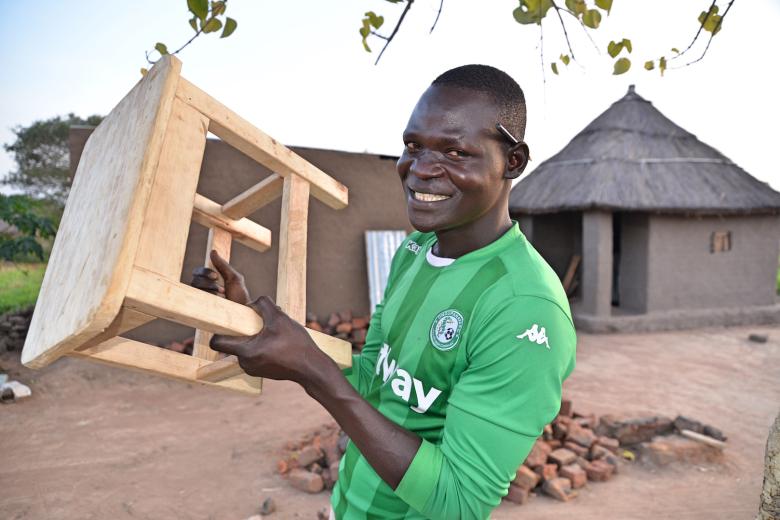 Meet 4 young entrepreneurs thriving in refugee communities
Wednesday, May 9, 2018
By Moses Mukitale, Communication Coordinator, West Nile Refugee Response
What happens when refugee youth are empowered with vocational skills and given  tools to start their own businesses? They become productive, self-reliant, and are in position to support their families.      
Today, the majority of the youth who attended World Vision vocational training are the yardstick for success among refugee and host communities in Adjumani district. 
Graduation Day- the youths after completing their six month courses in Dec 2017. World Vision organised a graduation party for them.
Seventeen-year-old James is running his own barber shop, Mary Andrua her own saloon, Richard Idro operates his own carpentry shop, while Patrick Dragule works at a leading carpentry shop in Adjumani. 
These are but just a few picks.
Ninety youth from refugee communities in Adjumani district –, 60 refugees and 30 host community members – were supported by World Vision for six months to undertake vocational skills training in disciplines of their choice. 
The youth receiving tools from World Vision to start their own workshops/ businesses.
The one-year project, funded by Aktion Deutschland and Hilft in Germany worked with three vocational institutes in northern Uganda to provide scholarships.
World Vision made sure each of the youth was facilitated to study at an institute of their choice.
Each student was also supported with scholastic and lodging materials like mattresses, suitcase, jerry cans, basins, blankets, books and tools to use, among other items. Upon graduation, the youth were attached to various organisations to undergo industrial training and then after supported with tools to start up their own workshops.  
The youth receiving tools from World Vision to start their own workshops/ businesses.
Meet some of the entrepreneurs  
Richard Idro, 21 - Carpenter
Richard is operating his own carpentry workshop. World Vision provided him with the tools and skills needed to set up his own workshop. His clients mainly make orders for beds, tables, and wooden stools. Since he graduated, Richard has made and sold over 17 beds, seven sets of coffee tables and over 50 wooden stools. 
The 21-year-old is now paying schools for his two siblings who are attending a private primary school in Adjumani town.  
''My father died when I was still very young, am now here with my old mum and two siblings. My other four brother are with my auntie, she's taking care of them in another settlement. Because of this expertise, am now able to take care of my siblings and buy them things like book, shoes, scholastic materials and clothes,'' Richards explains. 
Balele James, 18 - Barber
''I fled South Sudan in 2015 with my mother and younger sister. My father passed away, leaving me the responsibility of taking care of the home, as my mum is unable to work.  
When we got here I joined primary school but it became so hard for me because I needed to fend for my family. When the opportunity for a scholarship came, my mum urged me to apply,'' James explains.   
After doing a barber course, he was supported with a shaving machine, solar panel, solar batteries, an inverter, mirror, trolley, plus a fan. Currently he runs his own saloon at Nyumanzi settlement, making an average of UGX24,000 (USD$7) daily – enabling to pay for his sister's schooling.
Mary Andrua, 28 – Hairstylist 
''I came back with my four-year-old daughter, and four younger brothers. I am the one taking care of the family because we do not know where our father is,'' Mary narrates
Mary chose to go for a hair styling course. And just like all the rest, she too was supported with tools and equipment to set up her own business. 
World Vision gave her a hair dryer, wall mirror, an assortment of hair shampoo, hair relaxer, a sink, a trolley, hair pegs, hair pieces among other items. Today she is one of the most famous hair stylists at Ayillo refugee settlement. 
''Some of my customers come here while others call me to their homes. I can get eight customers a week with each paying me an average of UGX 20000 ($6). Dreadlocks are the most expensive hair style I make, I charge UGX40,000 ($11) for them,'' Mary adds. 
Patrick Dragule, 22 - Carpenter
''I get commissions for each material I produce. Am proficient with making doors, six by six beds, coffins and coffee sets. Every week someone is coming to buy a coffin so am assured of commissions. My plan is to get my own workshop very soon. This way I will earn a lot of money,'' Patrick explains.
Patrick and the other youth are a living testimony that vocational skills can indeed transform lives of youth in fragile contexts. 
As witnessed in this project, the skills alone cannot have a greater impact if the beneficiaries do not get industrial training and are not supported with tools to start their own businesses.