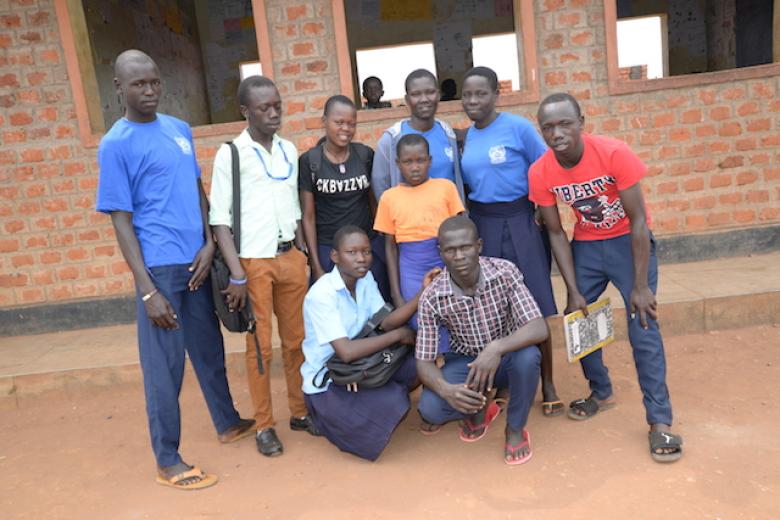 Peace clubs continue to foster harmonious living in Bidibidi refugee settlement
Tuesday, October 9, 2018
By Derrick Kyatuka
The conflict that broke out in South Sudan in December 2013 revealed deep mistrust among different ethnic groups who carried out atrocities on each other. Most now find themselves sharing the same refugee settlements in neighbouring Uganda. 
But how do they manage to co-exist in these refugee settlements?
In Bidibidi refugee settlement for example, most of the refugees are from ethnic groups that could not see eye-to-eye back in South Sudan. Now, they live together. So how is this possible? 
Peace clubs 
Eva is a senior three student at Highland secondary school, the only secondary school in the settlement. In September 2016, she was approached by World Vision staff who talked to her about peace clubs and their benefits. 
Together with seven other members from different zones, Eva went through a three-week-long training on how to become an advocate for peace within the settlement.  After the training, they returned back and formed groups of thirty members, consisting of a mix of ethnic groups and shared what they had learnt. 
These peace clubs usually meet weekly at World Vision Child Friendly Spaces. Members participate in activities that break ethnic barriers and promote peace includingengaging in football matches, debates, music and drama. 
"With support from World Vision, we organize football matches between different zones in the settlement and before we start playing, we announce to the players and spectators that the aim of the match is to promote peace and no fights are allowed on the pitch," Eva says.
 Eva, the chairperson of the peace club in zone two, bidibidi refugee settlement.
Not only that, they also frequently stage community-based plays with a recurring theme of peace.  "We engage the community members during interlude and show them why peace is important to us," Eva notes. 
Peace clubs members also have a duty to help the elderly and those with disability. "When we help someone from a different ethnic group we help create smiles on their faces," she added. 
Simon, a senior two student says peace club members plan to start outreaches in the neighbouring villages and win over more agents of peace. 
"The few of us are not enough to change the mindsets of everyone in the community. We are now focusing on outreaches because we want this initiative to go beyond us and hope that people can do the same even when we return home," Simon remarks.  "Being part of a peace club has also helped boost my self confidence, and I have learnt to be tolerant and accommodative of other people, their beliefs and culture," he adds. 
The peace clubs have a committee of ten members democratically elected to oversee the activities of the clubs. "Peace clubs have played an instrumental role in preaching peace in the refugee settlements," Florence Tumalu, the chairperson of the peace club at Kimba says.
"We started out with eight people now we have over thirty members, and parents approach us requesting for their children to join the peace clubs. Parents send their children for the clubs' weekly programs," Tumalu explains. 
Scovia, 12, a level two pupil at Kimba Child Friendly Space says she is happy to see unity among the club members from different ethnic groups. Kimba refugee settlement has eight peace clubs each comprising of over thirty youth.
"Most of the peace clubs members attended the Child Friendly Spaces sessions and used to visit the center for different activities. When we introduced the idea of peace clubs to them, they embraced it," child protection facilitator at Kimba settlement, Sarah Atimaku says. 
Peace clubs members are trained and empowered to become peace ambassadors in their communities. 
Peace club members discussing how to foster peace in their community
Empowering Children as Peace Builders
According to Richard Duuki, the child protection coordinator for Bidibidi refugee settlement, World Vision Uganda uses the 'Empowering Children as Peace Builders' model for peaceful co-existence among children and communities. The model is used alongside the peace road curriculum. 
"The process starts with community sensitization, after which we get volunteers to become members of the peace clubs. The volunteers are then trained using the Empowering Children as Peace Builders'model," Duuki explains.
The children have patrons and mentors who ensure that they receive all the mentorship before going out to the communities.Children are also trained on the mindset of diversity in the children so that they don't discriminate against themselves. They are equipped with soft skills to keep them engaged and actively working together. 
Peace clubs have enhanced cohesion among the children and better equipped them to manage conflict. The clubs have been successful in promoting co-existence within the settlements.
Duuki is optimistic that these agents of peace they have mentored can play a huge role in helping to bring an end to a conflict- that was formerly characterized by a lack of trust among the different ethnic groups and preaching peace in different platforms.