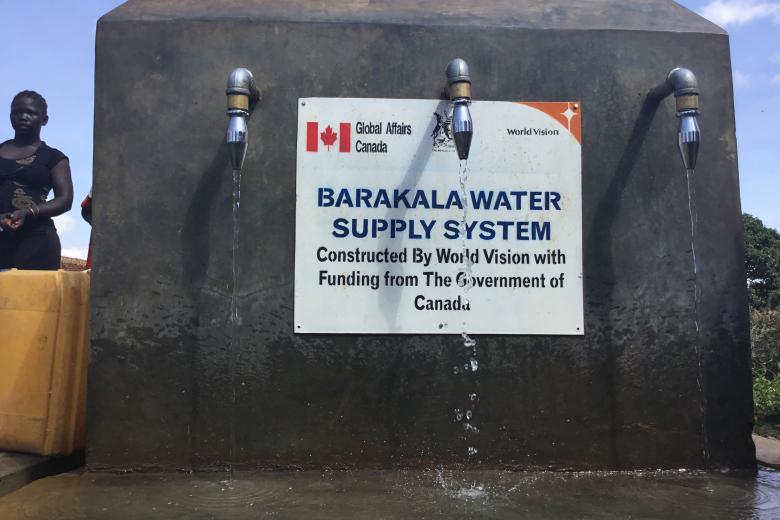 Relief for thousands in Yumbe district as World Vision brings water close by
Monday, September 10, 2018
Story by Moses Mukitale
For over 20 years now, residents of Romogi sub county in Yumbe district have stressed over lack of water in their central mosque in Barakala.
67-year-old Yahiya Mohamed has been the Imam at Barakala mosque since 2003. He says the lack of water at the mosque meant believers had to carry water from their homes to perform ablution/ self-purification before prayers every day. Ablution or otherwise known as wudu is an Islamic procedure and, a type of ritual purification where Muslims wash part of their body before they say their prayers. It involves washing the hands, face, head and feet with water. 
Imam Yahiya Mohammed outside Barakala mosque.
"It was very inconveniencing for believers to carry water from their homes in jerricans daily but that's what we've been doing for more than 20 years. We could not afford to have our own water source dug due to funding constraints. We therefore relied on a nearby borehole that we had to queue up in long lines. To imagine that we now have six taps in our compound running with clean water is unbelievable." Imam Yahiya exclaimed.
Imam Yahiya Mohammed fetching water for Wudu.
According to the Uganda Bureau of statistics, 76% of Yumbe's population is Muslim. In January 2017 the Muslim community at Barakala offered free land to World Vision to mount a 120,000-litre water tank, which would eventually supply 10,218 people with clean water daily. Fast-forward to August 2018, this generosity has birthed the Barakala water supply system. In return the mosque also has free water in its compound benefitting the Muslim faithful who visit the mosque and another 1,200 people who live close by.
Clean water flows in nearby school as well
A nearby primary school is also celebrating the joy of clean drinking water for the very first time in its compound. Barakala primary school had never known what it feels like to have its own water source. This government primary school has a population of over 1,500 pupils both from refugees and host communities.
Pupils have struggled accessing clean water. 
But that is no more. Six taps have been erected in the school compound providing clean drinking water to hundreds of thirsty throats every hour.
"Pupils had to cross the road to go to the community borehole to draw water, and because of this, we witnessed many incidents and accidents," Toha Amin, Administrator of the school shares. 
Taha Amin with pupils from Barakala primary school. Over 1,500 pupils
can now access clean water.
Teachers too had to go to the borehole. 
"It is very hard to operate a school without water," He admits. 
The situation got even worse with the arrival of the refugees into this community and school. It simply increased the pressure on the sole community borehole and increased the number of people in need. But things have changed now. Pupils will not be crossing the roads in search of water anymore.
During break time, hundreds of pupils can be seen running to the tap stands to quench their thirst. The beaming smiles on their faces afterwards explain the impact the newly installed water system has had in their lives.
The only health centre gets clean water finally!
Not too far, the only health facility in the community, a grade three-government health facility serving over 35,000 refugees and host community, is also a beneficiary of the water scheme by World Vision. 
Due to the high volume of patients it serves daily, World Vision also supported the facility with an 8000-litre water storage tank plus installing the tap stands. 
Amatre Pontius is in-charge of the facility and says the hospital's borehole broke down a year ago and since then, they have had difficulties accessing clean water. 
"It's not possible to run a hospital without water because almost everything we do needs water. We've been relying on the community water source and this has been very tedious and time consuming. Therefore this donation from World Vision has come just at the right time," remarked Pontius.
Yumbe district currently hosts the largest refugee settlement in the whole world, with Bidibidi refugee settlement hosting over 250,000 refugees. The arrival of the refugees from South Sudan put a strain on the few existing public facilities like water sources, and the host community bore the burden of this. This necessitated urgent and sustainable solutions to increase water supply to serve the expanded population.  
With funding from the Government of Canada, in 2017, World Vision began installing three motorized water systems in Yumbe district benefitting over 49,800 people (refugees and host communities). Currently, two systems have been fully installed and 22,800 people are accessing clean water. The third system, to be completed soon, will benefit another 27,000 people.
"The motorized water system in Barakala pumps 10,000 litres of clean water every hour using solar energy. A-63-metre water well has been dug and set up at the pump house. The system pumps water to a120,000-litre reservoir for six hours daily. The water is then chlorinated before being supplied to 21 tap stands," explains Xavier Atine, World Vision coordinator in charge of the water program.
The Barakala water system serves seven villages in the host community within a 10-kilometre radius. 
"Even if the system didn't pump for 10 days, the communities would still get water which is always reserved in the tank," Xavier notes. 
In Bidibidi zone two-refugee settlement, World Vision set up a 120,000 liters water tank providing water to 12,644 refugees in four villages. 
In zone two project World Vision complemented the efforts of another partner who dug the water well and motorized it, while World Vision supported by mounting a water tank which has now made it possible for the system to supply water across 17 tap stands.
However, World Vision's efforts have not been able to reach the entire population in Yumbe. Access to clean and safe water is still a piped dream for most refugee communities. Because of this, water trucking is still being used predominantly to provide water to thousands of refugees every day. This is not only costly in the long run but also time consuming especially for the beneficiaries who have to queue up in long lines for hours waiting for water trucks. Experts therefore suggest more long-term and sustainable solutions to support refugee communities.