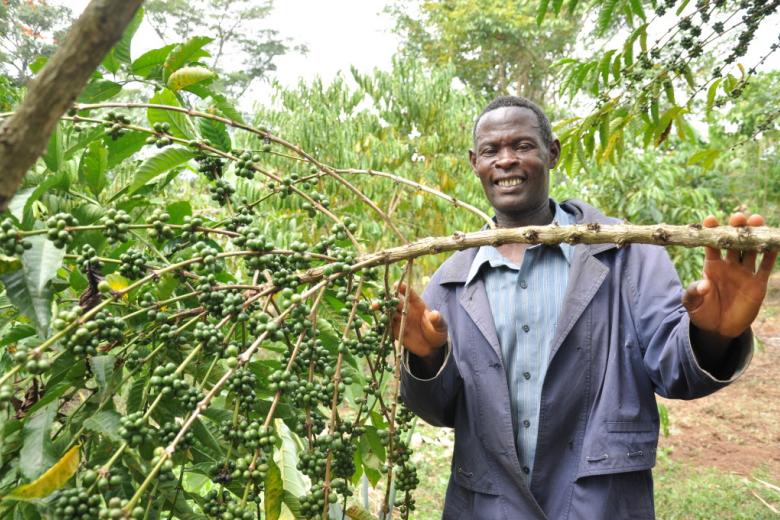 Successful farmer pays for his children's education
Monday, July 29, 2013
Even at 51, Moses Kityo, a World Vision supported farmer in Kasangombe ADP, 75 km northwest of Kampala, is increasing large scale cultivation of cash crops such as coffee, bananas, maize, cassava and sweet potatoes. He is reaping more income that has helped improve the standard of living of his household.
With every coming year, Moses Kityo's vision keeps growing as if he's still a young man. At 51, Moses still has many plans he wants to accomplish for his family in Kifunfugu village, approximately 75 km northwest of Kampala.
"I want my coffee plantation to be bigger like ten times," says Moses, who already has more than four acres of coffee plantation. Moses is still planting more acres and helping his children grow their own fields of coffee on his 25 acre land. 
"Some of the plants are still young but I have two-and-a-half acres of coffee that can be harvested," says the hard working farmer in Kifufungu village in Kasangombe sub-county in central Uganda.
Moses still grows a variety of other commercial crops such as bananas, maize, cassava and sweet potatoes. He used to keep poultry too until recently. "I stopped keeping poultry about three years back. I had about three hundred," he says.
"The problem with poultry keeping is that at a certain time you have chicken you are feeding but are not producing eggs, and that becomes expensive," he explains. The chicken house is now desolate. "I moved out of that business but it was profitable. In two years, I hope to be back in that business," he promises. 
"I used to keep two cows too, but I no longer because cows need a large piece of land which cannot be used for other purposes," Moses says. "If you have ten cows, you need ten acres of land. But if you grow coffee on the ten acres, you benefit more," he calculates.
On a tour of his plantations, the industrious father of seven aged between eight and 29 says, "So for now my main source of income is coffee and bananas. In the last season I harvested around 2,000 kilogrammes of coffee. I raised about 4,500,000 shillings." That's approximately 1,730 US dollars. 
He's looking forward to trading with potential buyers. "If you give me sweet money, I will sell you the stuff," he says. 
Success with World Vision 
But lately the coffee farming has faced challenges. "The coffee wilt came and destroyed the first crops we grew and so we planted more. We would be having many acres under coffee but we continued replacing, replacing what the wilt destroyed and that's the problem," Moses says with regret. 
Moses boasts that he is where he is because of the hand of World Vision in his ventures. "Okay, World Vision has supported me a lot. They have always been giving me the coffee seedlings," he explains, adding, "It has been giving me skills through workshops, eh, skills." He means agricultural skills. 
"I tell you, every crop that you see here, I grow it using the skills learned from World Vision. There is a difference between us and those farmers who did not learn skills from World Vision, they cannot match us," Moses says confidently. 
Part of the skills were learned from on-farm training and part from agricultural tours World Vision organised for farmers in Kasangombe. Moses says that now that World Vision is phasing out of Kasangombe the trainings and tours are becoming less and less frequent. 
But all is not lost for Moses and his community. "I have got some loans through MED-Net. You know it was MED-Net, but now it's Vision Fund. I am also a client," says the well informed farmer. Much of the loans he got, he put into his coffee farming. 
"Moses is one of the hard working farmers we have in the village"
"I am now in the sixth cycle," he says, meaning he has taken the loan six times. The smallest amount he has borrowed is 500,000 shillings or 190 US dollars, and the largest amount is one million shillings, just about 380 US dollars. Altogether he has gotten about 4,300,000 shillings or 1,650 US dollars. Not bad by Kasangombe standards.
By village standards, Moses is a well-to-do. His living room is spacious and furnished with a sofa set and coffee set. Moses moves around on a motorcycle, rather than a bicycle or on foot. His family never lacks food. He takes his children and sweetheart to the best clinic around. He can afford to hire labourers to work on his plantations, though he and his wife and children also work.
Education for all the children
Moses' last four children all study in the capital Kampala in boarding schools. These include the last born Betty Nakazzi now eight in Grade Three, Samuel Mutebi now eleven in Grade Six, Deborah Nansubuga, 19 is in Senior Six and Ronald Namulende, 21 is in university. The other three children are married. His wife, Betty Nakabuye, 49, still loves him and is well provided for.
"Moses is one of the hard working farmers we have in the village," confirms Getrude Nakamya, a volunteer (community based monitor) with Kasangombe Area Development Programme. 
"In fact, Moses was in the office today paying his loan," says Gilbert Guma, the programme coordinator of Nakaseke/Nakasongola projects. 
"Moses' projects are doing very well and even his loan repayments are good. Before he used to have challenges of paying school and buying inputs for his farm simultaneously. With the loans, his farm inputs are now covered," explains Solomon Kisule, a Vision Fund credit officer in Kasangombe.