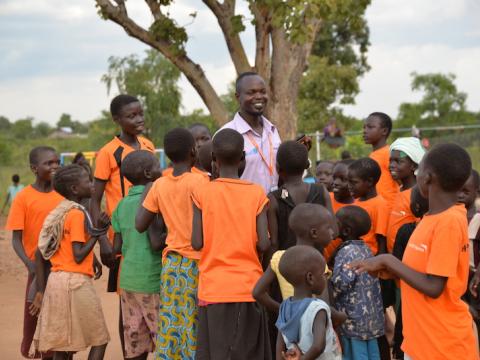 Supporting refugee children to overcome psycho-social distress
Tuesday, October 9, 2018
By Derrick Kyatuka
High-pitched voices of children chorusing letters after their teachers usher you to St. Mary's child friendly space in Omugo refugee settlement, northern Uganda. 
When it is playtime at the center, the place comes alive as voices from the excited children fill the air. Playtime brings everyone together regardless of ethnic background.
The center is equipped with a variety of play equipment including a football pitch. 
Boys engaging in football at the child friendly space. They gather and play everyday after school
World Vision uses child friendly spaces to create a safe and conducive environment for children in emergency situations. Centers like St. Mary's help children, who have been separated from their parents because of conflict, come to terms with the harsh reality around them.
Daily, children both from the host and refugee communities come to these centers to participate in different indoor and outdoor activities, as they learn to socialize and relate with each other. While at the centers, they are also provided with a hot meal of porridge.
Most of the children are aged between 3-18 years, however, the center also has children below three years brought by their parents.
12-year old Queen Elizabeth is one of hundreds of children that visit the center every evening. Named after the Queen of England, Elizabeth, her 12 siblings together with her mother arrived in Uganda in August 2017.
"Our father was killed in the fighting back home and we had to flee to safety here," Elizabeth says. 
Elizabeth goes to a local primary school nearby. She has classes from morning to afternoon, then spends her evenings at the child friendly space.
"I always look forward to coming here, because I am happier in this place. I have learnt how to socialize and take part in traditional dances from the many communities living here," she quips. Since I started coming here, I have made new friends unlike at home where I only had friends from our neighbourhood," she adds. 
 

Best friends: Queen Elizabeth (R) and Alice Mariam share a light moment at the child friendly space. 

 

The eighth born of thirteen children says she is unhappy when she stays at home because it is very dull and forlorn. Elizabeth wants to become a doctor when she grows up. Similarly, for Alice Mariam, 10, also a refugee, the child frield space has enabled her to discover new talent. 

 

"When I started coming to the child friendly space last September, I joined the choir and started singing. We sing every evening and have been composing our own songs," she says.
Mariam who wants to be a nurse says she has made new friends in the host community. "Every afternoon we meet and participate in different activities like playing football and dancing." 
Alice (in green skirt) and Elizabeth at the forefront leading other children in a dance.
Mariam Aseru, a World Vision child protection facilitator says the center now supports over 700 children from both the refugee and host community in Omugo refugee settlement. 
"Before we established this facility, children received psycho-social support under trees.
World Vision has set up these child friendly centers and stocked them with a variety of toys and outdoor play equipment to enable children participate in different activities.
Children take part in both indoor and outdoor games. Some of the indoor games include building blocks, knitting, snakes and ladders, and drawing while outdoor games comprise of swings, merry-go-rounds, football, skipping ropes, among others.
"Playing helps these children overcome the distress they've been through. When they come here they are assisted to develop reading and writing as well as life skills and the ability to relate freely with one another," Aseru explains. 
On the other hand, children who have been deeply affected and still haunted by the violence are given special care at the center. They are taken through drawing therapy sessions to determine their levels of psychosocial distress. 
"Children come with a lot of pain as a result of their experiences back home and as they fled to safety in Uganda. For instance, when we ask the new arrivals to draw pictures during class sessions, some draw pictures of guns, people fighting because that is what they witnessed and is still very fresh in their minds," she says. 
A child displays one of the many toys that children interact with at the child friendly space
"We conduct basic counseling to assess issues and know the right support to give to the children," Aseru explains. 
As the children spend more time at the center after being offered basic psychosocial support, they adopt new behaviors and begin to draw new things around them. 
"Sometimes, when the level of distress is tooextreme and cannot be handled by World Vision, we refer the children to the Transcultural Psychosocial Organization (TPO), an NGO providing mental health solutions in the emergency response for specialized treatment," Aseru explains.
World Vision's aim is that refugee children from different ethnic backgrounds will co-exist peacefully within the refugee settlements. 
Presently, World Vision operates 42 other child friendly spaces in the West Nile region, benefitting over 40,000 children. Peer clubs programs have also been introduced to equip adolescents with life skills.