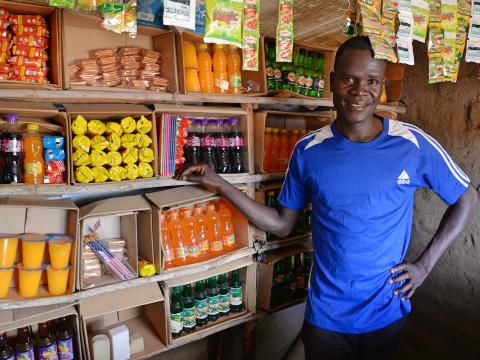 These refugee entrepreneurs are creating their own opportunities, thanks to a little help
Tuesday, June 12, 2018
By Moses Mukitale, Communication Coordinator, West Nile Refugee Response 
Refugees who arrived in Uganda with just the clothes on their backs a year ago are now running thriving small businesses. 
Mini groceries, barbershops and pharmacies have popped up in recent months in Imvepi refugee settlement – helping families support themselves and contributing to an emerging local economy. The start-up businesses were established thanks to start-up capital that was provided from UNHCR in December 2017. World Vision partnered with the UNHCR to distribute the cash grants worth US $235 to 463 vulnerable refugee households - refugee foster home or child-headed households. Here are a few of the success stories:  
Isaac Gift Joseph, 22 years old
When Isaac got his cash grant, he chose to set up a grocery store at a roadside in Imvepi refugee settlement. 
''At first I was selling mainly food stuffs but when I added soft drinks I began realizing more profits. With this money I've been able to buy school uniforms for all my uncle's children, books, pens and other scholastic materials. My wife also just gave birth recently and this shop has helped me to look after her and buy all items the baby needed,'' he says.
This youthful father of one is, together with his wife, taking care of five other children belonging to his uncle. His uncle opted to stay back in South Sudan due to poor health and asked Isaac to escape with his children.
At 22, Isaac is now playing a father figure to 6 children. 
Yavu Victoria, 63 years old
Victoria also set up a grocery after receiving her cash grant.  
''I have now been operating the grocery for four months and there is a lot to show out of it. The children's health has greatly improved, am able to change their diet at least twice a week. I get them vegetables, fish and sometimes meat,'' explains the 63-year-old. 
Victoria fled South Sudan in December 2016 with four grandchildren, her daughter remaining behind. After settling in at Imvepi settlement, Victoria agreed to become a foster parent to two more children - unaccompanied minors who lost contact with their parents when fighting broke out and walked on their own to Uganda.
At her shop, Victoria sells soft drinks, food, and basic household items. 
''My plan now is to expand it; I want to add fresh vegetables to my merchandise as there is a ready market for them,'' explains Victoria.   
Joel Moi, 30 years old
Meet one of the most sought-after barbers at Imvepi settlement. Joel is employing two fellow refugees at his unisex salon.  
''I knew there were so many youths who would need haircuts in the settlement and that's why I decided to set up this salon. Everyday, we get not less than seven customers coming to shave. Sometimes, like during the weekend, we can get up to 15 customers,'' narrates Joel. 
Joel is a father of two children and taking care of two other children belonging to his sister. She could not be traced when the family fled for Uganda.
Ide Jessica, 23 years old
Since they'd arrived, 23-year-old Jessica wanted to set up a clinic at Imvepi settlement. 
Their family of two biological children and one fostered child had part of the money needed to start the clinic but when it opened, many of the shelves had no drugs on them.
More capital would be needed to fill them up. So when the family got a cash grant, Gun-Lomo clinic (I need power from God) became a bee-hive of activities. 
''We bought more medicines and this helped the clinic to operate effectively. We receive more than 20 patients daily mostly suffering from malaria, diarrhoea and cough. The majority of these are children are below the age of five,'' narrates Jessica. 
Jessica's clinic serves both refugees and host communities. It is the very first privately owned clinic to open up at Imvepi settlement main trading centre.  
More than 400 businesses started thanks to cash grant
These are but just a few cases to demonstrate that conditional cash grants to refugee communities are able to increase household incomes, boost livelihoods and trigger self-sufficiency.  
Prior to receiving the grants, beneficiaries were trained in business selection and management for better utilization of the fund. Fast forward to June 2018, hundreds of small businesses have sprouted at Imvepi refugee settlement as a result of the grants.  
Hundreds of refugee families that benefited from this project are today owners of small groceries, saloons, eating joints, market stalls, phone charging systems, among other income generating activities. World Vision is also currently providing cash grants to hundreds of other vulnerable refugee households at Omugo refugee settlement.