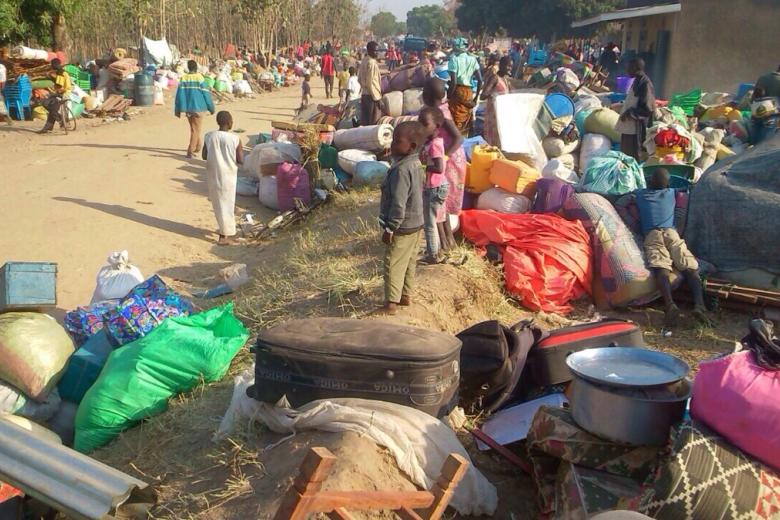 Uganda now home to a million refugees and asylum-seekers.
Tuesday, February 28, 2017
Uganda is now home to1,064,043 refugees and asylum seekers according to the UNHCR refugee data base. 68% of this number, equivalent to 723,550 people is all from South Sudan. This latest development now means Uganda has the highest refugee/ asylum seeker population size in Africa. Since July 2016, Uganda has been receiving on average 22,00+ refugees daily from South Sudan. This after the World's youngest state (South Sudan) failed to uphold a peace accord signed between the opposition and ruling government in 2016. In principal, some 513,410 refugees have crossed into Uganda since July 2016.
Ethiopia formerly had the largest refugee population size in Africa standing at 702,500 people. But that is long gone. Globally, Uganda now ranks 5th in the list of countries with the highest refugee population size. This after Jordan (2.7m+), Turkey (2.5m+), Pakistan (1.6m+) and Lebanon (1.5m). Deemed as the World's best destination for refugees due to its friendly refugee policies, Uganda is home to refugees from DRC, South Sudan, Burundi, Somalia, and Rwanda, stationed in 12 districts. 
With the enactment and coming into force of the 2006 Refugee Act, refugees in Uganda under section 28, are entitled to internationally recognized refugee rights including the right to work and freedom of movement. Refugees in Uganda are entitled to the same rights as nationals with respect to practicing their religion and are entitled to elementary education for which they must, under Section 29, receive the same treatment as nationals. A refugee may also, under Section 44(2) reside in any place within Uganda other than a refugee settlement.
With thousands of new arrivals fleeing to Uganda every day, South Sudan is now Africa's largest refugee crisis and the world's third after Syria and Afghanistan – with less attention and chronic levels of underfunding.
UNHCR and partners have now been forced to open yet another refugee settlement in Northern Uganda as Palorinya in Moyo district runs out of space. The new settlement, Imvepi in Arua district will host up to 110,000 people.
The majority of South Sudanese refugees being received continue to arrive into Uganda through informal border points. Interviews conducted by UNHCR with newly arrived refugees reveal that majority of women and children fleeing into Uganda report their main reasons for fleeing being that of general insecurity, limited access to food and basic services, violence, including incidents of rape and indiscriminate killing, and the destruction of property by both government and opposition forces.
Commencing 21 February, all new arrivals received at Kuluba, Kerwa/Manzere, and Goboro border crossing points are being transported to the reception centre in Imvepi, Arua district.
The Bidibidi Settlement area continues to stabilise for the refugees who had arrived over the past months and efforts are currently underway to build more sustainable structures to replace older deteriorating emergency shelters. Bidi Bidi settlement is currently the world's largest refugee settlement, seated on more than 250 square kilometres of land.
The humanitarian response continues to face significant challenges in light of chronic and severe underfunding. In 2016, the humanitarian response for South Sudanese refugees in Uganda received just 40% of the US$251million requested, compromising the abilities of the response to provide vital aid. For 2017, the humanitarian response has requested US$558 million. Every month, WFP spends close to USD$15M on food alone for the refugees in Uganda. 
Impact on Uganda: 
The increasing number of refugees entering Uganda daily has strained the delivery of public services to host communities around refugee settlements. This has especially affected sectors such as health, education and water as host communities have to now compete with refugees for most of these services. Aid agencies are doing whatever it takes to provide stand-alone services inside refugee settlements but this has not yet succeeded owing to underfunding.
World Vision with its partners are:
1. Distributing food to all refugees in Adjumani, Arua, Koboko, Yumbe and Moyo districts.
2. Constructing 26 child-friendly spaces in Yumbe and Adjumani districts. This with funding from UNICEF and UNHCR.
3. Contributing to the empowerment of refugee and host communities through vocational skilling in Adjumani.
4. Intervening in the promotion of sanitation and hygiene plus constructing bore halls, latrines and creating refugee-water management committees.
5. Distributing core relief items to refugees in Yumbe
6. Preparing hot meals for all refugees in Yumbe and Imvepi.
7. Managing WFP food warehouses
8. Distributing cash  to refugees in Adjumani and Koboko
9.Conducting case management and identification of separated children and unaccompanied minors
10. Rolling out livelihoods and environmental preservation project to primarily preserve trees in Imvepi settlement and also boost productivity in agriculture.