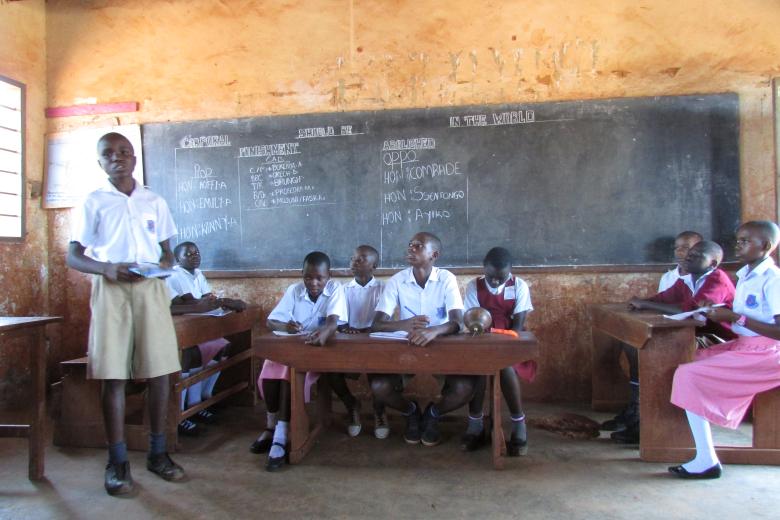 Uplift project empowers children to know their rights
Thursday, March 17, 2016
By Flavia Lanyero
Seated in a classroom watching primary pupils have a debate brought back nostalgic memories of my younger days when debate was the epitome of display of knowledge.
Indeed, pupils of Mbuya Church of Uganda Primary School proved right that notion as a team visitors from World Vision Uganda  sat in their classroom in February 2016 to watch them debate. From speaking good English to articulating their issues, these children knew their rights and responsibilities and also knew when and where to report and injustice.
Under the topic "Capital Punishment should be abolished in the World," the children identified domestic and social issues that led children to do wrong things and how to overcome them.
These debates were an initiative of World Vision Uganda through the Uplift programme in which the organisationt works with formal and informal child protection structures to advocate for child rights protection and participation.
The Urban Program on Livelihoods and Income Fortification and Socio-civic Transformation for the Youth (Uplift) is a programme to improve on the life of the urban youth implemented in Nakawa and Makindye suburbs of Kampala.
The child protection component which is implemented in partnership with ANPPCAN Uganda Chapter engages the informal and formal child protection structures within Makindye and Nakawa to ensure their functionality within the Urban setting. This focuses on sensitisation meetings, capacity building, strengthening existing structures as well as advocacy campaigns.
"These structures have strengthened child protection systems to manage child abuse cases. So far, 10 schools have been empowered to identify and report such cases," says Barbara Mirembe the Uplift Project coordinator.
The Child Protection and Advocacy model is used to focus on building community awareness.  Members of community engage in debates to decide and reflect on issues affecting the well-being of children and young people.