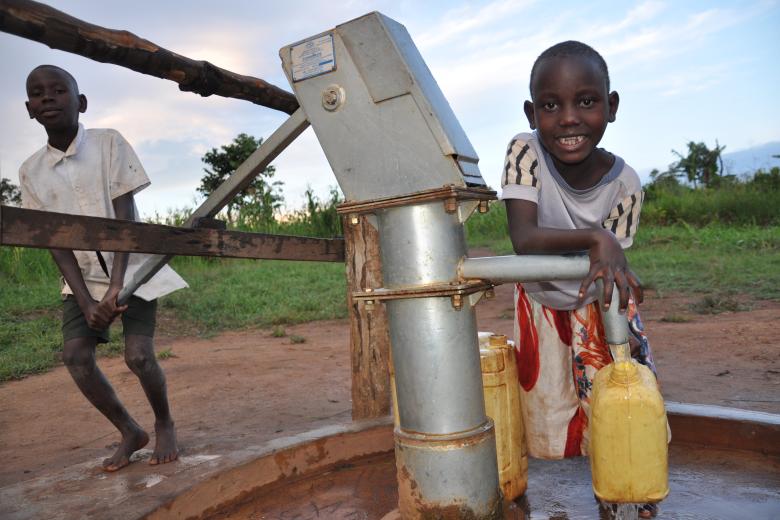 Water is now behind our house
Thursday, February 12, 2015
By Simon Peter Esaku
They took Kyabisulita A village, about 270 km west of Kampala by storm in February 2014. "They came in pickups and a lorry with a long metal rod. They were putting on overalls and helmets," remembers seven year-old Jane Ainebyona. The men pitched their tents in the fields hardly 100 metres from Jane's home. 
Soon the long "metal rod" started drilling the ground for water. "Those of Jane could go and watch the drilling for the whole day," says Jane's father- Erias Akandwanaho, 45, a pastor. A week later, water came out and a pump was fitted. The inhabitants of Kyabisulita A village who had been walking long distances in search of water, jubilated as they drew water from their own borehole for the first time. 
"Over 100 households in Kyabasulita village use the borehole," Erias says. Altogether there are 146 households in Kyabasulita A village in Kiryanga sub-county, Kibaale district in western Uganda. "People from neighbouring villages like Kyabisulita C, Bugwara and Mulele also use this borehole," Erias continues.
Erias' family of seven including children aged between one and 23, is grateful to World Vision for funding the borehole. Jane Ainebyona, a World Vision Registered Child is simply excited. "I usually collect water from the borehole in the afternoon after coming back from school," says the nursery class pupil. Jane, the fourth born can only manage to carry water in a five-litre jerry can. She adds they use the water for drinking, cooking, washing clothes and bathing.   
Jane's mother- Beatrice Nyantibenda, 40, looks back. "We used to collect unclean water from ponds where they dig sand in the swamp and from a borehole in neighbouring Mulere village two kilometers away," she says. World Vision through Kiryanga Area Development Programme (ADP) supported by World Vision Japan came to the family's rescue with a 1,500 litre tank to harvest rain water in 2013. The water tank still helps the family during the rainy season but the main source of water is the borehole now. 
"World Vision constructed two more boreholes in Kyabisulita A village," says Paul Mayemba, a World Vision staff in Kiryanga ADP. But many boreholes in rural Uganda break down due to lack of maintenance and the people abandon them and go back to their old sources of unclean water. 
"To counter the problem of breakdown, World Vision trained water pump mechanics who repair the facility when it breaks down," Paul explains. Moreover, World Vision helped locals form seven member water source committees which oversee the maintenance of the boreholes. "The committees mobilise people to clean the boreholes and collect the money from users for maintaining the boreholes," he adds. 
For Jane's family, and hundreds more, the coming of the men in overalls and helmets has changed life- now they have clean and safe water close by. And now with the clean and safe water, the incidence of waterborne diseases will also decrease.    
Ends