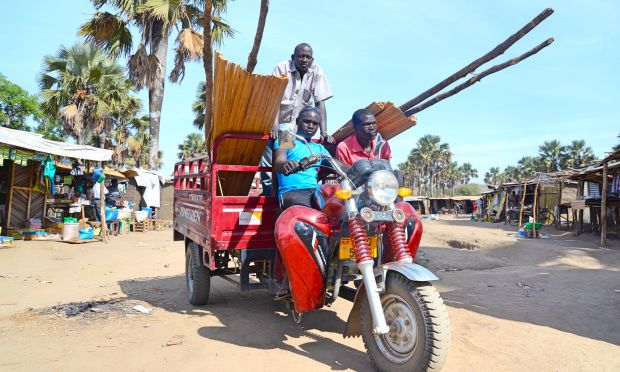 By Moses Mukitale, Communication Coordinator, West Nile Refugee Response
Time check 7:30am. Thirty two-year-old Jurugo Chaplain and two others are already on the road, cruising their three-wheeler motorcycle towards Palorinya's trading centre. They have a client waiting, the merchandise has to be transported to the market to get the best price.
This will be Chaplain's first customer of the day. After this, more than 15 others are waiting.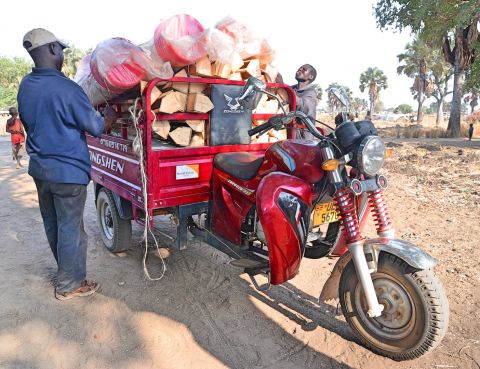 The clients call him by phone and within just minutes, he will be there, ready to pounce for business. On market days like today, Chaplain often loses count of the number of clients he serves.
And you can't blame him. There are not many plying this trade. A three wheeler like his costs UGX6.5Million (US $1,800). His is just one among the five provided freely by World Vision to refugee and host community youths in Palorinya settlement. This motorcycle aims to help kick-start income generating activities for refugee communities at Palorinya.
On a good market day, Chaplain will make close to UGX150,000 (US $41) while on normal days he fetches between UGX35000-UGX40000 (US $11) daily.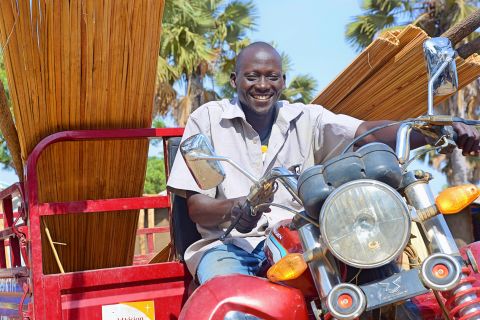 For refugees like him, this is more than enough to look after his family. But Chaplain is not alone on this three-wheeler. There are six others behind him. Once every month they meet to share their profits, service their tricycle and, sometimes, give out loans to members.
Getting the three-wheelers
With funding from the government of Finland, World Vision in October 2017 donated five three-wheeler motorcycles to five youth groups at Palorinya refugee settlement. The motorcycles are part of World Vision's livelihood empowerment programme targeting both refugees and host communities.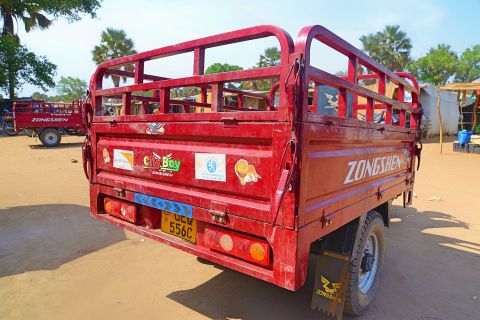 Each group is made up of seven members comprising of people with disabilities and able bodied persons.
The donation followed a consultative meeting with the youth where they recommended three-wheeler motorcycles as their preferred donation for income generation.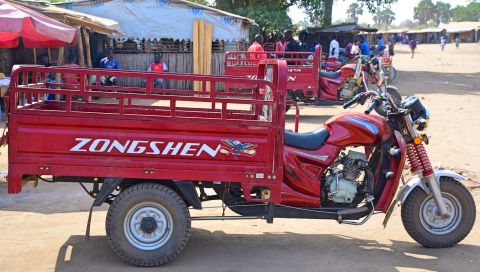 Upon receiving the motorcycles, each group identified a member to ride theirs. This member is paid a salary for riding and operating the tricycle. Groups that had mainly persons with disabilities chose to hire an external rider. Each motorcycle has a maximum load capacity of 1000kgs.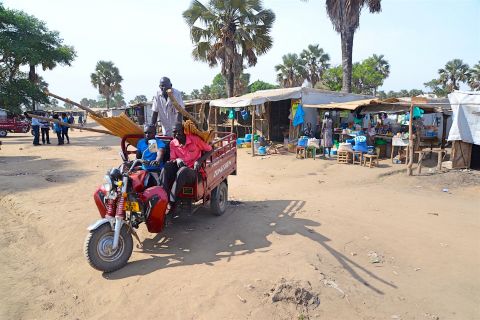 Reaping the rewards
Five months down the road, each group has a success story to share. Members have taken loans and set up small grocery stores all around Palorinya, while others have been able to take their children to better schools outside the settlement. Chaplain himself got a loan of UGX400,000 (US $111) and set up a small grocery shop dealing in household items, soft drinks, snacks and other food stuffs. He saves roughly UGX250,000 (US $69) every month.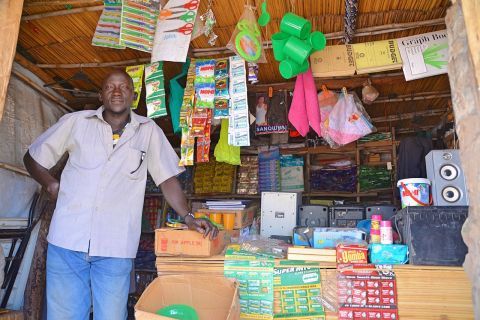 ''I was a prominent businessman in South Sudan dealing in beer, soda and other soft drinks. I lost everything in the war. I only managed to pick a few plastic chairs. But with this humble beginning I am rising again. The tricycles have been of very great value to us. Of course they break down due to the nature of the roads here but we repair them. Those of us who are serious are going to benefit a lot,'' Chaplain explains with a smile on his face.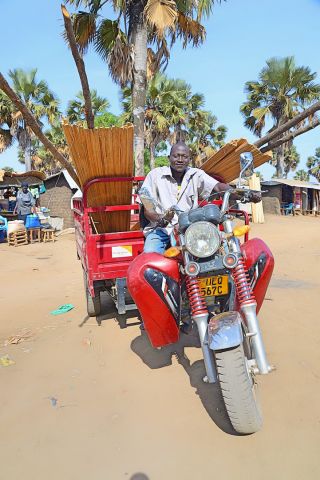 Chaplain is planning to take another loan and set up a restaurant. He still wants to sell soda and soft drinks too. But that will wait for now.
The group's secretary, 32-year-old Konyi Emmanuel, just took a loan of UGX350,000 (US $97) to take his three children to a better school in neighbouring Adjumani district.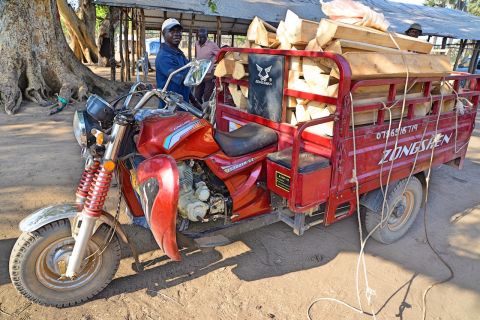 ''I have a sister staying in a refugee settlement near Adjumani district town. She found me a better primary school for my three children. They are now staying with her as they attend that school. It's much better than studying from here. These tricycles are enabling some of us secure a better future for our children '' explains Emmanuel Konyi.
Emmanuel, who is a PWD with only one hand, has plans of venturing into poultry keeping. He says that is something he would love to set up for his dear wife who is currently with him at Palorinya.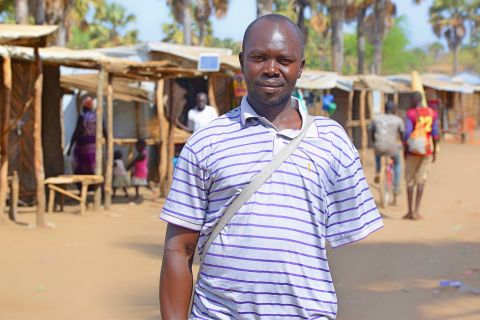 He says more youth groups need similar support to enable them earn some income.
''The majority of us lost everything we had. Hundreds of youth are loitering around the settlements doing nothing. If they are not engaged with such meaningful activities, they could end up being wasted,'' Emmanuel adds.
With more funding, World Vision hopes to support more youth's groups in refugee communities with various income generating activities to boost their livelihoods.