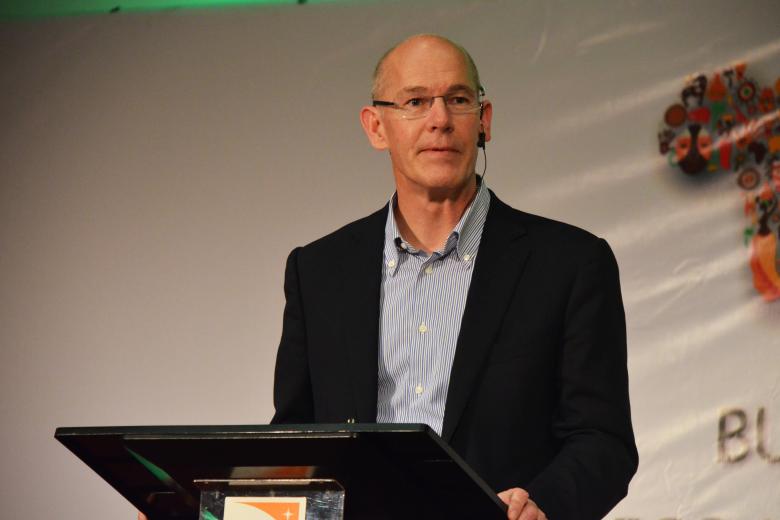 World Vision commits to achieving zero targets of SDGs
Wednesday, November 25, 2015
By Flavia Lanyero
World Vision President and CEO Kevin Jenkins has said that World Vision's work will be guided by the United Nations Sustainable Development Goals aimed at eliminating to zero all barriers to development.
Speaking at the World Vision Africa Forum on Tuesday 24th/Nov/2015, Kevin said that World Vision, like the rest of the global aid partnership, has started a new era fixated to achieving zero in all its targets.
"As we plan to maximize our impact on children, World Vision should work towards putting an end to hunger, extreme poverty and maternal deaths," Jekins said adding that the zero targets will be achieved if the organisation is inspired to move the hearts of many people to help the most vulnerable.
The Africa Forum, hosted this year by World Vision Uganda, is a meeting that brings together all National Directors from Africa to discus and share ideas on implementation of World Vision work.
Under the theme "Building the foundation for making child well-being a reality" Jenkins urged the National Directors to continuously review their strategies, innovations and policies to effectively and efficiently respond to the needs of the most vulnerable children across the world.
"World Vision is a conveyor of hope to people in desperate situations. Despite all difficulty, we have to continue reviewing our policies to become more effective and efficient," Mr Jenkins said.
Particularly for Africa, World Vision has increased by twofold the number of children under its sponsorship. Rudo Kwaramba the Regional Leader for Southern Africa announced that the number of sponsored children has increased to 100 million up from 50 million in the last financial year ending September 2015.  
This task she said will be achieved through World Vision's networks and geographical penetrations across the 26 countries in Africa where the organisation operates.  
Among other challenges facing the continent is an economic meltdown, unemployment, high dependency rates, high population growth, and conflict and insecurity, climate change, child marriage, as well as poor health service delivery.
Rudo said that World Vision in Africa should be commended for attaining a number of gains especially in providing clean water, provision of mosquito nets to eliminate malaria, immunisation, HIV testing and counseling for pregnant mothers, Community let total sanitation and building school and hospital infrastructure.
She, however, said that the organisation's new focus is to increase efforts to ensure that the quality of education is improved, completion rates increased, nutrition status of children improved, child marriage addressed and ensuring that every child has a birth certificate.  
"We have understood the impact we can make through advocacy and based on our reach and geographical locations, this will help us hold our governments accountable to the Abuja declaration," Rudo said.
The Abuja declaration calls son governments to increase funding for health to at least 15 percent.
 Fred Muhumuza, World Vision Uganda's Board chair said that it is important to rebuild the foundations of children right from the family, community and nation in order for them to thrive. Fred said that in the wake of many challenges, families need to be helped to shocks like disasters, disease and conflict which can be done through child participation in all humanitarian work.