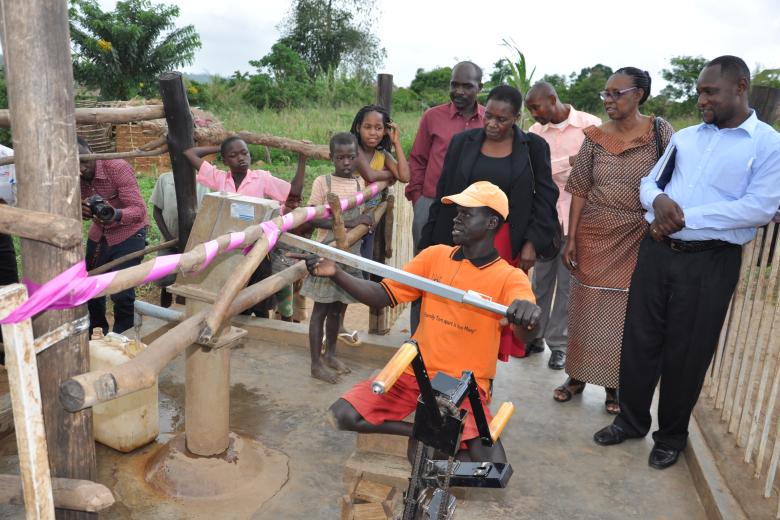 World Vision hands over WASH project in Kyangwali
Thursday, April 23, 2015
World Vision hands over WASH project in Kyangwali
By Simon Peter Esaku
Senior Communications Officer, World Vision Uganda
After one year in Kyangwali Refugee Settlement approximately 285 km west of Kampala, World Vision Uganda handed to the Government of Uganda the Inclusive Water, Sanitation and Hygiene (WASH) Project on April 17, 2015.
Mr. Warren Tukwasibwe Programme Manager Operations who represented National Director- Gilbert Kamanga conducted Mr. David Wangwei from the Office of the Prime Minister around some of the facilities WASH provided in the settlement to symbolise the handover.
The ceremony took place at Kasonga Primary School within the settlement, a vast fertile land covering some 147 square kilometers in Hoima district in western Uganda. The settlement is home to about 42,000 refugees mainly Congolese, Sudanese, Rwandese and Burundians fleeing conflict in their countries. It was established in the 1960s.
"We did not know that people with disabilities have their own special cases which need to be handled separately, for example latrines with ramps," Mr. Wangwei said before other partners and hundreds of refugees who had turned up. "It was an oversight by the Office of the Prime Minister. As I talk, whatever construction works are going on now have a component for people with disabilities," he added.
Mr. Warren challenged partners present saying, "What else can we do for people with disabilities, for children?"  The project which lasted from March 2014 to March 2015 aimed at improving access to water, sanitation and hygiene while taking into account the physical challenges of the 5,000 people with disabilities (PWDs)- the reason it was called "Inclusive WASH Project."
It was implemented using the Social Model Approach which sought to fight social barriers, cultural beliefs and norms. The model encourages more engagement and consultation on designs and prototypes with PWDs and disabled people organisations.
"World Vision constructed 16 inclusive boreholes and modified 13 existing ones to make them inclusive by adding ramps for wheel chairs, painted guide rails for the visually impaired, and seats to offer support while pumping," explained Peter Nzabanita a World Vision WASH engineer.
He said the project also built 130 pit-latrines for households; 14 for pupils in six primary schools and three for teachers in three schools and supported the beneficiaries to establish an inclusive drama group and associations of PWDs and the elderly.
A Congolese refugee who has spent six years in the camp- Papa Simon Tapa, 38, spoke thus, "You should not discriminate against disabled persons because they are also human beings. Even if you are not disabled as you grow old you will also be disabled." As the Office of the Prime Minister takes over to ensure sustainability, the project will also be remembered for introducing other inclusive devices such as toilet seats and doors wide enough to accommodate wheel chairs.
The Government of Finland provided 400,000 Euros through World Vision Finland to run the one year project. The handover was witnessed by representatives from partners such as the United Nations High Commissioner for Refugees (UNHCR), Ministry of Gender, Labour and Social Development, Ministry of Education, Ministry of Health, Hoima District Local Government, Action Africa Help and Appropriate Technology Centre.