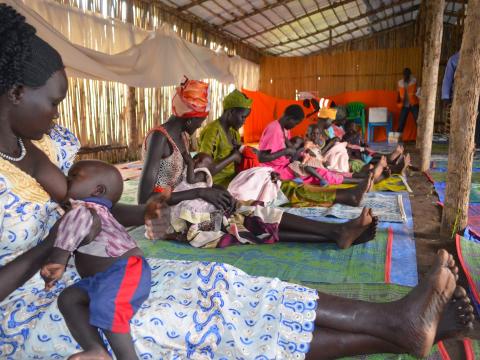 World Vision responds to breastfeeding challenges in Adjumani
Tuesday, July 29, 2014
Kech Majok is a 32 year old female refugee from South Sudan, currently staying at the Nyumanzi refugee settlement in Adjumani district, Northern Uganda. Majok is a mother of five; including two sets of twins. For close to 2 months after her arrival, Majok struggled with breast feeding her twins due to poor feeding, anxiety, and poor positioning of her breasts during breast feeding, until she went to the World Vision breast-feeding facility.
Just like many of her colleagues at the camp, Majok lost contact with her husband as she escaped the fighting in Bor, South Sudan, while crossing over to Uganda.
''When we got to Uganda, life was really very hard at the reception centre in Dzaipi.We where sharing a tent with another family of six and as such we had to sleep in turns or sometimes we just let the children sleep. This even made it hard for me to breast feed my twins because I had no space to sit down with them. Additionally, it would also be so hot during day and too cold during night and this also affected me alot.
''This lasted for 2 months and we shifted to the settlement centre at Nyumanzi where I got our own tent and land. Life begun to improve, as we got our own rations of food, and special knitted blankets from World Vision. the only challenge was still breast milk."
''I tried to breast feed my twins but no milk would come. The boys would cry day and night and refuse the porridge I would make. I visited the health centre at Dzaipi and got some drugs for the twins but this did not help''
Majok's hut is a few meters from the World Vision breast-feeding unit. Due to its proximity, when the village health teams (VHTs), trained by World Vision to identify and speak to mothers with breastfeeding complications begun touring the camp, her home was the first to be visited. The VHTs referred her to the breast-feeding facility and it was here that she got help.
Majok sys it was discovered that her problem was both psychological and nutritional.
"I was told that breast milk couldn't come if my mind is not settled and that the food I was eating could not enable me produce breast milk. I got counselling and support on various nutritional interventions, psychosocial support and also learnt how to better position my breasts while breast-feeding.''
According to Isaac Baigereza, a nutritional officer at the World Vision Breast feeding corner, most of the mothers in the camp have little or no breast milk at all due to sickness, poor feeding, stress, anxiety and improper positioning of breasts while breast feeding.
''At the centre, we have care givers trained in infant and young child feeding who offer support and counselling to the breast feeding mothers. We help them understand the relevance of keeping the child breast fed for the first 6 months of life and also to help those without breast milk restart the whole process of breast-feeding.
''We have registered 203 breast feeding mothers but among those only 30 have breast feeding challenges. Those come daily and are given nutrition education plus infant and young child feeding education. The others without challenges simply come to breast feed from the shelter and are visited once every week in their communities by the caregivers. On registration, every mother is given a special knitted blanket, baby clothing's and baby soap. Others who need special supplementary food for babies are also assisted at the centres''
 According to the World Vision northern regional operations manager Freddy Opoka, the centre has achieved numerous successes in the lives of the refugee breast-feeding mothers.
 ''Mothers have overcomes trauma and anxiety through our various counselling sessions, some first-time mothers never knew how to position their breasts and children while breastfeeding but now they are doing it very well. We are seeing improvement in sanitation, hygiene, and care given to children. With in the camps, mothers find a lot of destructions that hinder them from breastfeeding but when they come here, they have a cool and quiet environment plus well-trained nutritionists. When their babies fall asleep there is enough space for them to sleep''.
Currently World Vision is constructing three other breast-feeding facilities.
Iyilo and Nyumanzi are the two biggest refugee settlement areas for the South Sudan refugees in Adjumani but in total there are 13 assorted settlement camps.
 Challenges:
Most of the mothers with children above 6 months have challenges of finding other complementary nutritious foods to support optimal child growth. This is because these mothers only depend on rations from the World food program, which lack the nutrients required for child growth.