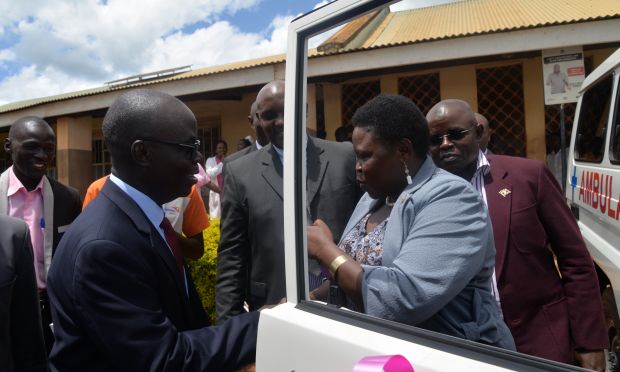 By Jacqueline Zawedde Muyomba
The District Health Officer, Hoima District, Dr. Joseph Ruyonga has revealed that the district has since been grappling with issues of maternal deaths. Dr. Ruyonga made the remarks while receiving an ambulance and an assortment of medical equipment donated by World Vision to aid maternal, newborn and child health services. The ambulance and equipment were handed over to the district by the Minister of State for Primary Health Care, Hon. Dr. Joyce Moriku Kaducu, on 11th May 2017 at Kikube Health Center IV. The equipment included blood pressure monitors, suction machines, resuscitators, weighing scales, a flat screen TV and delivery sets among others.
"Pregnant women could not easily access health facilities due to the long distances from their homes. But now that World Vision has supported us with an Ambulance, Hoima District health care services will become better," applauded Dr. Ruyonga.
Dr. Kaducu also handed over 34 computers and 589 smart phones to assist the Village Health Teams that bring health services closer to the communities and follow up on pregnant women within their various sub-counties. The beneficiaries of these items include boys and girls, pregnant women, the youth, men and health workers. She recognized the efforts made by health workers at the health facility to bring the best health care services to the community, even amidst the challenges that impede their work .
"Our profession is a calling from God. Let us do it diligently even amidst all the threatening challenges, with hope for a reward from God above. Let us not get tired of serving the most vulnerable", said Dr. Kaducu.
The Minister, who also is a qualified pediatrician, recognized the efforts that World Vision and the support it has rendered to the Government of Uganda by transforming the lives of children especially in the Albertine region and giving them a purpose for living. Dr. Kaducu expressed 'government's commitment to continue working with World Vision to realize all their dreams.'
Earlier, Dr. Kaducu commissioned a pediatric ward and a three unit pit latrine stance, which were erected with support from World Vision. The ward serves over 40 communities from Kiziranfumbi Parish in Kikube Sub-County.
The National Director World Vision Uganda, Gilbert Kamanga appreciated the partnership with government and reiterated World Vision's commitment to address causes and effects of poverty through development, relief and advocacy.
The occasion that was graced by the community members and a number of district technocrats who included the Residential District Commissioner, Chief Administrative Officer, LC V Chairperson, cultural representatives and Member of Parliament Hoima District among others.
World Vision Uganda in partnership with the government, has continued to train Village Health Teams (VHTs) to reach out to individual households in Kikube Sub-County, as a way of bringing health services and information closer to them, especially in the event of shortage of medical personnel.