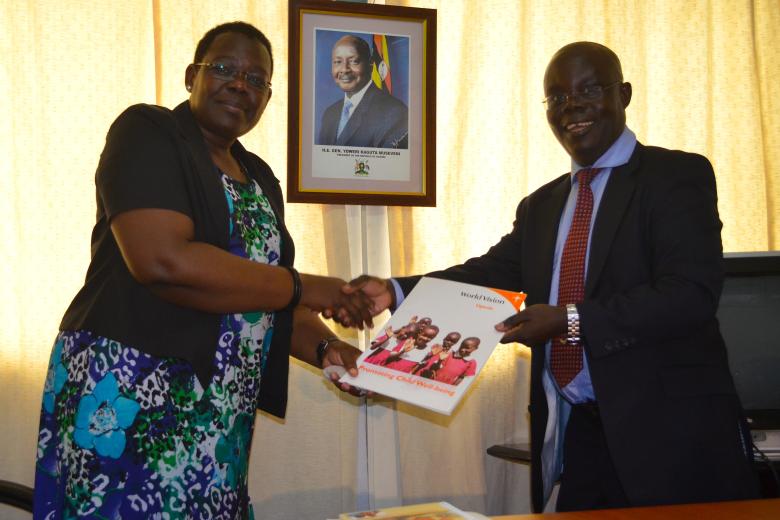 World Vision Uganda renews MOU with Government to continue supporting education sector
Wednesday, April 8, 2015
WVU renews MOU with Government to continue supporting education sector
BY Mukitale Moses
World Vision renews its memorandum of understanding on education with the Government of Uganda, promising to continue supporting the education sector in improving access to quality education.
The major ideals of the partnership between the two  are centred on joint planning in the area of education programming, backstopping implementation of selected learning interventions, research, capacity building, Monitoring and evaluation.
Through these activities the two parties hope to contribute towards improved education for all especially at primary level, where World Vision aspires to see all children attaining the core skills and abilities they need to lead a productive and fulfiling life.
Gilbert Kamanga the World Vision Uganda National director signed on behalf of the organisation while Dr. Rose Nassali Lukwago, the permamnent secretary to the ministry of education signed on behalf of government at the ministry of education head quarters in Kampala
While signing the agreement, the permamnent secretary to the ministry of education Dr. Rose Nassali commended World Vision for what she called relentlessly supporting all government Primary educational programs in its areas of operation across the country.
''Our funding is at the lowest, government still has very many financial constraints and as you can see even the ministry is constrained. We need to have at least a primary school in every parish but that's not the case.  Every year we have a million plus children who join primary schools but our absorption levels are very low. Am so grateful for what you people are doing across the country to back up our efforts. Our children deserve a better education system'' remarked Dr. Nassali.  
Gilbert Kamanga noted that in the period between 2008 and 2014, World Vision invested $18.8 million in educatioln alone, recording tremendous successes towards the improvement of Children's access to quality education.
''Last year World Vision Uganda invested $6.2million in our education programs in 41 districts across Uganda, covering 557 schools, reaching out to 275,00 children and 1612 teachers. This year we are focusing heavily on improving aceess to equitable quality education for children aged 3-18 years.'' Noted Mr. Kamanga
This according to Mr. Kamanga will be achieved through:
-Supporting interventions that promote early child hood development activities to strengthen the foundation for early grade reading,
-Supporting interventions that lead to recognizable literacy, numeracy and life skills with special emphasis on promoting school and community accountabiliy for litaracy enhanecment
-Supporting interventions that promote applied life skills which in the end promotes entreprenuership and employment. This will be done in 29 districts across the country.
Last year World Vision Uganda built 94 class room blocks, 41 staff houses plus 220 latrine stances in 557 schools nationwide.
The organisation also Supplied 1317 twin desks and 12,900 thematic curriculum books, funded the re-training of 1612 teachers in thematic curriculum, supported 814 youth in vocational studies and piloted the school community accountability for literacy enhancement model.
World Vision Uganda's education strategy and intervention activities focus on provision of education infrastructure like class rooms, staff houses and pit latrines, provision of text books and other reading materials, capacity building for teachers and management training for head teachers plus increasing community involvemnt in education.