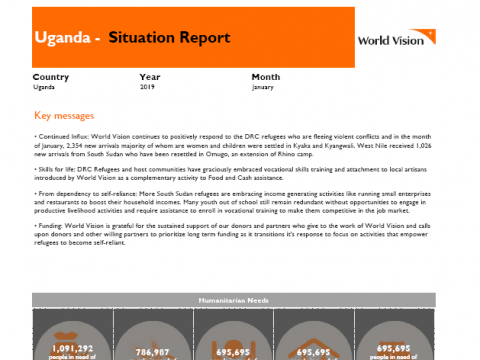 Uganda - January 2019 Situation Report
Wednesday, March 6, 2019
Continued Influx: World Vision continues to positively respond to the DRC refugees who are fleeing violent conflicts and in the month of January, 2,354 new arrivals majority of whom are women and children were settled in Kyaka and Kyangwali. West Nile received 1,026 new arrivals from South Sudan who have been resettled in Omugo, an extension of Rhino camp.
Skills for life: DRC Refugees and host communities have graciously embraced vocational skills training and attachment to local artisans introduced by World Vision as a complementary activity to Food and Cash assistance.
From dependency to self-reliance: More South Sudan refugees are embracing income generating activities like running small enterprises and restaurants to boost their household incomes. Many youth out of school still remain redundant without opportunities to engage in productive livelihood activities and require assistance to enroll in vocational training to make them competitive in the job market.
Funding: World Vision is grateful for the sustained support of our donors and partners who give to the work of World Vision and calls upon donors and other willing partners to prioritize long term funding as it transitions it's response to focus on activities that empower refugees to become self-reliant. For more infromation, read or download our January 2019 situation report.