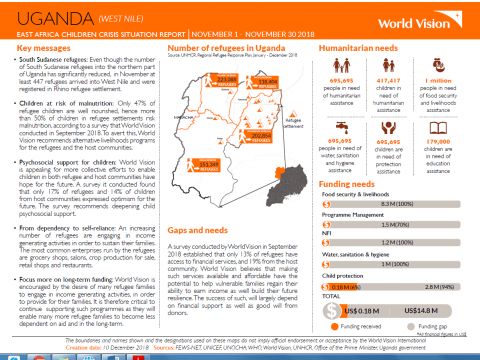 Uganda - November 2018 Situation Report
Thursday, January 3, 2019
KEY HIGHLIGHTS 
South Sudanese refugees: Even though the number of South Sudanese refugees into the northern part of Uganda has significantly reduced, in November at least 447 refugees arrived into West Nile and were registered in Rhino refugee settlement.
Children at risk of malnutrition: Only 47% of refugee children are well nourished, hence more than 50% of children in refugee settlements risk malnutrition, according to a survey that World Vision conducted in September 2018. To avert this, World Vision recommends alternative livelihoods programs for the refugees and the host communities.
Psychosocial support for children: World Vision is appealing for more collective efforts to enable children in both refugee and host communities have hope for the future. A survey it conducted found that only 17% of refugees and 14% of children from host communities expressed optimism for the future. The survey recommends deepening child psychosocial support.
From dependency to self-reliance: An increasing number of refugees are engaging in income generating activities in order to sustain their families. The most common enterprises run by the refugees are grocery shops, salons, crop production for sale, retail shops and restaurants.
Focus more on long-term funding: World Vision is encouraged by the desire of many refugee families to engage in income generating activities, in order to provide for their families. It is therefore critical to continue supporting such programmes as they will enable many more refugee families to become less dependent on aid and in the long-term.