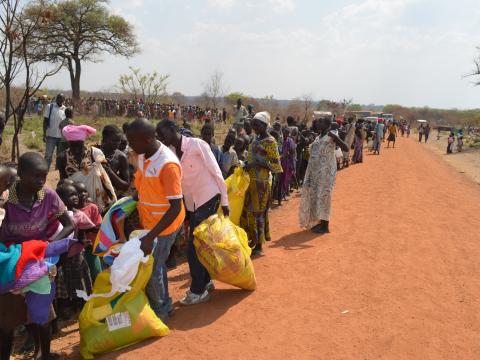 World Vision Uganda' South Sudan Response
World Vision Uganda has for the last 14 months been Responding to the South Sudan Refugee Crisis in the north of the country.
Currently, we are distributing food to more than 138,530 S. Sudan refugees in the three districts of Adjumani, Arua and Koboko, at 38 final distribution points. 
Adjumani district has 14 final distribution points, Arua district also has 14 while Koboko district has 8. All these, plus the three reception centres in each of the districts are apparently receiving food distributed by World Vision.
The foods being distributed include cereals like rice and Sorghum, pulses such as beans, soya beans, vegetable cooking oil and corn soya blend.  Each homestead gets food as per the number of its members.
The rations we are providing are supposed to last the family a whole month. We are giving to every one in a family 12kgs of cereals, 2.4kgs of pulses, 0.9kgs of cooking oil plus 1.5kgs of corn soya blend. The distribution takes 6 to 7 hours at every distribution point and this is happening in each of the 36 final distribution points.
World Vision is however doing more than food distribution, we are also implemnting a 12-months peace building project funded by the UNICEF, we have four child friendly spaces providing early childhood development, we have breast feding corners for mothers with breast feeding complications and we are also providing some nutritional suppliments to breast feeding mothers