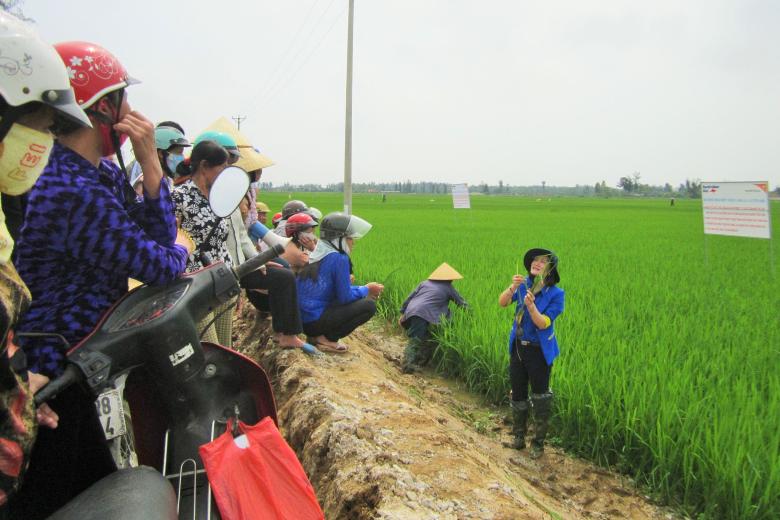 System of Rice Intensification– Climate change adaptation techniques
Monday, July 6, 2015
People along coastal areas in Hoang Hoa and Quang Xuong districts mostly live on fishing, fish raising, and agricultural activities. Among areas for agriculture, cultivation is dominant with rice accounting for 80%. 

The cost of rice production, however, is high and at the same time often pollutes the environment. Reasons include the unbalanced use of chemical fertilisers and the overuse of pesticide. Cultivation activities are also affected by unpredictable extreme weather phenomena as a result of climate change impacts, such as drought, flood, and cold snaps.   

To address this situation, World Vision's Coastal Areas of Thanh Hoa Province Resilient to Natural Disasters (CATREND) grant project in cooperation with the Provincial Agricultural Extension Center, and local authorities, launched the System of Rice Intensification (SRI) in the two districts.


With CATREND's support, Thuan learnt about SRI techniques, which helped to increase her family's rice yield and reduce their production costs.

"My family is among the first participants. At first, it was difficult because the technique was new and we were afraid the rice yield would be poor. With CATREND's support, we learned seed sowing, transplanting, watering and harvesting alongside fertilizer applying, and pest and disease control," says Nguyen Thi Thuan, a farmer from Hoang Hoa district.

"For this crop, the rice yield increased by 70 kilograms per sao (1 sao = 500sqm) while our costs reduced by 20% as we used less seeds, less labour force, and less chemical fertilisers and pesticides. We didn't use much water because we irrigated rice at their major growing points," she adds.
The model also helps to reduce pollution and greenhouse gases because local farmers have started producing micro-organic fertilizer instead of chemical fertilisers.  

"The model has brought practical benefits though it is the first time our local families have applied it," says Nguyen Thanh Binh, head of project management board at a commune in Hoang Hoa district. "It has changed their traditional thinking and cultivation habits. We hope the model will be replicated in the coming time."

The CATREND project aims to reduce impact of natural disaster under climate change's effects for communities in Thanh Hoa province. The project lasts from 2011 till 2016 and benefits more than 73,000 people in Quang Xuong and Hoang Hoa districts. It's funded by the Australia Department of Foreign Affairs and Trade (DFAT). 

Photos and Vietnamese text: Ha Van Dat.