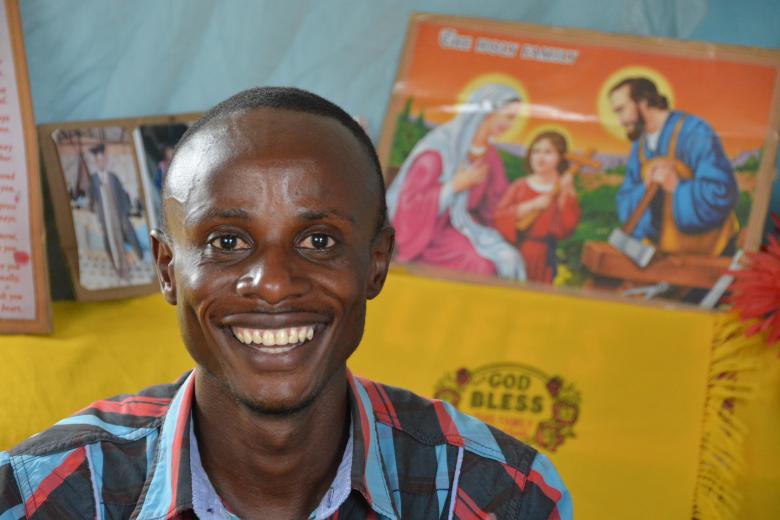 Former Sponsored Child Attains His Dream
Tuesday, February 26, 2019
"I could have never known what better days are able to offer without World Vision coming to Mwinilunga and implementing its child sponsorship programme that lifted me out of poverty," says Gift Mukosai, a former World Vision sponsored child.
Gift, 27, has known both beautiful and hard times alike before and after World Vision began operations in Mwinilunga Area Programme about 16 years ago, with support from Australian donors and supporters.
"Before World Vision came, I had to walk 7km each day to get to school. I never gave up because of the distance, I was determined to become somebody one day," explains Gift.
Instead of Gift's education journey getting better as he grew in age and got to higher Grades, it started to turn upside down especially when he qualified to Grade 8 after passing the national Grade 7 examinations, which are mandatory for every pupil (student) to score a determined mark before proceeding to junior secondary level.
Living under the care of his grandmother soon after the demise of his mother who was the breadwinner, Gift could hardly make ends meet as their father also was nowhere to be seen except hearing rumours of his whereabouts in another province.  But Gift's future and dream were at stake, they fell on a knife-edge.
Souring Gift's Life
"A lot of challenges came my way. At the time when I needed mum the most, she died. Despite my grandmother doing the best she could to make things better, she could not afford to support my education anymore. I was afraid, I thought my education had come to an end," says Gift.
The probability for Gift then to complete his education seemed thinner than a spider's silk line as his already overburdened widowed grandmother, who was looking after several other grandchildren could not even afford to provide food for them to eat.
"Feeding was a challenge and so it was for her to educate the seven of us; she depended on doing piece works daily in exchange for food. Sometimes we went to bed on empty stomach. It was hard for her to find money to take us to school," says Gift with a sad face.
"Mostly we rationed the meals. We could only have two meals a day at most if there was sufficient food because we were always mindful that we needed to leave something to push us for a few more days to come," he says further.
The Coming Hope
A few months later, hope had finally come his way thanks to World Vison Sponsorship programme that opened a new chapter for Gift and his family when everything else seemed lost.
"When things became so difficult, with no way out World Vision gave us hope. They first visited our home to register me as a sponsored child after explaining what sponsorship meant and why they wanted to register me," explains Gift.
"However I didn't know that the coming of World Vision was actually the start of better things to come and light up my future again after the pain I was going through, thinking my education had come to an end, moreover that I also had school fees arrears," says Gift.
It was not long, Gift got sponsored and started to experience sudden transformation in his life, giving him hope and encouragement to even work harder to attain his dreams.
"World Vision took me back to school - they provided school fees, uniforms, books, shoes and other school needs. They even moved me into boarding school when I again qualified to continue with my senior secondary school education," he explains.
Gift adds, "World Vision gave me everything I needed to finish my education and so I was determined. I did my best that I excelled with excellent results which could allow me to be enrolled with any university or college I wanted."
In 2014, Gift finally graduated as a secondary school teacher and got employed by government to work at one of the local schools within Mwinilunga District, his home town.
The Light That Changed More Lives
Gift says at the time World Vision started operations in Mwinilunga, only a few families accepted the organisation because of conflicting beliefs and fear that they may one day start stealing children or do bad things to them.
"But today the entire Mwinilunga community is celebrating at the end of the programme's lifespan because of the great things they have benefited from World Vision by educating their children like me, improving agriculture, health and many other things," says Gift.
He adds, "What helped us realise World Vision was true to their vision was their openness in all that they have been doing to improve our lives. And today, I am one of the fruits of World Vision that everyone can see what I have become to prove their [World Vision's] truthfulness and commitment to what they said they do."
World Vision did not just prove itself to Gift and the Mwinilunga community by its transformational work but also by the commitment of its staff who spend long hours visiting sponsored children not just to monitor them but also to have one-on-one inspirational talks with them and their families.    
"I am who I am today because of World Vision. They did not just support my education but visited me and exposed me to things that challenged and encouraged me that it was possible for me to make it through education, despite being poor and be like them one day," says Gift.
Now Gift, who is married to Martha, is a father of two children – both girls named Comfort, 5, and Paxina who is 18 months-old. Comfort is already doing kindergarten at one of the private schools in Mwinilunga District of North-Western Zambia.
The Power of Child Sponsorship
"The sponsorship exposure visits which took us away from the village to modern towns like Lusaka and Mwinilunga itself helped me and probably many others to know that if one is educated, there was better life beyond the life we knew about from our villages," he says.
 According to Gift, Child Sponsorship is an effort that has helped children and families to get out of poverty to enable them achieve their life purpose.
"Just as my case was, I never expected to achieved what I have achieved and to be who I am today without World Vision," he says. "When I was young and life proved so hard for me, I used to ask myself what would become of me if I was not educated after my mum's demise."
"I am so thankful to World Vision, my sponsor and other donors because without them, I would have been in the streets. Now I drive my own car, have built a house for my family and grandmother, and my dream is to become a Professor and not end as a teacher and to help other people achieve their dreams too," says Gift.
Traditional Leader's Perspective
Senior Chief Kanong'esha of Mwinilunga says he is proud of World Vision for the achievements it has made together with his people after working in his community for 15 years.
"My community was one of the worst poverty stricken places," says Senior Chief Kanong'esha, "there was nothing to make somebody happy of because we lacked food, clean water, better schools and access to good health."
He adds, "But World Vision came to take away poverty and they have done so. They have not just improved the general life status of my people but have also changed their behaviour by giving them knowledge and support that has seen many children reach universities and colleges because of improved education, agriculture, health and access to clean water."
The traditional leader says he worked well with the organisation to bring to change in the lives of his people.
"I am grateful to World Vision donors for helping to improve the education of vulnerable children in through provision of quality reading books, construction of schools, revamping of pineapples and fish farming, and improving maternal and child health throughout my community," says Senior Chief Kanong'esha.
The Senior Chief who worked closely with World Vision from the start to the phasing out Mwinilunga AP a few months ago says he is grateful to World Vision donors for changing his people's lives.
"Because of what my community has turned to be, we are no longer afraid of the future because we are no longer poor and backward. Children are more protected from abuse, they are more respected, protected and have been given chance to be educated."