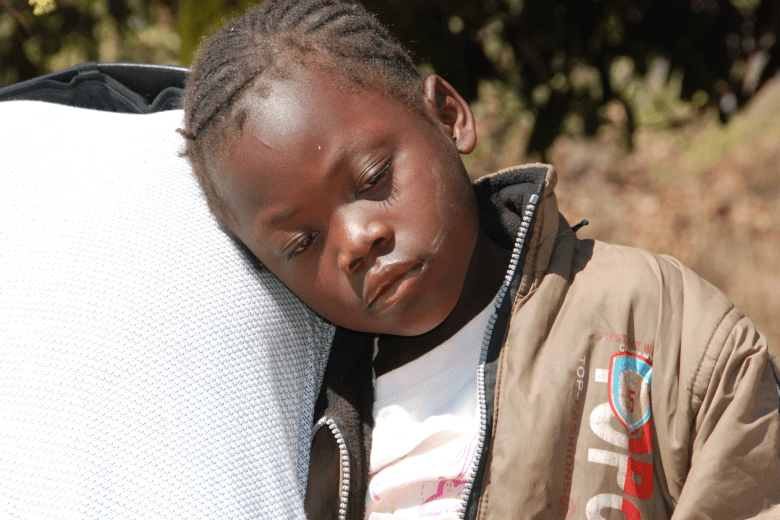 Malaria still biggest threat to children
Monday, October 15, 2012
Nchimunya Kadenge couldn't sleep. The seven-year-old was restless and shivering with a high temperature.
Her father, Trywell, 37, remembers that night. "I quickly woke up to see what was happening to my daughter…  after touching her, I discovered that there was something wrong with her body temperature and she was shivering despite being covered in a blanket," Trywell explains.
Through the night, Trywell tried to nurse his child and lower her temperature. However, none of his efforts seemed to be working. "I was alone at home with the children hence I could not carry Nchimunya on the bicycle to clinic. I was anxious and my last and only hope was prayer as I was waiting for dawn." 
God must have heard his prayers. At dawn, Nchimunya was still alive but looked very sick. Trywell rushed her to Moyo Health Centre. Trywell lives in Siamabonka village, situated in Moyo Area Development Programme (ADP), about 365 km south of Zambia's capital, Lusaka.
While they waited for the nurse, the only qualified staff at the clinic, who did not show up, Nchimunya's condition worsened.
A few minutes after 10 am, the classified employees arrived. They can see patients, but as they are volunteers trained in simple diagnostic of diseases and administering of drugs, they are not able to deal with complicated procedures.
Stuckson Hakalenge, one of the health centre staff, took a blood sample from Nchimunya's thumb for examination, and gave her an injection to lower her body temperature which was at 39 degrees.
The results of the blood slide indicated that Nchimunya has malaria plus, plus, which is a severe form of malaria. Coartem, a malaria drug, was prepared and given to her immediately.
Nchumunya's recovery depends on how well her anti-bodies respond to the drug she has been given. Stuckson says statistics at the clinic reveal that a minimum of 20 children from within the clinic's catchment area die of malaria every three to four months.
"There could be several other cases which never reach us. Most of the malaria deaths happen as a result of delayed treatment," Stuckson says.
Stuckson adds that most families are suffering from malaria because they do not have nets to protect them from mosquito bites in the night. Nineteen per cent of people in Zambia die from malaria, including children. 
"Malaria kills fast, especially among the children. The disease keeps getting complicated. Its symptoms keep changing because sometimes the signs show as if one is not suffering from malaria.
Trywell is still worried about his daughter. "I can just imagine how my daughter is feeling because I have suffered from malaria before. It hits hard." 
While World Vision has only been working in Moyo for a short time, they recently donated one million mosquito nets to Zambia's Ministry of Health. The nets will be distributed in Zambia's Luapula province where it was found that few people have access to insecticide treated nets. Now, every bed will have one. 
A recent report points out that malaria cases drastically decreased from 2006 to 2010, from 22 to 16% respectively. The report attributes this to increased sensitisations and prevention levels through the use of insecticide treated nets in communities.
Trywell and his family recently received mosquito nets from World Vision Moyo ADP. Trywell says he insists that the children sleep under them.  "I am grateful for the nets I received from World Vision and I hope my children will stop suffering from malaria in the future."
After a few more hours of observation at the clinic, Nchimunya was discharged, but Stuckson advised Trywell to bring her back if her condition worsened.
World Vision hopes the bed net distribution and awareness training will continue to help reduce the number of people who contract malaria.