Olympic-sized dreams
Friday, July 27, 2012
By Collins Kaumba, WV Zambia Communications
Children across Zambia are excited and inspired by the Olympic Games.
The 2012 International Olympics competitions are just around the corner. Children around the world are excited to see the world's best athletes compete.
In Zambia, the Games offer inspiration for young runners, netballers and long jumpers.
The Runner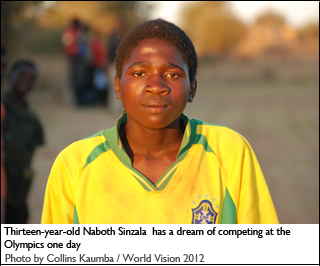 Thirteen-year-old Naboth Sinzala lines his friends up at a starting line.
He crouches down and joins them.

Suddenly, the four boys take off.
They sprint. It's an informal 100 metre contest.
Naboth handily beats the other three.
"No one ever has beaten me before wherever I have competed in athletics in Zambian school, particularly in the southern province," Naboth says, a Grade 7 student. "My dream is to compete with strong athletes who can run as efficient as I do."
Everyone in Naboth's community is aware of his athletic skill. Naboth says his running success comes down to determination and focus.
"The secret is I love the sport. I practice every day. If a day goes without practice I feel as if I am sick," Naboth says.
He dreams of competing nationally and internationally one day.
"I don't have strong competitors who can challenge me. My wish is to compete with strong competitors as those who will be competing at the Olympics," he says.
Naboth is so confident that he issued a warning to the other 100 metre competitors, currently attending the London Summer Games.
"They are lucky I am not there. I would have beaten all those who run 100," he says.
Naboth is the oldest of six children and lives in a rural village, 450 km from Zambia's capital of Lusaka.
The Netballer
On a netball court, Shyget is fierce. Every moment, she says, in every game is an opportunity to improve her skills.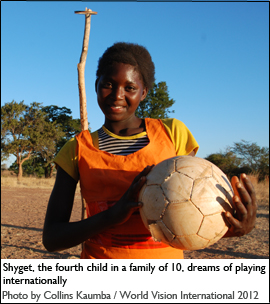 "I love watching and playing netball; nothing else. It is my favourite sport and it gives me a lot of joy," she says.


Shyget, the fourth child in a family of 10, dreams of playing internationally. She says with the money she could earn from playing at a higher level, she could help her parents or further her education.
"I long to play at the International Olympic Games," says Shyget, a primary school student in rural Zambia.

"I would love to excel in netball so that I can be able stand on my own in future," she says.
The Long Jumper


Mukanka Chinkuli, 12, runs fast and suddenly is up in the air, like a flying bird.
His hands are stretched sideways and legs folded.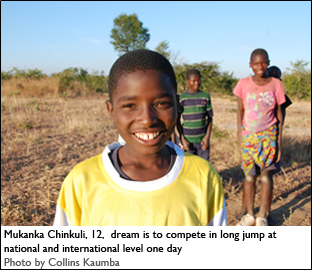 Mid-air, he stretches his legs forward and then lands on the ground a few seconds later.
This is Mukanka's favourite activity, and this worn out clay pit is his favourite spot to practice.
Mukanka's dream is to compete in long jump at national and international level one day.

"I want to be like those I have watched on TV before, jumping while a lot of people cheer them up. I love long jump because it makes me feel good and I want to prosper like them," Mukanka says enthusiastically.
"I'll be the happiest person in my life if I reach that level. I want to be making money to help my parents and my siblings."
A Supporter
World Vision is helping children like Naboth, Shyget and Mukanka, along with hundreds of others, reach their dreams.
Naboth, Shyget and Mukanka are all sponsored children, and are assisted to finish their education. World Vision has provided school uniforms, shoes, books, clothes and blankets.
World Vision has been donating sports materials such as balls and jerseys to various schools across Zambia.