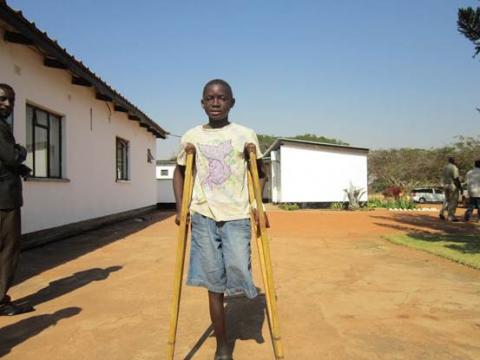 "World Vision Saved My Life"
Following the death of his parents', life for 15 year old Mike Tembo of Choongo ADP was a nightmare. Not only did Mike whose parents both died of HIV/AIDs related illnesses have to cope with their deaths, but he also faced many different health challenges.
Growing up in a hostile environment which still stigmatised people living with HIV/AIDS, his education was affected as he could not socialize and lost concentration in class.
Mike's future seemed bleak because of the treatment he received at his relatives' hands. As he narrated his ordeal, he pointed out how his relatives would taunt him about the cause of his parent's death.
"They would tell me that my parents died of causes linked to HIV/AIDS and they would also mock me saying that I would die any time."
Such words from the people who should have provided comfort and hope for Mike wrecked his self-esteem as he could not see any hope for his life.
A brighter day came when Mike was visited by WV Zambia staff from Choongo ADP with the message of hope and healing.
After seeing the gravity of the problem World Vision members of staff took Mike to the hospital where he was diagnosed with cancer and admitted after being put on chemotherapy.
Even though he responded well to treatment and was discharged from hospital, his immune system at a later stage became low and this resulted in weight loss and he developed serious sores on his left leg.
With this new development World vision again took him to the hospital to receive medical attention.
However, the cancer that directly affected his leg could not be cured and so the hospital authorities decided to amputate his leg as a way of preventing the disease from spreading to other parts of the body.         
After partnering with the Disability Rehabilitation Center all his medical expenses were paid for  and he was also provided with an artificial leg.
One of his relatives Precious Mukonda made her family realise that every child counts and should be cared for.
"I am really happy to see that Mike is happy and to think that we believed that this child would never recover."
Today Mike Tembo is living a happy life, his hope has been re-ignited and is back at school at Keemba primary where he is doing grade five. He would like to study medicine when he completes his secondary school education.