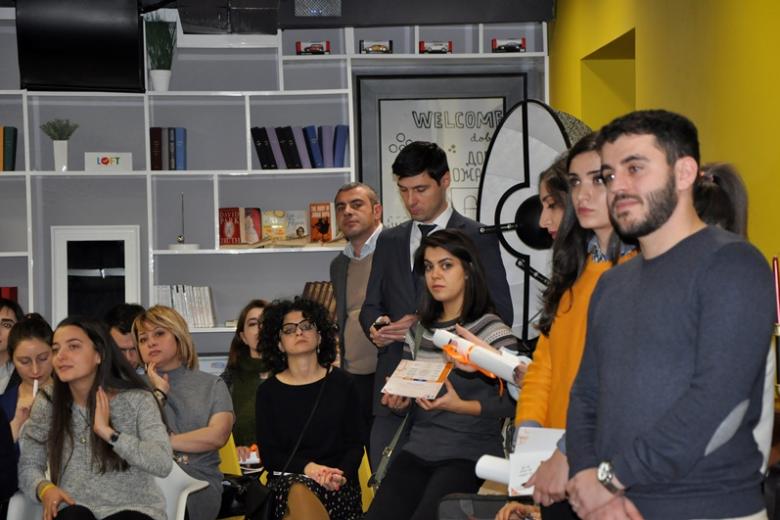 400 refugees will have opportunity to participate in short term training and find jobs
Thursday, December 1, 2016
World Vision Armenia's new project, called Skills and Knowledge for Youth Economic-empowerment (SKYE), was presented to stakeholders on 22th of November in Yerevan.
With funding from the US Department of State (Bureau of Population, Refugees, and Migration) the project aims to contribute to enhanced access to employment opportunities and livelihoods of displaced and conflict-affected youth currently living in Armenia.
During 12 months of operations (September 2016 – September 2017) World Vision in Armenia will work with more than 400 direct beneficiaries, among them young people aged 14-30.
World Vision will create opportunities for the displaced and conflict-affected young people, together with their local peers, to have positive self-concept, future orientation, and capacity to engage with their community and to secure a source of livelihood, including employment and self-employment. 
The project will also contribute to the increased income of the beneficiaries through wage employment or self-employment opportunities.
Within this project World Vision will undertake a number of learning initiatives, including
establishment of youth SKYE clubs,

o

rganisation of vocational training, internships and job placement,

organisation of IT education, internships and job placement,

raising schoolchildren's awareness on IT education,

and organisation of entrepreneurship trainings and funding of best business ideas.
"There are more than 70 SKYE clubs currently operating in Armenia; these clubs are quite successful in terms of creating an opportunity of participation in short-term classes and supporting in professional orientation",- said World Vision Armenia Programme Director Zhirayr Edilyan.
"The Minister of Diaspora of Armenia and all our staff highly appreciate World Vision Armenia's efforts in supporting children and youth and providing enhanced access to livelihoods to them",- said Serzhik Srapionyan, Deputy Minister of Diaspora.
"The project is intended for 12 months, but I am sure it will turn quite effective and successful, laying groundwork for continuity of  our efforts.",- said Liana Sargsyan, World Vision Armenia Youth Programme Manager.