Together Against Trafficking in Persons (TATIP)
Project Snapshot
Duration: Jul 2021 - Jun 2024 
Project Budget: USD 950,000.00 
Main Donor: U.S. Department of State
Donor Contribution: USD 950,000.00 
Others Contribution: N/A
Location: Yerevan and all regions of Armenia
Implementing Partners: The Association of Audio-Visual Reporters NGO (AAVR) and The Sexual Assault Crisis Center (SACC)
Project Status: Ongoing
The project has launched in July 2021, funded by the Office to Monitor and Combat Trafficking in Persons of U.S. Department of State. The main goal of the project is the promotion of victim-centered identification, efficient referral mechanisms and procedures, as well as higher quality service provision for victims of trafficking in Armenia.
To achieve this goal the project tends to contribute to the enhancement, institutionalization, and operationalization of the existing legislative provisions and regulatory mechanisms by a close partnership with the Ministry of Labor and Social Affairs, Ministry of Justice, Health and Labor Inspection Body, Migration Service, Anti-Trafficking Ministerial Council, the Inter-Agency Working Group, National Institute of Labor and Social Research, Academy of Justice, Armenian Association of Social Workers, Chamber of Advocates and Yerevan State University and with support of the project implementing partners - The Association of Audio-Visual Reporters NGO (AAVR) and The Sexual Assault Crisis Center (SACC).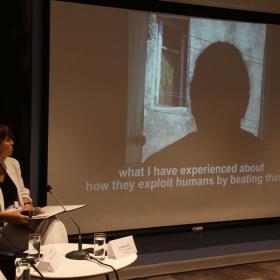 Actions in Brief
Key Actions
• Enhance the legislative framework and ensure the applicability of provisions and incorporation of institutional mechanisms including the development and institutionalization of the preliminary identification tools of potential victims, victims of human trafficking, victims of special category and the minimal standards of quality of services provided․
• Conduct human trafficking and exploitation related training for state and territorial administration, local self-government bodies, staff members of institutions and organizations in direct contact with the population, composed of unique modules in accordance with the characteristics of human trafficking, labor exploitation, including the understanding of peculiarities of child trafficking and exploitation cases, as well as underlining the legislative amendments regulating human trafficking for officials and workers of competent authorities, institutions and organizations.
• Strengthen the capacity of state administration bodies and institutions in the detection of alleged cases of human trafficking and exploitation and individuals related to such cases through the implementation of technical resources and introduction of functional structures and mechanisms.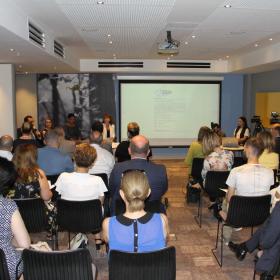 Project Achievements
• Increased proactive identification efforts of trafficking victims in Armenia, including children exploited in state childcare institutions. 
• Improved breadth and quality of services for victims of trafficking in Armenia. 
• Victim-centered investigations and victim-centered approaches during court proceedings are more prevalent.