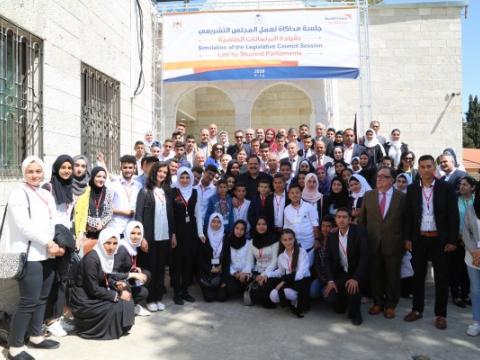 Children for Change
Friday, April 27, 2018
The legislative Council simulation reflects the result of three consecutive years of work, establishing 164 Student Parliaments (SP) across the West Bank.
 The SP's main goals are to develop a culture of democracy within the new generation, provide students with the opportunity to exercise their rights and equip them with leadership skills. The parliaments are established in collaboration with the counseling department at the Ministry of Education and Higher Education (MoEHE). Students are selected based on a democratic election process. They are divided into different committees and are trained to create initiatives based on the needs of the schools and their peers.
 To provide the students with an actual experience of a democratic process and how they can exercise their rights, the legislative council simulation was created by WV in cooperation with the Palestinian Legislative Council  and the Ministry of Education, regardless of being ineffective since 2007. The main idea was to help students better understand the legislative process and the role of key players in the Legislative Assembly.
The simulation was held on Tuesday, April 24th, 2018 and attended by Dr. Sabri Saidam the minister of Education, the governor of Ramallah and Al-Bireh, Dr. Laila Ghannam, World Vision Jerusalem-West Bank-Gaza national director Mr. David Purnell, and a number of deputies of the Legislative Council.
 The opening speech by World Visions National Director  was directed to the students, thanking them for their efforts and dedication to make the simulation happen. He further expressed gratitude to all those who helped make the event a successful.
The students took the role of the legislative members and presented their main concerns. They asked the Minister questions relevant to reducing violence in schools, early marriage, increasing vocational schools and the integration of special needs children into the society followed by writing the recommendations needed.
In return, the minister responded to the student's accountable session, he promised that he will follow up on their concerns they highlighted. He reiterated that he will work  with senior leadership to find the adequate solutions and answers.
The students handed over their written afore recommendations to Dr. Saidam, which entailed the main issues discussed in the simulation ensuring the implementation of policies that protect their rights to reduce violence in schools and also to enrich the extra curriculum programs at schools.