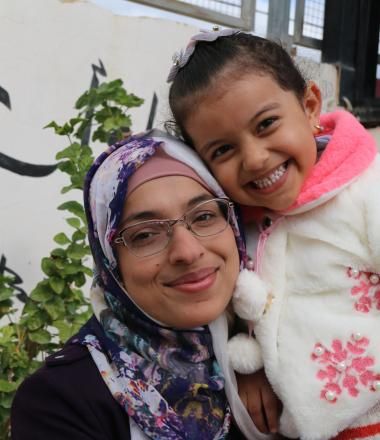 Our Strategic Focus
We work to build resilience and bring change in the midst of fragility
LEARN MORE
Our Goal


 
Our goal is that boys and girls, in our areas of operation, have improved resilience, live in a nurturing environment and have hope for the future. The main focus of our 2020-24 strategy is to work toward this well-being of children by addressing key vulnerabilities, such as domestic and school violence, early marriage, low income, and low performance in school. We do so through programming in early childhood development, child protection and participation, community resilience, and through integration of faith with development.
Addressing Deep-rooted Issues of Fragility
What makes our programming unique is sponsorship enables us to invest long-term in a community and therefore address deep-rooted issues of fragility.  Approximately 78% of the villages where World Vision works in the occupied Palestinian territory (oPt) have a portion of and sometimes all of their lands classified as Area C under the Oslo Accords, which means the Palestinian Authority is not allowed to provide services. This governance structure prevents safe and effective schools and clinics, and in some cases has prevented these services all together. Schools do not meet basic safety standards, are exposed to military operations or are at risk of demotion. Area C also experiences a significant lack of water, sanitation and hygiene (WASH) services due to legal restrictions that prohibit the drilling of wells and correcting sewage run off from settlements and other Palestinian towns. Some communities lack access to basic emergency services and almost all lack capability to offer psycho-social support (PSS) at the scale needed. Well known vulnerabilities, such as abusive and exploitive relationships, serious discrimination (including gender-based violence), extreme deprivation, and vulnerability to negative impact from catastrophe or disaster, are compounded and exacerbated under these conditions.

Almost all oPt villages are fragile as they struggle to cope with the ongoing dynamics. World Vision's understanding of poverty is rooted in broken relationships. These broken relationships are especially true in fragile contexts where relationships, communities, systems, and structures become deeply fractured, fragmented, and broken or as negative coping mechanisms become rooted. Traumatised children become traumatised parents.
World Vision International Strategy 2020-24