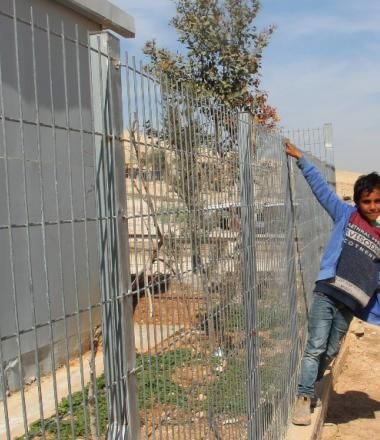 Safe Access to Inclusive and Dignified Education in Areas B and C of the West Bank
Key figures
girls and boys in 69 schools will be supported through project activities
education staff and counsellors, caregivers, and community-based organisation volunteers targeted
schools will improve their preparedness to disasters
Project goals and objectives
The "Safe Access to Inclusive and Dignified Education" project funded by the ECHO/European Union, aims to address protection risks and inadequate safe learning space at education facilities in Areas B and C of the West Bank. The project will contribute to an enabling and safe education environment that provides critical physical and psycho-social support to children affected by conflict, insecurity, protracted crisis. 
The project will result in vulnerable children in targeted areas (69 schools in Areas B and C in 6 governorates of the West Bank) have improved access to quality psycho-social support (PSS) and Child Protection services at schools and community level; and vulnerable children have access to safe and protected learning environment.
Key actions
Proposed activities take into consideration lesson learnt and experience gained from the ongoing SAFE project funded by ECHO, where the designed interventions will build the capacity of the counsellors, education staff, community volunteers and caregivers on PSS and social emotional learning (SEL). The project will use a participatory, community-based approach. Trainings will provide skills to diagnose stress symptoms, provide psychosocial support as an entry point for children under stress and identify and refer children facing protection risks, while also providing case management. World Vision will update school safety plans and build capacity on safety and protection skills, while also investing in increasing the preparedness of schools and students to respond to disasters.
Project duration 
June 2022 to May 2024
Project locations 
69 schools in Areas B and C in 6 governorates of the West Bank
Implementing partners
War Child Holland