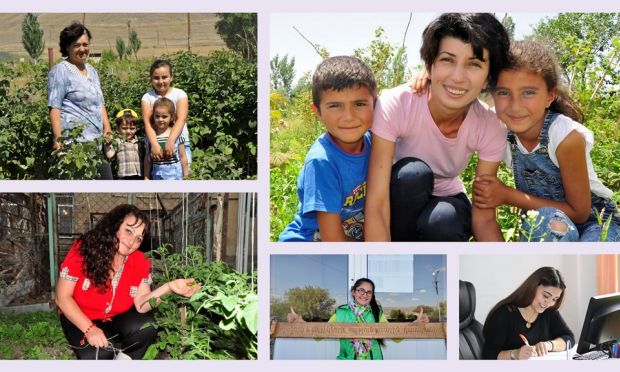 1. Lusine, 36, once just a housewife, now a busy businesswoman who makes her children feel proud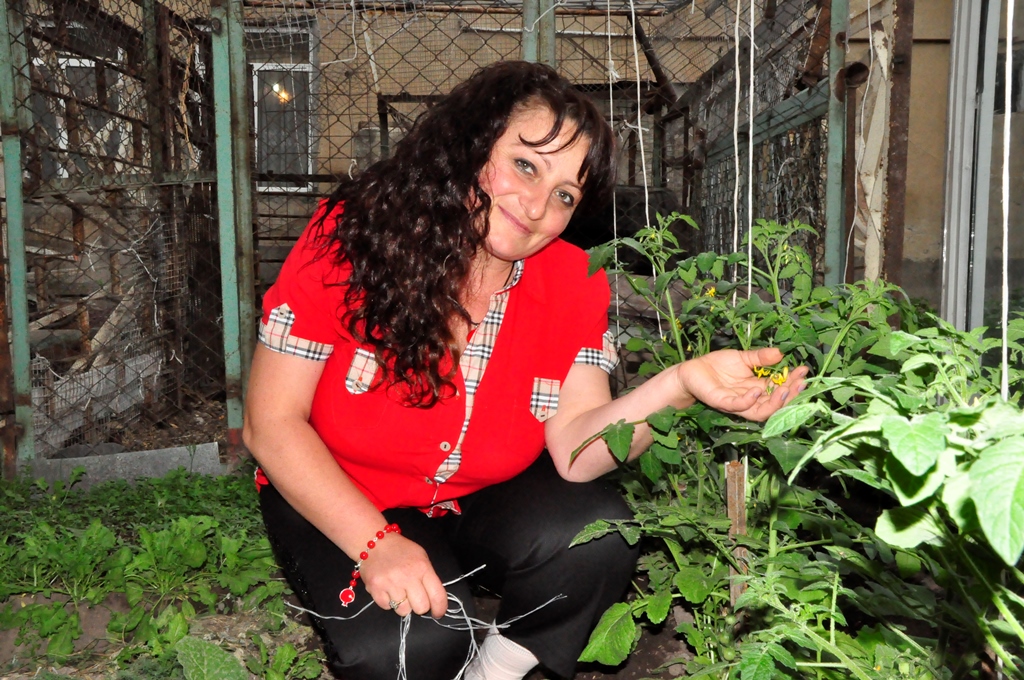 Lusine used to be an ordinary village woman, a housewife, whose daily household chores where keeping her at home all day long, while she herself could hardly find any life interest just for herself. When a year ago she participated in World Vision's seminar that was encouraging community woman to start their small-scale productions/businesses she thought that this could be her chance to change her life for the better. The seminar was encouraging to start organic agriculturing. "My immediate thought was that we need to take care of our children's healthy childhood, so I started organic planting to make sure our children will have opportunity to eat healthy food", - says Lusine.
"I remember I used to have terrible headaches every day because I was in the house all the time, and there were always lots of chores in the house – cleaning, washing, ironing, and overseeing children's homework," says Lusine.
Today, thanks to World Vision's interventions and constant support, Lusine is a very busy woman in the village, she is a member of the community women's group that is collecting herbs and berries from the neighbouring mountains, processing it and selling outside the community. Lusine's group is also involved in cultivation of non-traditional plants, such as broccoli, garlic, beans and other.
With the remnants of the old broken windows and construction materials, she has constructed a small greenhouse and is now cultivating a number of vegetables during the colder periods of the year as well.
"I would never think that just one participation to World Vision's seminar can change my whole life so drastically. I am a business woman now, I am negotiating with buyers, I am an active member of the group, and I take care of the group's finances, simultaneously I take the best care of my children," says Lusine. The most important thing for her is the family; this hasn't change, but after Lusine had become self-dependent, she noticed that her children started being very proud of their mother!
"I am sure that women become more confident, creative and innovative when they find trust and faith among their family members. I am so thankful to my family for believing in me, encouraging and supporting me", says Lusine.
2. Tsovinar, 34, ordinary village woman wins a grant to boost agro production in her community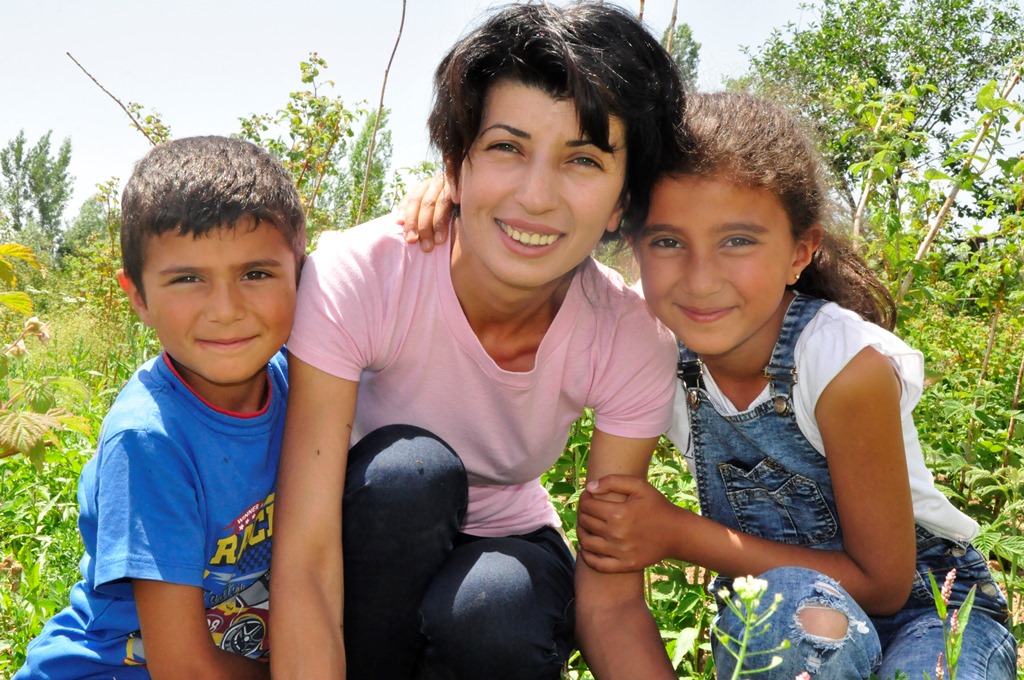 Tsovinar Hovhannisyan, from one of rural communities of Aparan Area, always used to take care of her children and the house, but when her husband became jobless, she understood that she needs to do something. "It was then when I told him that I need to work, otherwise we will have no bread to eat". Though with huge difficulties Khachatur, Tsovinar's husband, allowed her to find a job, and soon she was offered a modest position in local school - part time administrative assistant.
But the salary was very small, they could hardly make both ends meet, so when in 2015 World Vision's Economic Development Coordinator for Aparan Area invited a meeting with the villagers, Tsovinar was among the first to attend.
"They offered us to start cultivating raspberry in the 1,800 square metre land instead of potatoes which didn't provide an income. In 2016 we could generate more than 600,000 AMD ($1250 USD) income from raspberries, this year it was 900,000AMD ($1,879 USD),"remembers Tsovinar and mentions that all the changes are all thanks to training sessions held by World Vision.
This year Tsovinar also applied to German Embassy and won a grant to build a small fruit processing factory in the village that will enlarge income generating opportunities of the local agricultural producers.
3. The turning point in the life of 54-year-old Victoria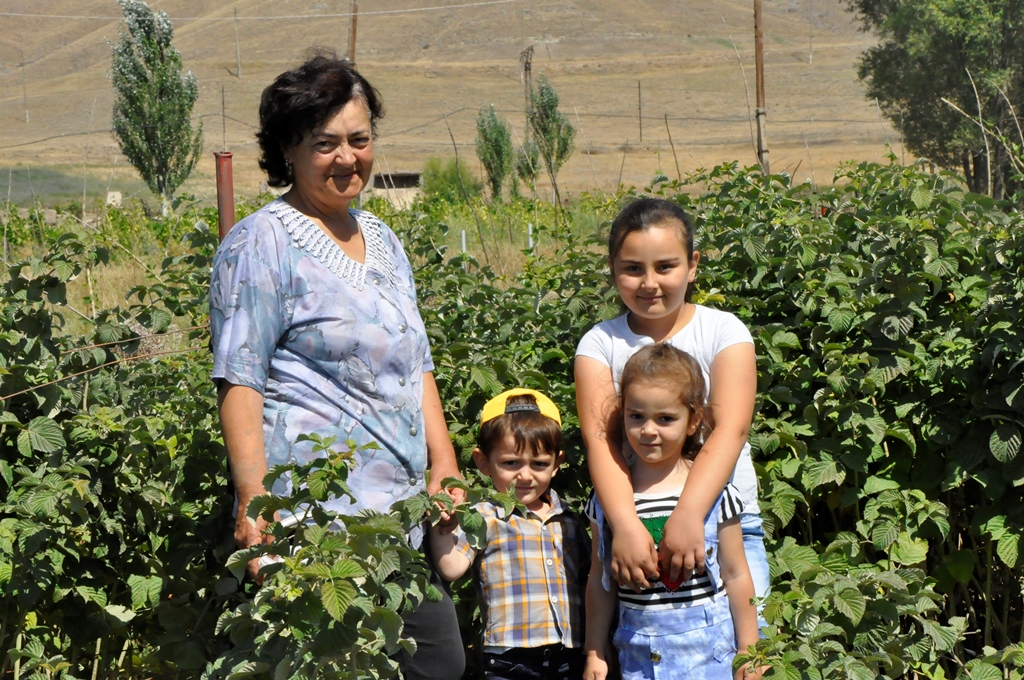 In 2014, in the framework of Economic development programme World Vision Armenia started to focus on Local Value Chain Development aiming at increasing local producer's income. Many producer groups have been formed based on the producer's interest, and raspberry producers groups were among the successful ones.
54-year-old Victoria was one of the initiators of raspberry producing groups. She lives in one of the Sisian villages, with her daughter-in-law and 2 grandchildren. Victoria's son has left for Russia in search of a job. Her daughter-in-law had to stay at home to take care of her children. Victoria was the only one responsible for the family.
One day she learnt about LVCD model and decided to form a raspberry group and start raspberry production. 'Thanks to training conducted by World Vision Armenia we have learnt to understand our market better, develop positive relationships with our buyers,'- says Victoria.
'I am harvesting my raspberries in order to have new clothing and books for the new academic year. Now I can have everything I want, because everybody wants to buy our raspberries,'- says grandchild Victoria, 7, while harvesting raspberries from their garden.
Currently Victoria has 1000 square meters of raspberry plants selling 1200 kilogram of raspberries annually. In September, 2017, Victoria went to visit Poland in the framework of an experience exchange programme. 'I hope that after some time we will have our raspberry producing farm, and my son will come back and reunite with his family,'- smiles Victoria with great expectations from the future.
4. Inessa, from a shy little girl to an active community youth club leader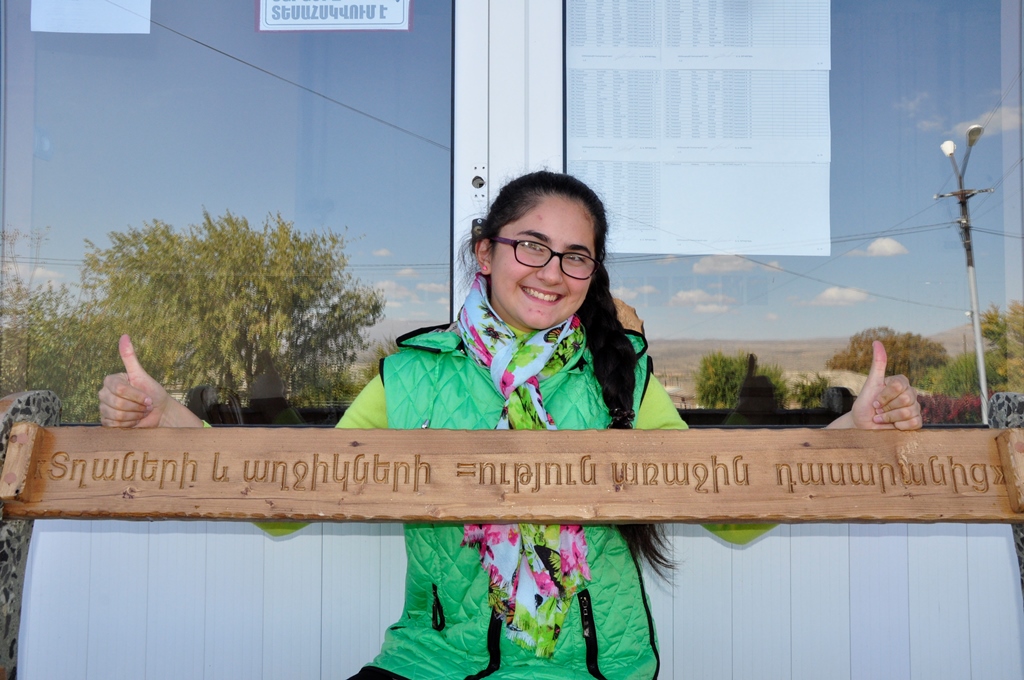 16-year-old Innesa is a young girl, sponsored with World Vision, who lives in one of the communities of Aragatsotn Region of Armenia. It is already four years Innesa is involved in World Vision's youth projects and repeating her own words 'her life has changed drastically'.
"I used to be a shy girl whose only dream was to become a village school teacher, get married and have a nice family. This is not a bad dream, but thanks to World Vision, now I want more, and I know that I can achieve more," says Innesa. She has participated in a series of training with World Vision as a community youth, and currently she took up a leading role in IMPACT non-formal youth educational club established by World Vision. The club is aimed to boost leadership skills and encourage youth to actively participate in their communities' development.
"Youth clubs are just amazing for us; there are usually no leisure and learning activities in the villages, except the mainstream school, but the IMPACT club was just a fresh air for us to learn so much new stuff - safe internet, leadership, child and human rights etc.," says Innesa.
Now Innesa is a confident young woman who believes in her successful career in future, "I want to learn foreign languages and make my career in an international organization," says Innesa. "To me the best life of a woman is the one where she is free to make her decisions. Today I am encouraging other girls in my community not to be afraid of changing old traditions, not to be afraid to make their own decisions and to look forward," - tells Innesa.
5. Maga, 18; "If not World Vision, where I would be now?"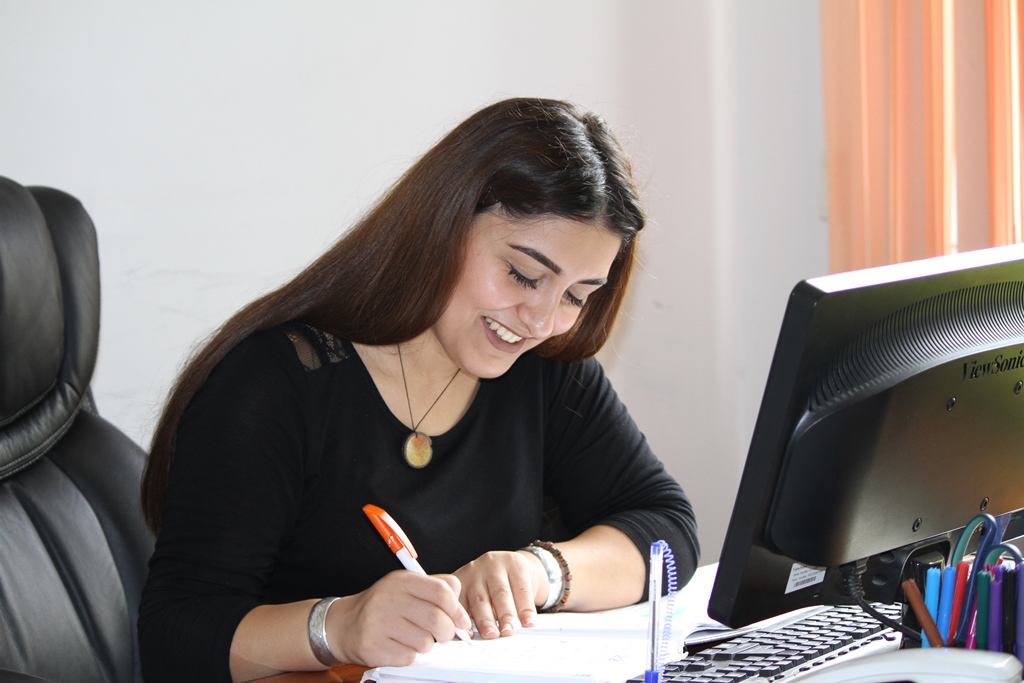 18-year-old Maga is a former sponsored girl with World Vision. She lives with her family in one of the poor districts of capital Yerevan. She remembers how as a child was anticipating for World Vision staff to come to their house or call her mom to include me in different initiatives - theatres, learning events, camps etc.
Event after event Maga was becoming more and more interested in World Vision's work and was asking staff members to involve her in whatever initiative it could be. Soon she got involved in school student council, then World Vision's youth initiatives.
"World Vision enabled us to understand that we can do far more than just going to school or going to university. We can bring change in our lives and in the life of our community. We can raise funds, we can implement projects, we can teach others and continue learning ourselves," says Maga.
After five years of being involved in World Vision's projects, Maga and her friends decided to establish a youth foundation that will deal with youth issues in Armenia and encourage change and development among youth. Today the foundation is implementing four big projects – three of them being funded by other international agencies.
"I remember myself seven years ago, and sometimes I think to myself, if not World Vision, where I would be now. I don't like the answer to this question. I like where I actually am now," – says Maga, who is an advanced student of a management class at the Yerevan State Economic University, one of the co-founders of a successful youth foundation, and a proud project manager for an international grant.