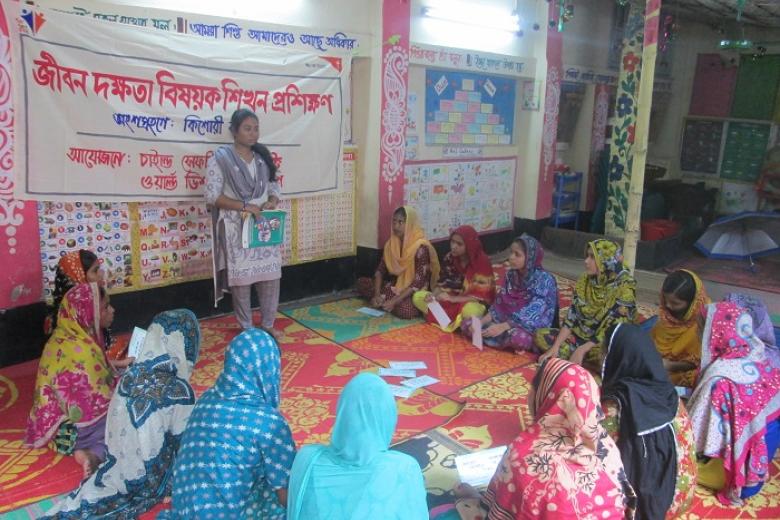 Life skills training encourages Bangladeshi girls to pursue their education and their dreams
Wednesday, October 14, 2015
When I saw Lima, a 16-year-old girl, I realised that dreams are not like rain drops on a glass that can be wiped with ease, rather they are like fire that leaves traces even after it's extinguished. Lima was a bright student and quite ambitious from her childhood. Although she was born in Rupsha slum, she always dreamed of becoming an engineer.
Lima, a 16-year-old peer educator, is very happy to work for the adolescent girls of her community and her mother is really proud of her. (Photo credit: Richa Silvia Biswas / World Vision)
Lima's father was an assistant (daily basis work) in judge court and her mother was a house wife. In 2012, when she was studying in grade nine, her father became severely ill and had to leave work. In order to support their family of five, her mother took a job at a shrimp factory. Her income was not sufficient to bear the education cost of Lima and her two brothers.
Lima had to decide if she should sacrifice her own education so her brothers could go to school.
Lima had to decide if she should sacrifice her own education so her brothers could go to school. She was aware of the suffering of her family, and thought her brothers should continue their study because they could take on the role of breadwinners. She decided that she was not destined to be educated anymore.
At this time, the Child Safety Net Project, World Vision Bangladesh started a Child Friendly Space (CFS)  in Rupsha slum area. In addition to the CFS' normal activities, the project provided Life Skill Based Education (LSBE) to the adolescents of the area. Lima heard about the opportunity and decided to go to the LSBE session. After attending LSBE, Lima realised how important her education was, and decided to pursue her dream to become an engineer once more.
The adolescent girls of Rupsha Slum are very happy to receive the Life Skill Based Education. They are now confident enough to face any challenge in their daily life. (Photo credit: Richa Silvia Biswas / World Vision)
Lima proved herself competent enough to become a peer educator for the community. She was provided books, educational materials and school fees from the project. Lima passed the Secondary School Certificate (SSC) exam in 2014 with grade 'A+' that gave her access to a course in engineering.
Now, along with her studies, she works as a peer educator and conducts LSBE sessions for the other adolescent girls in her community. After completion of each session, Lima gets 2000 Taka (approximately $25 USD), which helps her continue her education.
"I think that LSBE has brought a great change in the community," says one participant's mother, Alo Begum. "I never thought that I would enroll my daughter in a school, as I had the traditional belief that girls are born to take care of the household. Moreover, my daughter is mentally challenged. But the adolescent girls of this community have made me understand that I should not repeat the mistake of my parents and ruin the life of my daughter. So, I enrolled her in this CFS and now I dream that my daughter will be highly educated."
Alo Begum, mother of a mentally challenged girl named Ratna, has now enrolled her daughter in the Child friendly Space and dreams that her daughter will be highly educated. (Photo credit: Richa Silvia Biswas / World Vision)
Through the LSBE training, Lima and her peers were able to stop a child marriage in the community and all of them are encouraging the parents of the community to concentrate on girls' education.
"LSBE has just changed my view of life," says Lima. "I was a dreamer but LSBE has made me a winner."
Lima now dreams to complete her higher education abroad and become a renowned engineer for her country. "LSBE has just changed my view of life," says Lima. "I was a dreamer but LSBE has made me a winner. I will never quit in any situation. I want to motivate all the girls like me, who have to face bitter reality every day to chase their dreams. Girls are not born to just bake cakes rather they can win in every sphere of life with strong determination and ruthless dreams. I will fulfill my dreams and one day I will contribute in the well-being of the children of my community."
Related links: