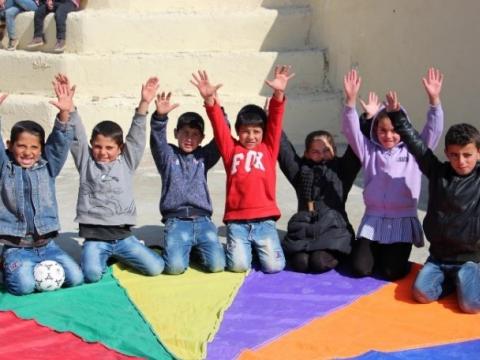 Overcoming Challenges through Buiding Resilience in Schools
Thursday, February 22, 2018
"Play is often talked about as if it were a relief from serious learning. But for children play is serious learning. Play is really the work of childhood" -Fred Rogers
Susya, one of the many small villages located in Southern Hebron of Area C, is inhabited by 300 residents, a community of shepherds and farmers whose ancestors resided near the fresh grazing and farm land decades ago, living in shacks which are under continuous demolition threats by the Israeli Forces.
Aside from the constant home and school demolition threats, residents of the area, especially children face harassments from settlers and Israeli soldiers on a daily basis, in addition of taking the risk to be run over while walking on a bypass road.  The political situation in Susiya had affected the psychological well-being of the children, and it affects their behavior and attitude, especially their performance at school.
Students attending school, live with their families in shacks,  and walk almost one kilometer everyday to school , and vice versa. Being in a stressful political environment leaves children hopeless, as a child anger and stress can be expressed and channeled in many forms, some students miss up to over 10 school days in the first semester, lack of concentration in class, not participating or playing with their peers, even during breaks they tend to be withdrawn, the signs of isolation and the inability to interact was obvious as a cry for help.
Taking into consideration the implications of chronic danger on children's development, particularly on their behavior, which can lead to various negative reactions, World Vision, under the funding grant from OCHA trust fund, through the "Building the Resilience of Vulnerable Schools" project had designed and intervention activity in which is related to the Psychological First Aid (PFA) extra-curricular.
School counselors from nearby villages in Southern Hebron area, were trained which later on was conducted with parents and teachers; they are able to provide psychological support as extra-curricular activities,  and employ their skills and techniques gained in supporting the children through the different  activities since October 2017, whether it's through a football game, drama performance, or a simple drawing that reduces stress and increases the focus of the child, making studying more of an enjoyable experience rather than a chore.  
The counselors, as well as the teachers are giving opportunities to children in raising their self-esteem through giving them leadership roles through playing a game and encouraging them to be more interactive between classmates in school by giving the chance to ask questions, and fun ways to solve mathematical problems.
"Positive change has been relativley noticeable daily, less students are absent, and interaction in class participation". As mentioned by Susyas school principal.
Ameen an eight year old student loves football, therefore the extra-curricular activity has boosted his confidence, looking at his teacher and smiling he says :" I feel i release all my negative energy through playing with the ball, which encourages me to attend class, looking forward to play again".
Palestinian Children in vulnerable areas are in need for an intervention of psychological support as one of the key factors to build resilience, and inner strength for them to be able to live the basic rights as education and dream for a better future.