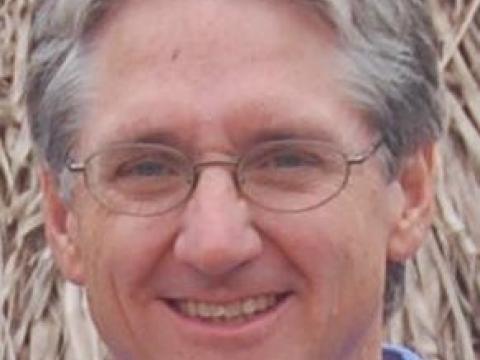 A Stolen Trombone, Barrier Analysis and Isaiah 65 - A chat with Tom Davis - World Vision's New Global Lead for Sustainable Health
Friday, February 9, 2018
I have the great pleasure of introducing you to World Vision's new Global Sector Lead for Sustainable Health - Tom Davis.  Tom started work at World Vision on 4 December and I had a chance to ask him a few questions about his life, his work, and his hopes for World Vision's Health Community.  
Tell us a little bit about your family?  You are married?  Children?
My bride – Rev. Judy Davis – and I celebrated 31 years of marriage last April.  We have two children: Nathan is 27 years old and serving as a paramedic in Cary, North Carolina, and preparing to start studies as Nurse Practitioner, and Suzanne who is 25 and just finished her graduate school classes in Occupational Therapy at the University of Pittsburgh.  Judy has been a United Methodist pastor for the past 15 years and currently serves two rural churches. My mother lives at an independent living facility nearby, and my father went to his heavenly reward in March of this year after serving as a small-town family physician for about 50 years.


You have worked as a consultant or employee in 27 countries - when you think of the word "home", where is that?
A lot of my consulting work was for 2-4 weeks per trip, but Judy and I lived and worked for four years in the Dominican Republic (back when Judy was a physical therapist), and I lived for two years in Haiti prior to that (donk wi, mwen pale Kreyol, y sí, hablo español también), so those are two of my "home away from homes."  I was born in Virginia, but have now lived for 25 years in North Carolina.  But in this line of work, and being a Christian, one should never get too settled – God may call you like Abram and Sarai to somewhere completely new and unexpected, like Geneva, Switzerland – and you need to be ready to respond and trust in God's prevenient grace.  As my wife and I were discussing our big move to Geneva, I reminded her that above all, she is my home – the best part of my life has not changed despite all the moving around we have done in our lives – and so I know that I am not really going that far.
Feed the Children, Food for the Hungry and now World Vision - all Christian organisations - tell us a little bit about your faith journey and how you have now come to World Vision?
I grew up in the Presbyterian and then Methodist churches, and my friends were mostly those in my church – I was one of eight valedictorians in my graduating class in high school, and we were all in the same church youth group!  So from an early age, that made it easy for me to value faith and intellect, and I'm appreciative of that. But my faith really deepened when I went overseas.  I heard a talk about world hunger at a Christian campus group that I attended, and that changed everything.  I did two short trips to Haiti and worked with Mother Theresa's Sisters of Charity in their Home for the Dying and urban medical clinic for the poor, and then accepted a job working on tuberculosis in Haiti. While there, I heard Jon Rhode from UNICEF – a real pioneer of global public health – talking about a child survival revolution that needed to happen, and I knew that I was being called to work in public health, and to be part of that revolution.  Reading my Bible, the words from Isaiah 65:20 leapt off the page and struck me like a bolt of lightning:  "Never again will there be in it an infant who lives but a few days or an old man who does not live out his years."  It was clear to me that this was not talking about a distant heaven – people died in this vision, but when they were 100 or older – but a reality that would come to pass progressively.  And indeed God's promise on this is at hand – the child death rate has plunged in the past few decades … and many of you in World Vision have been part of that!  Judy had her first whisper of a call to the ministry when she was in a grocery store, and I was interviewing near Chicago for World Relief's top health position – which I turned down when I heard about her calling. 
I attended my wife's rural churches for many years after she became a pastor, but for the past few years, I've been attending another suburban Methodist church where I could help lead worship in their Praise Team.  God is always the same, but God's plans for us can be the opposite – "What no eye has seen, nor ear heard, nor the heart of a person conceived, what God has prepared for those who love him."
When I have mentioned your name to people as our new boss, Barrier Analysis seems to be what you are most known for.  How did becoming a Barrier Analysis Expert come about in your life?
I am the original developer of the Barrier Analysis method (which is part of Designing for Behavior Change), so I better have some expertise in it. I first developed Barrier Analysis it in the Dominican Republic in 1990.  While I was there, we were working with an extremely marginalized group, Haitian sugar cane cutters (known locally as braceros) who were heavily exploited by the DR government and local people.  I had a heart for the Haitian people after working in Haiti, living in a Haitian village, and speaking their language.  After reading ethnographies and books on the Haitian people living in the DR and their situation there, I asked my Dominican colleagues why they thought the Haitian braceros were not practicing a particular WASH behaviour – treating their drinking water in the camps (among other things).  They gave the usual answers I heard there:  They have not heard the message often enough, they were lazy, etc.  I knew from my training that there was a bigger story.  I developed a series of questions to use to explore that behaviour based on the Health Belief Model and the Theory of Reasoned Action and we visited camps to talk with the braceros.  The stories we heard gave the Dominicans on my team a completely different view of what was going on there.  If the braceros wanted to use bleach, they could not afford to buy it in the company store.  Indeed, when they first arrived in the camp, they were not allowed to work until they built up a nice debt with that store so that they would constantly be paying interest (not unlike what happened in the past in Appalachian coal mine company stores in the US).  And when they wanted to buy bleach, they could not buy it in a big bottle, given their poverty, but instead, had to buy it in a little plastic bag.  However, they knew that the store owners were watering down the bleach to make even more money off of the braceros, so there was no way to properly titrate the bleach.  They were exploited at every turn.  They were not provided with water in the field, and so even if they could use bleach in the camps at night, they drank out of dank water canals when cutting cane.  Some of the problems were more technical in nature:  The instructions given to them were often to use 5-10 drops of bleach per gallon to purify water – but no one had gallon containers, they just had 5 gallon jerry cans and 55 gallon drums.  And different groups (MOH, work teams, local churches) gave them different messages on water purification.  (The full story is provided in the original BA facilitator's guide.)  Through their eyes and words, we grew to have a much richer understanding – not just of the behaviour, but of their entire life situation in the camps, and the abuses they faced.  And that first experience was a powerful one for all of us, and did not just lead us to know how to better promote water purification, but to start training the Haitian health promoter supervisors (with whom we worked) to begin documenting the human rights abuses in those camps.  People who understand the culture there and relations between Haitians and Dominicans in the 1980s will agree that this was no easy feat – we had Dominicans and Haitians working together, sometimes risking their lives to help a very marginalized group that many local people despised and oppressed.  I had my own confrontations with the camp guards.  BA gave us a more humanizing view of the bracero's lives, while also exposing the ways in which development workers often get it wrong when guessing about people's behaviours and motivations based on limited amounts of data and observation, without asking the questions to see things from another person's point of view, and without some quantitative comparisons and analysis to separate anecdotes from probable truth.  After those early experiences, and while I was serving as the Senior Specialist for Social & Behavioural Change for the TOPS Project, I (and later Mary DeCoster) hired Bonnie Kittle and other consultants to go around the world teaching people how to use Barrier Analysis to improve their behaviour change work and to better understand the people in the communities that they serve.
In your current work so far with WV, what are you excited about?
The reach of WVI's work:  I was surprised to hear that World Vision works with and supports about 220,000 Community Health Workers – does everyone in WV realize how much good can be done with just that one resource?  For example, if we leverage that resource by having those CHWs each work with five Care Groups, and there were 15 volunteers in each of those groups working with 12 households each (assuming 5 people per household), those CHWs would reach 990 million people.  Obviously, there would be a lot of challenges to doing that – and that may not be the right next move – but regardless, with WV's resources and partners, and with God's help, truly "greater things than these" can be accomplished and I have hope that we will accomplish great things. 
In your current work, what have you been told will be the most challenging aspect?
Getting to understand World Vision's structure and systems – being such a vast organization, and my being new to World Vision, it may take me a while to learn how the pieces all fit together (and to learn your blessedly-long list of acronyms) and to develop the necessary relationships so that I can contribute as much to World Vision's work as I would like.  But I have been very impressed by the staff I have met so far, and am really looking forward to getting to WV's National Offices to see the health, WASH, and other sector work in action.
Have you been part of a Global Community of Practice before?
Yes, I helped develop the CORE Group's Community Health Network and the Food Security and Nutrition Network.  I served as the Chairman of the CORE Group for about 6.5 years, and helped to grow those networks through that role, and also through my role with the TOPS Project.  
If so, how have you seen Communities of Practice work together for change in the work that you have done?
I think joint work by organizations working together in Communities of Practice is some of the best work that NGOs are doing, and it's imperative that we do more of that joint work.  Together, we can do better advocacy and better programming, and donors expect us to work together more than we do.  Some of the main training guides that Mary DeCoster (the current Senior Specialist for Behaviour Change) and I helped organize while working with TOPS were created by cross-organization Working Groups and Task Forces, not single NGOs – that includes the Designing for Behaviour Change Manuals, the latest Care Group training manual, the Make Me a Change Agent manual, and the Ebola and Cholera health promotion modules.  I would like to see more of that happening in World Vision.
What do you hope to learn through this Community of Practice?
Many things:  What your CoP members are learning about human behaviour, about how program models work and don't work, lessons learned in M&E, how to build champions for models and approaches, and how God is moving in people's lives. 
In the profile that I received about you, it says you play guitar - what inspired you to start playing?  Who are your guitar influences?
What inspired me to start playing was a theft – specifically the theft of my trombone.  I used the insurance money to buy a guitar.  I don't really have guitar influences, but I played trombone in a college jazz band in New Orleans years ago, and I love jazz, and glad that I'll be able to attend the Montreux Jazz Festival sometime soon since it is held so close to Geneva.  I am not that good on guitar, but my church tolerates me because I try so hard, and I enjoy it a lot.  I told my Praise Team that I am really good at saving children's lives, so they needed to give me a break when I played the wrong chord, or didn't keep the rhythm that well.  (That worked.)  Another thing that really inspires me is espresso.  Coffee can make you feel inspired about even the worst guitar playing.  I did have a spiritual musical moment one night many years ago after hearing some guys playing some gospel songs in a bluegrass band.  I was walking under a starry sky, thinking, "It's amazing how those guys played their instruments!  And they really seem to enjoy playing them!" And God interrupted my train of thought, and said to me, "I enjoy playing you as my instrument."  I had always thought those words from St. Francis' prayer – "God make me an instrument of your peace" – referred to an instrument like a hammer; not something as lovely as a guitar.  Those words from God humbled me deeply, and they do to this day.  And all of you working for World Vision should hear those words, too:  God enjoys playing you as God's instrument for a hurting world.