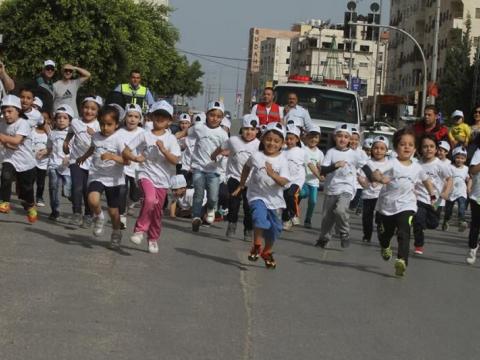 Towards a Go-Green Palestine!
Wednesday, December 13, 2017
"Come and see what our school has worked on!" – Said Osama, a ten-year-old Student from Salfit. Excited to show off his and his classmate's school work and models, I followed him, and as we walked to his table, he adds "You know, they let us share our table here in the exhibition with the girl's school from our village." He giggled, and I couldn't stop myself but to giggle with him. Understanding the background of the child and the comment he gave is a result of not having co-ed schools in his village for cultural reasons. For this young boy, it was quite a different experience to share a table with a girl, this perhaps amused him, and then he adds: "but Miss, it's good that we share our work and cooperation!" Jumping and walking at the same time with a beaming face. We approach his table, and he shows me a water fountain made of recycled plastic bottles and a generator. Creative I thought to myself, then his classmate jumps into the conversation and asks me if I save energy in any way, so at that moment I found myself engulfed in discussions about recycling with the students.
One of the students that spoke out with a sparkle in his eyes and excitingly making gestures with his hand explaining his excitement in being part of something worth-while, he said, "We have always heard that there are ways to save energy and to reduce polluting our environment. Honestly, we didn't give it much attention at first, but later we found out there are fun learning activities, and we will be contributing to our communities as well. Now we are looking forward to participating and proud of our school for being a part of it."
Different schools participated and contributed to our communities; we learned how to have clean solar energy which contributes to decreasing harmful emissions that pollutes the environment through the production of energy from clean, renewable sources, in which we use to help schools become environment-friendly. We implemented this project in 31 Communities, including Jenin, Salfit, and Nablus Governorates. We aim to change perspective, and raise awareness on energy and saving electricity through these activities.
Different approaches were taken to help students understand how to use alternative energy saving methods in their daily lives. From merely explaining the importance of electricity saving techniques such as switching any unnecessary lights off, to planting more than 2,300 trees and various plants in schools and public community spaces. After which, a marathon was initiated under the slogan "Together we protect our environment," and more than 100 Educational Renewable Energy models were developed by students and from recycled objects such as tires and plastic bottles.
Most importantly now in the closing ceremony and exhibition, we can see our children proudly standing and representing their school and community, and fully capable of explaining their work in energy saving details. At the end Osma, a student, adds before taking off to visit other student models, "And now I'm using what I have learned in my own home with my parents and siblings." Such remarks show that indeed children are always eager to learn new techniques, especially when it comes to saving the environment.