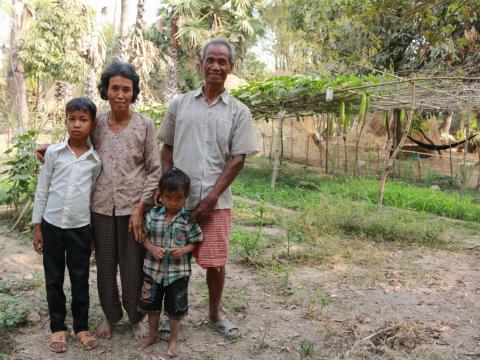 Shipwrecked and homeless
Tuesday, July 7, 2015
It's better to be shipwrecked than see your house burn down argues the Cambodian saying, while its blunt cousin starkly states: It's better to lose a father than a mother. 
Khna Ny and his younger brothers lost both. The boys' mother died two years ago and their father, who visits occasionally, abandoned them to live with his new wife, forcing their grandparents to take them in.
Living in a remote area and relying on a small garden to support the make-do family, Khna Ny's 68-year-old grandfather must work hard again to provide for his three grandsons, aged five, 10 and 14.
With money short-lived, all three were malnourished, while the youngest may never have started school and his older brothers risked losing their education as their grandfather couldn't afford the school fees.
To prevent the devastating consequences of malnutrition and encourage the children to go to school, World Vision invited the grandparents to agricultural training to boost their yields and offered them seeds to grow rice and other crops.
"We got 25kg of rice seeds, which was great," says the boys' grandmother. "And I used 30kg of dung [as an organic fertiliser] in the field, which produced a yield of 750kg." The harvest is enough to feed the five-strong family for a year.
"You see, there are lots of seeds," she says. "I'll keep some for next season and share some with my neighbours."
Proudly, the 65-year-old points to the bed on which are stacked several bags of rice and presents a handful of seeds. "You see, there are lots of seeds," she says. "I'll keep some for next season and share some with my neighbours."
Besides rice, World Vision also gave the household seeds to grow pumpkins, morning glory and aubergines, with the grandmother revealing: "We had a lot of aubergines, which were big and beautiful, but unfortunately cows ate them all."
Never too late to start again, Khna Ny helps his grandparents tend the small garden behind their modest kitchen hut. Boasting string beans, spinach and lemongrass as well as their core crops, the field provides food for all the family.
"We only have to buy fish and pork, which we fry with our vegetables," says the grandmother. "We rarely need to buy vegetables these days."
As well as a secure source of food, the garden allows the family to sell produce to their fellow villagers. Khna Ny says: "We make at least 10,000 riels [2.60 US dollars] each time, which we use to buy snacks and stuff for school."
When not watering the garden or playing with makeshift toys fashioned from discarded milk cans and unwanted pieces of wood, the teenager loves being able to continue at school.
His grandmother says: "He rides an old bike to and from school, and when he gets home, he eats his snacks and porridge." 
Covering 34 target areas, World Vision trained nearly two thousand poverty-stricken farmers in efficient farming techniques and diversified income sources in 2014.