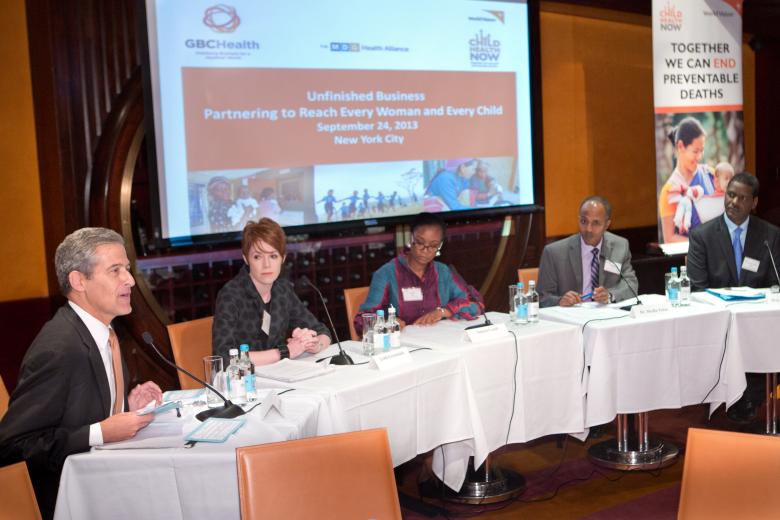 828 days left to finish the business
Thursday, September 26, 2013
With 828 days left to meet the global goals set by world leaders to reduce child and maternal deaths, business and global health leaders met on 24th September to call for a more selective and targeted action in order to save more lives during this critical window.
"We've seen a thousand flowers blooming in global health," said Leith Greenslade," Co-Chair of the Child Health Pillar of the MDG Health Alliance. "We need a massive focused global effort. We need everyone working on the right set of challenges, we need everyone working on the leading causes of maternal and child death.  It may surprise some people in the room to realize that we haven't been doing that."
The event, "Unfinished Business: Partnering to Reach Every Woman and Every Child" was held by GBCHealth and World Vision with support from the MDG Health Alliance. 
It focused on the significant progress made by the global health community toward reducing child and maternal deaths but is not on track to reach global targets, called Millennium Development Goals (MDGs), for maternal and child deaths that world leaders agreed to in 2000. MDG 4 seeks to reduce the death rate of children under age 5 by two-thirds and MDG 5 aims to reduce by three-quarters the maternal death ratio by the end of 2015.
In addition to a panel that included - Kevin Jenkins the President of World Vision International, Ray Chambers, The U.N. Secretary-General's Special Envoy for Financing the Health Millennium Development Goals and for Malaria, United Nations and Leith Greenslade, Co-Chair, Child Health Pillar, MDG Health Alliance - the event  drew a large corporate audience as well as government and non-profit representatives, drove at why we're not reaching the goals, what we can do to accelerate progress and how multi-sectoral partnerships are yielding results.
Chambers stated that reaching MDG 4 & 5 will mean saving about 140,000 mothers' lives and 3.5 million children in the next 828 days, a feat he called "sizeable but achievable."
Kevin Jenkins challenged the audience to form new partnerships – and stressed the importance of choosing the right partner. "It's not always easy to figure out when is the right time to partner and who to partner with."
Honourable Manou Aghali, Minister for Health, Niger spoke about how Niger, a poor country with a high fertility rate, was making remarkable progress in reducing child deaths. West Africa, where Niger is located, is severely lagging in meeting MDG 4.  He explained expanding access to health care and making it free to pregnant women and children were key. He also stressed the importance of multi-sectoral partnerships and cited a health compact that partners, including NGOs and private sector, had committed to alongside the government.  
Mesfin Teklu, Director Matenral and Child Health, World Vision International, said more efforts must be directed at the community level. He also called for better data and systems for registering births and deaths, remarking that unregistered births make children "invisible" to their governments.
From the private sector perspective, Janeen Uzzell, Director Healthcare Programs, General Electric Africa said GE had to learn to design lower cost, more "rugged" products for rural settings, such as its anesthesia machine that runs on batteries during a power outage and a mobile ultrasound device. Further, she said, "We always have to put a business strategy behind it."
Martha Newsome, Vice President, Global Health and WASH, World Vision International said the GE program, called Healthymagination, "Inspires us. These are the kinds of base of the pyramid innovations that we absolutely need. It's encouraging to hear there is a real business case for it."
Greenslade of the MDG Health Alliance said resources should be concentrated on countries with the highest need – with India and Nigeria topping the list– and on the leading causes of death.  
"We need to push donors away from 'pet issues,'" Greenslade said. She added, "There are too many hobbies in global health. We must hold ourselves very accountable to the numbers."
Newsome closed by calling for everyone in the room to "get behind these interventions and solutions and be relentless in our pursuit in saving millions of lives in order to meet the MDGs."
Speakers for the event included:
Kevin Jenkins, President and Chief Executive Officer, World Vision International
Ray Chambers, The U.N. Secretary-General's Special Envoy for Financing the Health Millennium Development Goals and for Malaria, United Nations;  Co-Chair, GBCHealth
Michael Schreiber, Executive Director, GBCHealth
Martha Newsome, Vice President, Global Health and WASH, World Vision International
And a panel moderated by Dr. Richard Besser, Chief Health and Medical Editor at ABC News, that featured:
Hon. Manou Aghali, Minister of Health, Republic of Niger
Leith Greenslade, Co-Chair, Child Health Pillar, MDG Health Alliance
Dr. Mesfin Teklu, Director, Maternal and Child Health, HIV and Infectious Diseases, World Vision International
Janeen Uzzell, Director, Healthcare Programs, General Electric (GE) Africa