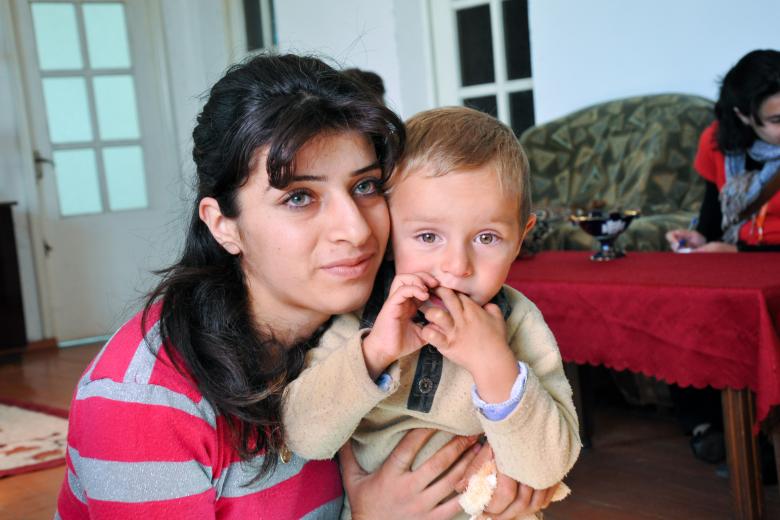 Adoption of the law, just a first step in improved breastfeeding
Monday, January 5, 2015
The importance of maintaining and reviving the practice of breastfeeding, especially where it is in decline, is well known as the best means of improving the health and nutrition of infants and young children.
Breastfeeding immediately after birth can prevent a significant number of neonatal deaths. Early breastfeeding provides the nutrients that babies need to fight disease and to develop a healthy body. World Vision estimates that a comprehensive program of family and community care, including improved nutrition, hand washing, breastfeeding and early identification of pneumonia, could save the lives of 2.5 million children annually.
Even while this information is widely recognized and scientifically, full adoption of breastfeeding policy framework to improve the practice at the community level has had difficulty being achieved. In Armenia, we joined the WHO International Marketing Code of Breastmilk Substitutes – an international healthy policy framework for breastfeeding promotion – since its establishment in 1981. But the legislative adoption has not been done except some changes in the law on "Commercial ads" and law on "Foodstuff". Additionally, state child health standards have put bans on the use of the health care system to promote infant formula. Despite all of this, there has been no one, united and legislative mechanism, which could push the monitoring and punishing procedures related to aggressive marketing of infant food.
In Armenia, challenges posed by the baby food industry have started since early 90s right after the earthquake. The critical situation created by the massive damage of infrastructure in certain parts of the country resulted in a stressful environment and lack of food. The humanitarian aid provision, containing a huge amount of infant formula, was available everywhere and the infant food companies started their promotional activities. During those years the exclusive breastfeeding rates dropped down to 20%. Later the breastfeeding campaign started in 1995; This campaign and civil society activities raised the rate to 35% (Health Demographic Survey 2010).
In 2005, the adopted version of the law on International Marketing Code was developed and sent to the Armenian Parliament where it stayed for over five years without any progress. A new revised version of the law has been put into public discourse in February 2011 when World Vision Armenia, UNICEF, MOH and Mother Child Health Advocacy Alliance members and other interested parties gathered in Parliament and discussed the first draft of the newly adapted document. Since then, World Vision American – using all possible opportunities, all institutional platforms, meetings and discussions jointly with the National Assembly Committee on Health, Motherhood and Childhood – initiated the advocacy campaign around the adoption of the law titled "Promotion of breastfeeding and marketing infant food". These are the directions in which World Vision Armenia's child health campaign has been working with the community to continue the promotion of breastfeeding:
Social Mobilization: We have disseminated information, facilitated public debates, policy dialogues and discussions, building bridges between communities, service providers and decision makers; trained Mass media representatives, developed and participated in different media broadcasted programs/articles;
Briefing Papers: we have prepared several policy documents, position papers, petitions and letters addressed to Country President, Prime Minister, all MPs and other stakeholders;
Education and Training: raised public awareness and worked with the professional audience informing about International Code of Marketing of Breastmilk Substitutes, draft law, breastfeeding and healthy nutrition
Mother support groups: trained counselors and expanded the number of such groups, in order to create the appropriate support for a mother to initiate and sustain breastfeeding and get knowledge on Code.
Monitoring: supported watchdog activities by the NGOs to ensure the implementation of the Code; we have also used Mass media as an  excellent monitoring partner
Along with that, several public and parliamentary hearings, highlighting not only BF issues and health rights of children, but also other child protection issues, have been organized by World Vision, UNICEF and CSOs.
Using all those platforms and lobbying activities the Committee on Health put the law into the Parliament agenda since 2012, and the last third parliamentary hearing on November 20, announced the approval of the law (98 pro and no one against).
The adoption of the law is just a first step. We have a plenty work and further advocacy and lobbying activities ahead. And we do hope that such initiatives will continue inspiring our CSOs and other partners, and we can move forward with other legislative and policy agenda, focusing on child wellbeing.
- Naira Gharakhanyan, CHN Campaign Manager, WV Armenia