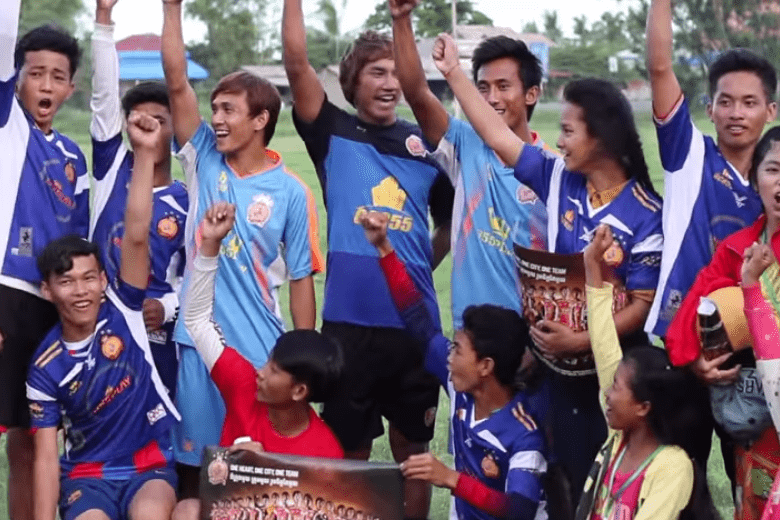 Cambodia's most famous football club joins Child Health Now in calling for an end to child malnutrition
Monday, December 15, 2014
Although Cambodia has made good progress in many areas of development, child malnutrition remains a particular challenge. Up to 40% of children in Cambodia are malnourished. Malnutrition is not only harmful to the health of each individual child, but it also reduces their working capacity as adults and limits the economic growth potential of the country.
Child Health Now Cambodia has been actively working to contribute to a positive change by calling for action, not only from the government and public but also from the private sector. In August 2014, star players from Phnom Penh Crown FC, the most famous football club in Cambodia, joined Child Health Now to to raise public awareness of the child malnutrition. The football stars were featured in a video in which they express the importance of a healthy and active lifestyle, and call for action and support from the government to combat child malnutrition.
The video was premiered at the 2014 World Vision National Youth Forum in Cambodia during a football exhibition game by the Phnom Penh Crown Football team. 
 Phnom Penh Crown Football team during National Youth Festival. 
The PP Crowns FC players match up against World Vision youth in an exhibition game.
World Vision and PP Crown FC want to see that Cambodian children are healthy and energetic, giving them a sporting chance for their future. Together we are calling for the government to take action to address this urgent issue by increasing funding and providing better coordination and leadership.
For more on football for development from World Vision and football partners, join the One Goal campaign bringing nutrition to every child in Asia through sport.