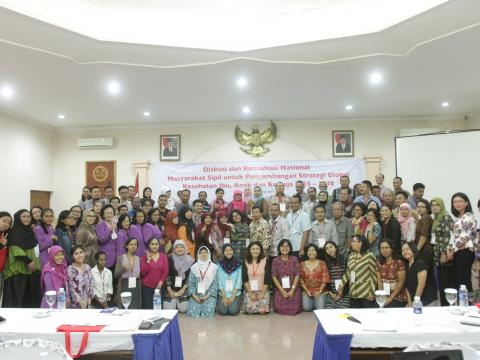 Indonesia hosts National Citizens' Hearing
Friday, March 27, 2015
By Asteria T. Aritonang, Campaign Director, World Vision Indonesia
Citizens' Hearings are being organised in communities across Africa, Asia and Latin America to show Heads of State and community leaders what civil society and citizens want accountability to look like in the updated Global Strategy for Women's and Children's Health and in the upcoming SDGs. The outcome of each hearing is a plan that sets out how governments will engage with citizens and civil society in tracking progress against commitments.
The National Citizen's Hearing that took place in Jakarta, Indonesia, on 13 March is a brilliant example of this initiative. The event was organised by a coalition of civil society organisations including Save the Children, World Vision Indonesia, White Ribbon Alliance Indonesia (Aliansi Pita Putih Indonesia/APPI), International Planned Parenthood Federation (Perkumpulan Keluarga Berencana Indonesia/PKBI), Muhammadiyah and Plan Indonesia. Representatives from 40 districts, the government and civil society participated in a discussion focusing on maternal, new-born and child health. The group discussed among other issues the need to focus on new-borns, engaging non-health sector for improved nutrition, better policy and campaign on immunisation, stressing on the need to continue working towards access to trained health workers and better arrangement of human resources for health in order to achieve Indonesia's MDG 1c, 4 and 5 targets, and beyond.
The civil society organisations presented six points of recommendation to the Indonesian Government that would be taken to the global Citizens' Hearing planned at the World Health Assembly. Representatives of the Ministry of Health who attended the event said "We are really grateful for the coalition's hard work. This is a great example of civil society's active participation."
Prior to the national hearing, 42 focus group discussions were held in 40 districts between late February and mid-March.
Representatives from the National Development Planning Agency were invited to the national hearing to share the 5-year Development Plan on Health & Nutrition (2015-2019). Representatives from 4 thematic areas - nutrition, maternal and new-born mortality, adolescent health and immunisation – were also invited, and there was a group discussion on the topics surrounding those 4 issues.
Save the Children led the development and analysis that came out of the national Citizens' Hearing.
As a follow-up to the analysis report there will be a series of meetings with the Ministry of Health, Ministry of Foreign Affairs and the Parliamentarians in the run up to the World Health Assembly in order to get stronger commitments from the Government. The report will also be shared with the National Development Planning Agency and the National Family Planning Agency amongst others to ensure a wider reach.
Representatives of the Ministry of Health who attended the event said "We are really grateful for the coalition's hard work. This is a great example of civil society's active participation."
For more information on Citizens' Hearings visit: