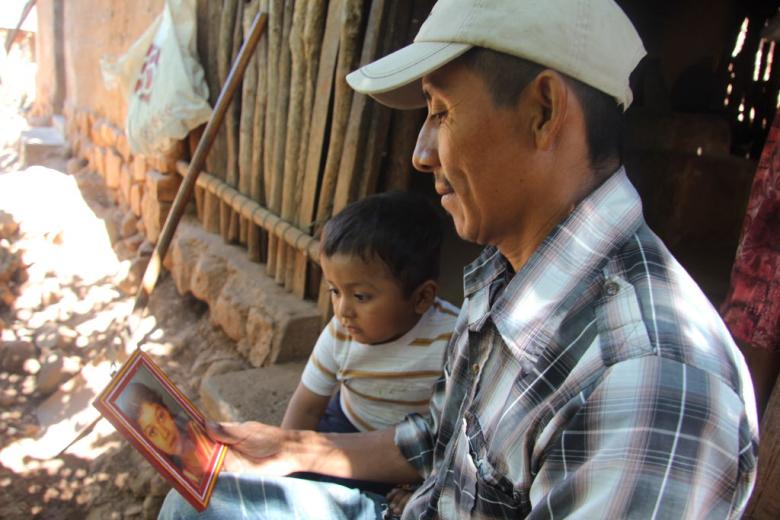 Loss of a mother
Wednesday, February 12, 2014
Childbirth is a natural process that requires special attention because the life of both the mother and her child is in the hands of attendant. Although the implications and consequences of delivering without medical assistance are known, there are still women in El Salvador that either by choice or circumstance deliver their children at home.
That was the case of Reina, a 34-year-old woman who never breastfed her baby because she died four hours after giving birth, due to a hemorrhage caused by a retained placenta.
Click here to see more photos on this story. 
"My life is difficult; sometimes I feel frustrated and sad especially when I see my five children; I know that I will not fulfill the dream [I] had with Reina, to see them grow up and rejoice together, knowing they are great adults," affirms Paulino Delgado, 40, Reina's widower, who is now in charge of the family. 
The time to give birth

"It was Thursday when the labour pains began; it was so fast that there was no time to think, only to grieve," recalls Paulino. That August of 2011, a heavy rain was falling caused by a tropical storm. The river that passes through the community was growing and the access to the big hill located in Guatajiagua, Morazan where the family lives, was impossible. Anxiety took over the family.

As they had done with their older children, Paulino decided to help his wife to give birth. "Telephone lines were down and I was not able to call the health promoter and ask for help. Along with my mother, we decided to help during the labour. The child was born quickly and we did what we have done in other births; we cut the umbilical cord, and cleaned the baby, but the problem was that the placenta never came out, she suffered from bleeding and in less than four hours, my wife died. People from the Ministry of Health came and at the beginning they made me feel guilty for the death of my wife and for not taking her to the hospital; then they understood the complicated situation I faced," he says. 

Getting to the house of Paulino is not easy; the long journey requires a strong physical effort. It is located a 20 minute drive from Guatajiagua Municipality and it is necessary to walk around 3 kilometers (1 hour and 20 minutes) through rocky and sloping paths. They live in a humble village where the only jobs are in agriculture and most of the houses lack drinking water.

A bad experience 

Paulino recalls when they had their first child. Reina had prenatal care and was attended in the nearest hospital, but she had a bad experience. "After the delivery, she was told that there were no beds available and they only gave a space to lay down the child and she sat in a chair all night until she fainted as she was very weak. That caused her a terrible fear and said that she would never come back to a hospital." 

With the information she received from the health unit promoter and trainings in the World Vision's circle of good health and nutrition, Reina was convinced to have prenatal care, including vaccines and vitamins. Unfortunately, this time she did not have the opportunity to go to the hospital to give birth to her baby. 

The reality

"In the rural area of the country, women, in a high percentage, lack of prenatal care or don´t follow it properly. Sometimes in the communities the pregnancy is traditionally seen as something simple," explains Daisy Díaz, health promoter. 

Mirna Linares, Coordinator of the Child Health Now Campaign, explains: "In communities like this one, it is very obvious the ashamed feeling of pregnant women to call the health promoter or go to the doctor. Cultural aspects, socioeconomic conditions, the quality of health services and the advice of mothers and grandmothers make believe that delivery at home is the best option because it is safer. However, pregnancy represents 1.5% up to 7% of probabilities of death." 

Currently in El Salvador, 60% of maternal deaths during pregnancy, childbirth, or 40 days after delivery are caused by preventable causes such as hypertension disorders, hemorrhages, and infections. In 2011, only 49% of births in the Guatagiagua municipality occured in hospital.
For Maritza Álvarez, Facilitator of El Alfarero Programme, the main causes of maternal deaths in this area are due to poverty, malnutrition and because it is very difficult to travel to get medical checkups. In 2012, three women died and around 25% of women don´t want to go to hospitals to give birth to their children. In 2013, two maternal deaths were registered. However, there has been some progress, out of 28 childbirths only one was carried out at home. 

"We are progressing by training the families through the alliance with the health unit and the ADESCO (Community Development Association)," adds Maritza. 

The health promoter of the area affirms: "World Vision is a great partner because through the circles of good health and nutrition (CBSN) pregnant women learn the importance of nourishment, iron and vitamins. Also, the trainings on sexual education to young people through the clubs are an excellent investment." 

After the death of his wife, Paulino's life took a dramatic turn. His children now are responsible for some domestic tasks, and the oldest child dropped out of school. The whole family helps to take care of Manuel, who now is 3 years old. 

"We never talk to him about Reina, we prefer he sees his aunt and grandmother as his mothers. He does not ask anything because he is still a little child. He was not breastfed, we had to look for milk, and thank God, World Vision supported us and provided us milk. He also participates in the CBSN and the health promoter comes to vaccinate him and my sister takes him to the clinic for his checkups," adds Paulino. 
More needs to be done. Namely, to intensify maternal education and install a house for expectant mothers so that women can be near the health centres at the time of delivery. 
The Child Health Now Campaign promotes several actions in Guatajiagua municipality such as workshops, forums, mobilizations and establishment of networks with stakeholders to minimize the child and maternal mortality. Emphasis is being made on the right of all mothers to a safe childbirth and the right of children to reach their fifth birthday; the goal is to influence in policies that benefit the quality of health basic services and the achievement of the national strategic plan to reduce maternal and child mortality.

During the next few months, municipal ordinances will be developed to promote maternal and child health and the implementation of the municipal ordinance of breastfeeding will be supported. 

"We should make people aware and fight for [change]. I suggest to pregnant women to have their checkup and to go to a hospital to give birth to their children. I tell you my sad experience and I hope you learn from it. It is not easy to lose your wife. I have regretted a lot, but I keep going and I want to teach others through my testimony that pregnant women must be protected," ends Paulino.