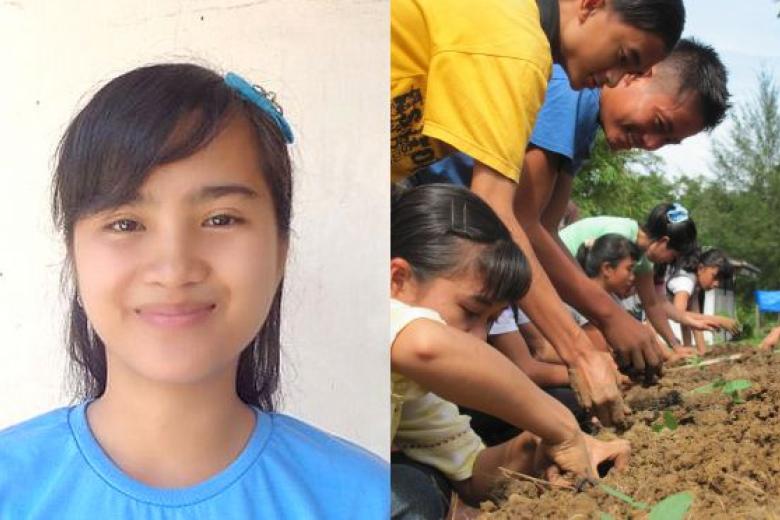 Meet Restanti: a World Vision Youth Ambassador at the European Development Days
Tuesday, November 26, 2013
Restanti is 16 years old and from Nias, Indonesia. She is a World Vision Youth ambassador, within the European Commission's youth ambassador's programme, and will represent Indonesian children's voices in the 2013 European Development Days (EDD) conference.
She will be raising a question specifically to the panel "Resilience Building for Improved Food Security and Nutrition" today.The following blog describes her own feelings on coming to Brussels and the need for improved food security in her local community, what youth in her community have done to improve food security, and her desires for the new global development framework. The blog has been translated from Indonesian, and the original version can also be found below.

Find out more about the EDDs here, other youth ambassadors Jenny and Siranush, and World Vision's high-level panel at the EDDs 'Young Voices for Inclusive Governance.'
Beyond my wildest dream

By: Restanti

Coming to the European Development Days

It felt like a dream when I first heard the news about my selection to go to Europe to share children's opinion that will support the global development agenda. Is it a fact or a dream, I whispered in my heart. One thing for sure, I am grateful, happy, and proud to be chosen and given this opportunity, but I am also scared. I am scared because there are so many things to learn about food security – one of the post-2015 discussion topics which I will be attending. Thankfully, there are three World Vision Indonesia staffs who faithfully encouraging me and helping me to prepare for this event. They are Miss Kristi Praptiwi, Miss Teresia Katharina and Mr. Portunatas Tamba.

Food security and malnutrition in indonesia

As food security and resilience is not the only issue that will be discussed at the EDDs, then why am I concerned about this specific discussion? This is because me and my friends at FORANI (Nias Children's Forum), proposed the idea as food security and resilience are issues affecting our hometown and still remain a challenge to this day. For example, the food availability in this small island where I live is limited due to several factors. Through a series of discussion, we have identified two major causes which are the policy that hasn't fully support farmers and the lack of information source for farmers. There are several policies which we believe could be improved to increase farmers' welfare, free them from debt, will granted their kids the opportunity to go to school, skillful in money management, and also provide a better future for my country.

In preparation for the EDDs, I visited the Nias Agriculture Agency Office. During my visit I became aware that Nias still relies on other cities and islands to provide our food, even for simple stuff such as chili. While in fact, we have lands that can be planted with chilies or any other food source. I wish this kind of information could be told to our farmers and could motivate them to be more creative in cultivating the land or processing food source. I also visited the Health Agency Office, where I found out how food crises can impact children. Children will suffer from hunger, or even worse, they can die. They can suffer malnutrition and brain damage due to the lack of nutrition they need. Malnutrition and malnourishment affects the youngest kids aged below five years old, as I found out. In 2012, there are 15 kids with malnutrition in my island, they have been treated and are now healed. But, in 2013 the number increased to 28 kids.

I am grateful because my government has tried to do whatever they can to find the solution to overcome food security and nutrition fulfillment issue.  They distributed food to those in need, provided an agriculture area for society, and raised awareness about the importance of nutrient in local clinics at the city or villages. On the other hand, I feel sad, because not all the kids throughout Indonesia have received the help. But still, I do not blame my government, instead I still believe in them because food security is not just their responsibility, it is our collective responsibility.

Youth nutrition garden improves local food security

We at FORANI have tried to do whatever we can do to support the establishment of food security, such as by creating a nutrition garden.  In this nutrition garden we organized and planted various food-plants. In addition, this garden is managed directly by children like me. We, kids of FORANI try to manage this garden because we are motivated by: the will to be independent and be a good example for our society, the determination to make farming seen as a noble profession that can bring success in Indonesia, utilizing abandoned land and being involved in defining the world's future by solving today's global challenges.

After less than a year nurturing our nutrition garden, we have enjoyed its benefits: the increasing awareness in our village about the importance of nutrition, the organizational skill we learn during the process, and the unity we feel when harvest time comes in our village. We are also able to provide our nutrition needs at home.  Finally, I see that once the food availability and nutrition is fulfilled, all kids become happier and prosper. People from all age ranges, can enjoy quality food which are affordable and easily accessible. Furthermore, the future of my country is more secured, more advanced, and more prosperous.

Youth and the future of global development

The nutrition garden is just a small example that can be done by kids and youth to support global development objectives. We believe that if youth like us can do something, adults also have the power to do even more positive things in order to support development globally. The journey to accomplish MDG 2015 goals seems to be long and heavy, but me and my friends have hope that in another 15 years, we will still be able to fight for and achieve our dreams together all around the world. For me personally, my world development dream is the fulfillment of all children rights, the existence of peace, freedom from corruption, and the leadership of wise leaders. I also hope that children will be involved in each major decision making process which will affect our future anywhere in the world, both in national and international levels.

The European Development Days, organised annually by the European Commission, is Europe's prime forum on development cooperation bringing together thousands of stakeholders from around the world. Launched in 2006, its scope and scale has increased year-on-year, as links with new networks are made, relationships with new partners are forged, and new platforms are created.
It takes place on 26-27 November in Brussels, it aims to win the hearts and minds of all stakeholders, fostering engagement and facilitating the implementation of the agenda for greater aid effectiveness.
This year's European Development Days (#EDD13) will focus on the post-2015 debate and the need to build a consensus for a strong common European position advocating a joined up approach to address global poverty and sustainable development. Follow the debate on Twitter @eudevdays using hashtag #EDD13