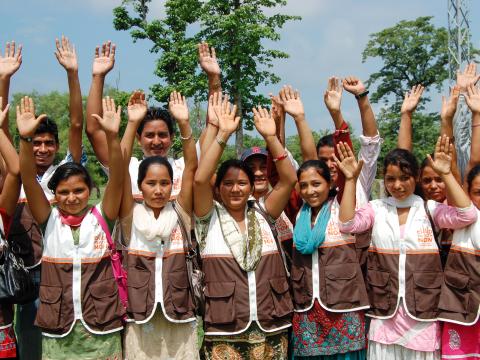 News from Nepal: politicians agree to invest in health
Tuesday, April 22, 2014
Nepalese politicians are agreeing to invest more in health as a result of a letter campaign from vulnerable communities.
People in more than 13 districts signed letters pledging "My Voice for Children's Lives" which call upon policy makers for sufficient resources to ensure all children live beyond their fifth birthday. The letters focus on raising awareness for the simple solutions that can dramatically reduce preventable child deaths. In partnership with Nepal's National Maternal and Child Health Alliance, the letter campaign commenced with public events across Nepal to mark the occasion of International Women's Day which was held on 8 March.
The approach has proven to be popular and effective amongst the policy makers who received them.  At the international Women's Day event in Doti District, government officials and civil society organization representatives announced their support and respect for mothers working in different contexts. The letter campaign formally inaugurated collecting the first 700 letters in person.
Since then, several parliamentary members, district level political leaders and local stakeholders have committed to improving maternal and child health within the scope of their influence. Nepali Congress Parliament member Bir Bahadur Balayar committed to allocate the resources from the parliamentarian's development fund to improve the situation of mothers and children in the Doti District. Nepal Communist Party United Marxist and Leninist Parliament member Prem Bahadur Aley also committed to lobby the health minister to raise the number of health workers and the quality of life-saving equipment in local healthcare facilities. 
The letter campaign is Nepal Child Health Now Campaign's national mobilisation event for 2014. World Vision drafted the letters through several national and community level consultations with decision makers and community stakeholders including children. The campaign aims to see more than 100,000 letters from children and families reach more than 1,000 policy makers, including members of parliament, government officials, civil society organisations and other stakeholders.
The success of the letter campaign comes before Child Health Now's biggest annual mobilisation- The Global Week of Action, which will run between the 1-8 May. Millions of people around the world will stand together to raise their hands for child and maternal health.
The Global Week of Action falls within a critical juncture in the effort of achieve lasting progress in child and maternal health. As we gear up for the final push to the deadline of the Millennium Development Goals in December 2015, the focus of governments, donors, supporters and organisations like World Vision needs to be on accelerating the progress that's been made, and reducing the number of children and mothers we lose every year.
To learn more about the Global Week of Action and how you can get involved, click HERE.
'How wonderful it is that nobody need wait a single moment before starting to improve the world'
-Anne Frank-