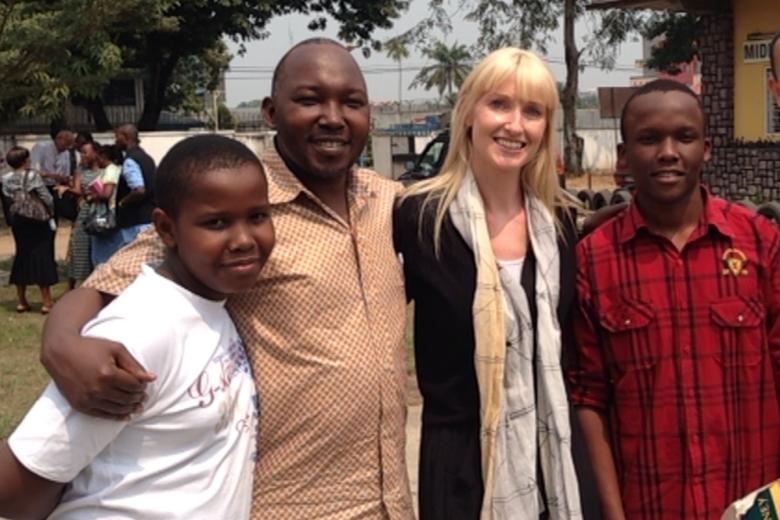 Translating government commitment to global health initiatives for improved outcomes for children
Thursday, April 3, 2014
By Emma Edwards, Campaign Advisor, Child Health Now; World Vision International
The paradoxical nature of the Democratic Republic of the Congo (DRC) is that it is flush with mineral resources, yet is ranked 186 out of a possible 187 countries on the Human Development Index. Last year bought with it further challenges for the DRC, as ongoing armed conflict in the east of the country led to large-scale internal displacement. But it also bought with it hope – in the form of strengthened political will toward improved maternal and child health outcomes. This is a country where almost half a million children die every year from largely preventable causes, and in 2012 more than 118,000 died in their first month of life.
Over the last year the Government of the DRC took concrete steps toward improving the maternal and child health situation. The Health Minister launched commitments to A Promise Renewed, as part of a global call to action designed to accelerate the reduction of maternal mortality, neonatal and child health – citing that the government is 'committed to make every effort to reduce women's and children's mortality' and 'lead the necessary interventions so that health services can provide quality care to the population'. Following that, the government made commitments toward the Scaling up Nutrition movement, joining more than 80 countries in an unprecedented opportunity for concerted global action on nutrition. The government has another key opportunity to continue its leadership in this domain by endorsing the Every Newborn Action Plan at the forthcoming World Health Assembly in May. The onus is now on the Government of DRC to implement the commitments it has made, and at the same time the nearing deadline to achieve the Millennium Development Goals (MDGs) also means the spotlight is on many more national governments that have made commitments to improving child and maternal health, to fulfil those commitments. So what will it take? Increases in national budget allocations for health as well as transparency initiatives to ensure funds are reaching right down to the community level; and the implementation of multi-sectoral health and nutrition policies that ensure key government departments are working together for improved health outcomes are great foundations to build on.
What is the role of civil society in holding governments accountable for their commitments?
An active civil society has an important role to play in ensuring governments are held accountable for commitments they make toward improving the maternal and child health situation in their country. Yet commitments alone are not enough; we need to see implementation of costed and funded policies to ensure fulfilment of those commitments. And here's where civil society can really make a difference:
Budget tracking exercises like those conducted by the Budget Advocacy Network in Sierra Leone not only helped to achieve an increase in the national health budget but ensured there was transparency in how the budget was being allocated right down to the community level;
Citizen participation in social accountability mechanisms to monitor health services at the local level, like those recently conducted in Bangladesh which saw immediate improvements in the quality of services at community clinics in Mymensingh district;
Advocating for increased investment in effective systems for civil registration and vital statistics and ensuring governments commit greater attention to strengthening routine data collection systems locally, nationally and internationally in order to measure inequalities in health outcomes
In support of this the Child Health Now campaign has developed a guidance document for in-country advocates on global frameworks relating to maternal, newborn and child health. It is our hope that this guidance proves beneficial in assisting civil society organisations to develop advocacy strategies for engaging with the respective frameworks applicable to the national context. Through consistent advocacy in collaboration with others, these global frameworks have the potential to deliver significant outcomes relating to the health of women and children, particularly in developing countries.
In my visit to DRC in 2013, I learned of the African notion of 'Ubuntu', relating to the concept of interconnectedness and I think it's also relevant to discussions of accountability for improved maternal and child health. As civil society we have a collective reach across many countries and a clear opportunity to work together – in country within our respective remits, and through key health coalitions for greater influence. Collectively we must capitalise on the momentum toward 'finishing the job' ahead of the MDG deadline and ensure these global commitments translate into improvements in child and maternal mortality rates. We need to embrace this focus on accountability now to ensure that a child's health outcomes are not dictated by the country in which they are born – unlike the 1 in 6 children in the DRC that die every year before reaching their fifth birthday.