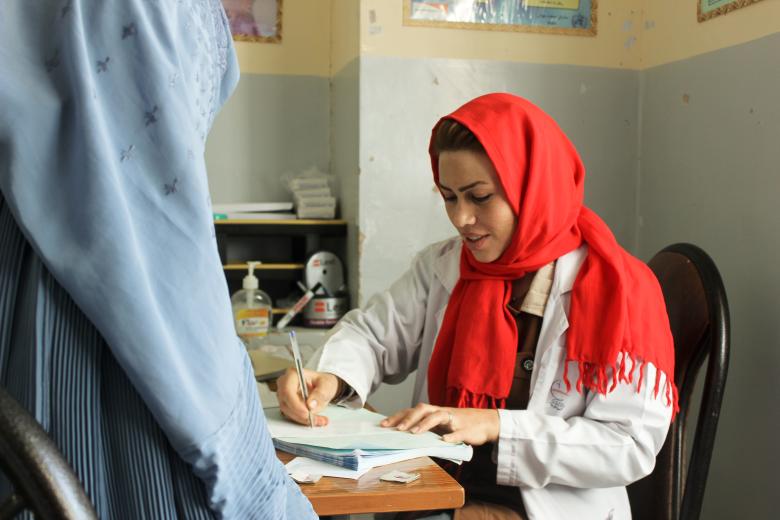 World Health Day: a focus on health for the world's 'invisible' mothers and babies
Sunday, April 6, 2014
By: Sara Schulz, Senior Policy Advisor for Child Health; World Vision Canada.  Sara is currently pregnant with her second child.
The Afghani teenager laboured for three days, and still the baby would not come.  It was Nasrat's first time giving birth – and she was terrified.  As with too many women and girls in remote, destitute places, Nasrat had no idea whether her baby would live. Or whether she herself would survive to raise her child.  Before her labour was over, Nasrat would pass out in agony.  Only then did her husband find a car to make the journey to a hospital. 
As a Canadian, I'm so grateful that my first experience with childbirth was very different.  I had spent happy months musing about how to decorate the nursery, or whether to opt for an epidural. I benefitted from good nutrition and regular checkups. When my labour began three weeks early, a caring, knowledgeable midwife knew just what to do.
Around World Health Day, it's hard to consider the loneliness, pain and fear that many of the world's mothers endure during pregnancy and childbirth. With nearly half of all child deaths occurring in the first month of life, it's heartbreaking to hear mothers wonder "Will I come out of this alive? Will my baby survive?" 
Incredibly, both Nasrat and her daughter survived their ordeal, but she never forgot it.  Because of her experience as a first-time mother, Nasrat recently studied to qualify as a midwife.  She now provides care to about 40 women a day, bringing hope to thousands of women and children each year. 
Canada's commitment
The Canadian government has demonstrated its commitment to reaching women like Nasrat.  As host of the 2010 G8 Summit in Muskoka, Prime Minister Stephen Harper championed the health of the world's mothers, babies and young children, and asked world leaders to follow suit. World leaders listened, contributing $7.3 billion for maternal, newborn and child health at the G8 and $40 billion to the Every Woman Every Child Global Strategy later that same year. World Vision International was also a major contributor, pledging $1.5 billion to health and nutrition programs. 
The results have been encouraging. In Tanzania, funding from the Muskoka Initiative meant World Vision could train 350 community health workers to provide critical care to pregnant women and their babies. In just two years, more than 6,000 mothers and children benefitted from key services like pre-natal and neo-natal checkups, and breastfeeding guidance.
But with 6.6 million children still dying before their fifth birthday, there is still much work to reach women and children living in remote, fragile regions or who are part of marginalized social groups.
The World is reaching further
Canada and other world leaders now have an opportunity to step forward again. This May, Canada is hosting a global summit in Toronto to take new action that will improve the health of the most vulnerable women and children.
Encourage Canada's Prime Minister to use this summit as an opportunity to re-ignite momentum to reach those mothers and babies whose cries are hardest to hear.
The Global Week of Action: 1-8 May
 
During this World Health Day, we look with anticipation to World Vision's Global Week of Action which is happening this year between the 1-8 May. Millions of people around the world will stand together to urge leaders to keep their commitments to reach the unseen and invisible mothers and children who live life on the margins.
The week will act as an urgent call to action before the 2015 deadline for the Millennium Development Goals and millions of lives are lost needlessly. Learn more about the Global Week of Action and how you can get involved HERE.